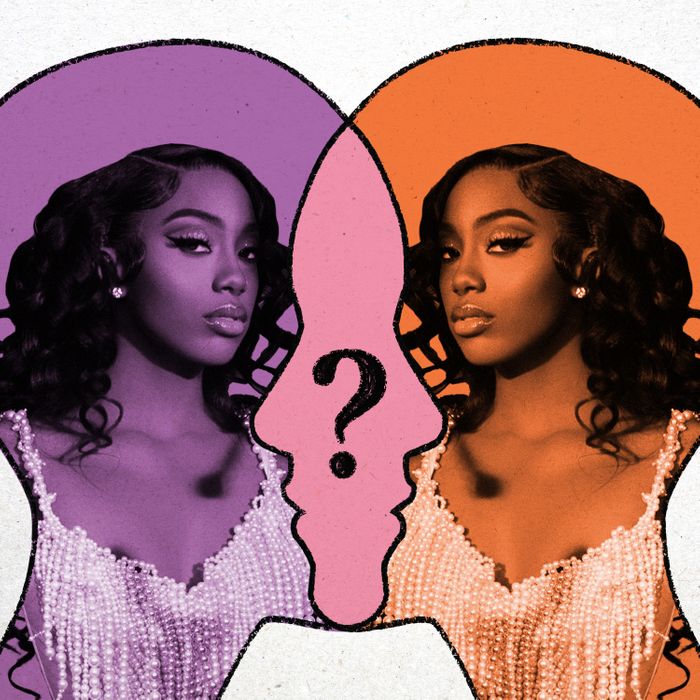 Photo-Illustration: The Cut; Photo: Flo Milli Courtesy of American Express
You need to listen to only the first 30 seconds of a Flo Milli song to recognize that this 23-year-old performer has the "It" factor. After going viral on TikTok in 2019 with "Beef FloMix," the rapper has proved both her talent and staying power, continuing to drop caffeine-infused tracks with a sound that commands attention as much as her style.
Her music has the power to hype up a huge crowd, and her style is just as influential, with TikTok creators dubbing her a rising fashion icon. It makes sense that she'll be commanding the Coachella stage this month. She tells the Cut she prefers performing her "upbeat songs" (think "We Not Humping" and "In the Party") to match her "very bubbly personality." And while she plans to wear a variety of outfits for the show, her main festival-performance tip is to wear flat shoes and loose clothes. "From experience, I've learned it's easier to interact with the crowd, or just put on a better show, when you're flat on the ground versus wearing heels," she says.
This year's Coachella also marks the first time American Express has tapped a curator and co-collaborator for its Festival Edit partnership with Depop. Flo Milli may be a resale newbie ("I always thought it was so cool, giving back vintage pieces and upcycling clothes," she says), but her curated selection is heavy on Y2K nostalgia and perfectly suited for her top fashion rule: "Make it cute."
As someone new to it, do you have any strong opinions on reselling etiquette?
I do think response time is very important. I'm big on customer service. It's all about interaction, especially on social media now — even on your social-media pages, it's good to interact, talk to people, because you want your fans or your consumers to feel connected to you. That's something that I've been trying to get better at because I know at first I wasn't like that.
What is your No. 1 fashion rule?
My No. 1 fashion rule is "Make it cute." If you're in a crisis, make it cute. I've been in situations where I've had stockings and they rip, and I'm like, You know what, I'm gonna make this fashion. It's gonna look like some Rick Owens today. So I'll start ripping them up more. I'm big on making something with what I have.
What is your No. 1 rule for splitting the bill with friends?
Oh, that's a sticky one right there. My No. 1 rule is like … you know, I'll pay. Everything is not so "Oh, are you gonna pay for this, this, and that?" It's like, shit, I might cover the bill today and my friend might cover it the next day. We all got each other. Friends shouldn't think about the details all the time, but I definitely don't have a problem paying for bills.
What's your No. 1 rule for canceling plans?
If you cancel plans, unless you have a really good reason, especially if you're a guy, I'm never talking to you again. Don't ask me to come out ever again. My time is valuable.
What's your No. 1 rule on tour? 
I actually just went on tour for the first time last year, and I was really big on protecting my energy because you don't realize you're with 50 people for a whole month and a half straight. It's very important that you take time to yourself. I was big on affirmations because where I live I have affirmations on my wall, so I just kind of brought my house to the bus. I made sure I was still following my morning routines and protecting my energy.
What about your No. 1 rule for posting on social media?
This is a tough one because I'm still working on it. I have to get better at it, but I think, as I've become an adult, I've been so tapped in with actually living my life that I don't really like social media. But I know it's essential for what I do for work. So I think it's just important to have moderation. Know when to be on there and when not to be. I make sure I don't get on social media in the morning because you don't really have control over what you're exposing yourself to. Like, you don't know what somebody you follow is gonna tweet, what type of day they're having. So you might see something — being an artist, people talk about you. It's there for you to see, and it can affect your day if you don't control it.
What's your No. 1 rule for meeting other famous people?
I try to remember that I am famous too because I be getting starstruck sometimes! I just try to connect and talk to them. Especially if I like them as an artist, I'll try to connect, get their number, take a picture, and, you know, mingle a little bit. But that's my No. 1 goal: to try to acknowledge them for their art. Because I feel like, as artists, that's like our payment: people coming to us and letting us know how great our work is.
You have such amazing samples on your latest album. What's your No. 1 rule about sampling?
Whenever I get a beat that has a sample in it, I always ask myself, Okay, is this going to be cleared? Is it worth it, or should I just make something more organic? I always think about the time it takes for a song to get cleared. I'm trying to do that less.