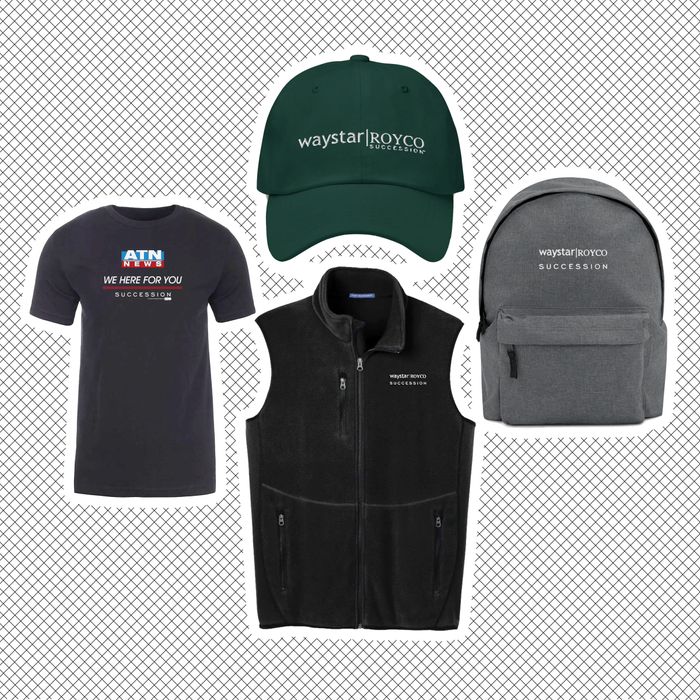 Photo-Illustration: by The Cut; Photo: HBO Shop
Not a single character in Succession — beyond queen Marcia, of course — knows how to dress himself. Kendall sometimes comes close, until of course he no longer feels like a number-one boy and needs a garish chain necklace or gilded set of sunglasses to ensure someone is paying attention to him. Shiv has never worn anything other than corporate attire and it shows (I'm having war flashbacks to her wedding dress) and Roman is a mere slime puppy in slime puppy's clothing.
What I do know, for sure, is that not a single one of these unstylish elitists would ever touch HBO's new official merch, or "corporate SWAG," as the company called it, with a ten-foot pole. They wouldn't even let their assistants touch it. I bet Tom would even shield Greg's eyes if it came down to it.
The ~swag~ in question includes a backpack (yadda yadda, ludicrously capacious, yadda yadda), journal (none of these characters has the emotional wherewithal to be journaling), a flask (on-brand and yet also off-putting for a show that grapples with the theme of substance abuse), and a fleece vest (the same one you might see if you've ever accidentally wandered to close to a corporate office stuffed to the brim with finance bros on a casual Friday in early fall), all stitched with the company's name, "waystar | Royco." Each of these items is hideous and elementary and lacking in creativity in its own special way, but the nail in the coffin is the word Succession inscribed on every piece.
By slapping the show's very name on merchandise, the joke has been ruined and the illusion that the show's irony-pilled audience is in on the punchline has been shattered. What the people really want is a loosely branded, near-niche, objectively-ugly-which-makes-it-cute product, like a "tube top that says 'you are not serious people'" or a "tote that says 'ludicrously capacious bag,'" as one Twitter user suggested. Fine, I'll call it a sister of the ongoing "stealth wealth" trend, but only so far as it's meant to serve as a signal, an "if you know, you know" item that tips passersby that you too have sorta-good taste in television.
But you don't need the network's approval. Sellers on Etsy have already perfected the merch, pawning off plain T-shirts with garish, comical collages of Logan, Shiv, and even Greg. Some have even created shirts with Kendall, front and center, with pink text that says "I can fix him" splashed across the top. It's incredible to see a company like HBO fumble this bag so hard when the answers had already been provided to them by the public.
The part that hurts the most, though, is that prior to season four rolling out, influencers across the country were sent PR packages from the company. The merchandise they received was actually good: a "we here for you" thermos, a plain crewneck that simply said "fuck off" and a tote that had the company's name but lacked the show's. In truth, it was a typical Roy move. Send the good stuff to the elites and leave us normies to STARVE. As the great, late Logan Roy would've said, "Fuck off."
For more, join us for Succession Club, our subscriber-exclusive newsletter dissecting and obsessing over all the minutiae of the final season. Existing subscribers can visit this page to sign up. If you're not a subscriber yet, click here to get started.