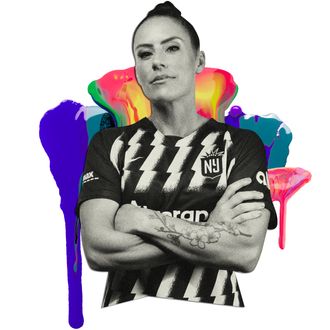 Photo-Illustration: by The Cut; Photo: Devon Cafaro/Gotham FC
After nearly two decades as a professional soccer player, Ali Krieger is ready to hang up her cleats … almost. Just over a week ago, the two-time FIFA Women's World Cup champion announced that she'll be retiring from the National Women's Soccer League at the end of this season. But before she does, she's got her sights set on one final prize: an NWSL championship with NJ/NY Gotham FC. Getting there would be no small feat for any athlete, let alone one who's also raising two children. "It's a 24-hour job," Krieger says. "You don't shut off on any day." From a truncated maternity leave to atypical work hours, there's plenty about Krieger's everyday life that's untraditional. One exception? Suburbia. She lives in picturesque Montclair, New Jersey, with her wife and former teammate Ashlyn Harris and their children Sloane, 2, and Ocean, 8 months. There, they've found a diverse community where their LGBTQ, interracial family can thrive. Here's how she gets it done.
On her morning routine:
I usually get up at 6:30 a.m., make coffee, let the dogs out, and do little chores before Ocean gets up around 6:45. Sloane's such a good sleeper and she just can't be bothered, so she takes a little bit longer to get up and get to school. We prepare all of their things the night before. I get Ocean to day care and then I go to training. I sometimes don't even see Sloane in the morning because I have to get training by 8:30. I don't normally eat a big breakfast before I go to training, usually just a bar or a banana. That's just the way I've been for a long time. I can't play on a full stomach, but I'll eat a big meal after.
On managing stress:
It's really difficult being a professional athlete. Not everyone is going to like you, but I'm not here to please everyone, either. Football isn't who I am. It's just what I do. On my drive to and from training, I get that alone time to be able to breathe a little bit, to think about my day and process some of my feelings. Training gives a sense of freedom for me. It's just about me having fun, running around, enjoying what I love to do. When I get out on the field, I can release all of that stress and anxiety. You feel pressure when you're playing because you want to win, you want to be successful, and you don't want to make mistakes, but you just have to let go.
On the moment she felt like she'd "made it" professionally:
When former USWNT coach Pia Sundhage called me back up in 2010 after missing a year from a Jones fracture in my foot. They needed an outside back, and so she tossed me in there. She then called me into the next camp and I thought, Wow, maybe this is now going to be a consistent thing. Then they offered me a contract that January. That was the moment when I thought, This feels right. I've made it. I just needed to figure out how to stay there.
On a time she didn't get it done:
It was when I was fired from the national team [in 2017]. I had no understanding of it. There was never really a concrete reason for why I wasn't being called in, and that was concerning for me. I went through a really difficult time. It was kind of like going through a breakup, not having any closure and wondering why someone is ignoring your texts and calls when you used to have a great relationship. I needed to know what I had done so that I could do better. I decided to continue to work and get better at things that I thought I needed to improve on, but that was probably the toughest time in my life. Even at home, Ash saw that I was struggling. She pushed me every day to get out there and continue to play. Mentally, I took a step back, and that really helped.
Sue Bird said to me, "If you stay ready, you never have to get ready," which I think was originally from Will Smith. That was so true in that moment, because I knew that there was a possibility — no matter if it was with the national team or not — that there was going to be a moment when I needed to be ready for that next opportunity. I needed to be in a good, healthy place where I could be myself and perform well. I will use that advice for the rest of my life.
On how coming out impacted her career:
Visibility is everything. If you can see it, you can be it. We didn't have it when we were young. If we did, I probably would have figured out that I was queer when I was like 12 or 13. I want to be that for people, including my peers. I didn't want any of our teammates to feel like they had to hide because they were afraid of losing their jobs, even at the club level, even if they weren't on the national team with the big spotlight like Ash and I were at that time. It's okay to be who you are and love what you do and have that go hand in hand. That is how you do the best job you can and give everything to your sport.
I'm so happy that Ash and I decided to make our wedding visible, because I do think that it encouraged other players. When we were in Orlando, our teammate Marta told us that the media in Brazil were talking about Ash and me, and the feedback was really healthy and positive. I think that helped her feel like it was then okay [to be out], because someone else had tested the waters. We helped people to be okay with not only themselves but with their partners and in their workspace. Maybe it encouraged others to be just a little bit more open about it and have those tough conversations.
On winding down:
After training and treatment, I come home and sit for two seconds to have time to myself, or I need to do the laundry, do the dishes, tidy up the house, or take the dogs on a walk. We're all home around 5 p.m. Then it's dinner, spending time with the kids, bath time, and bed.
After the kids are in bed, I sometimes pour myself a glass of wine. Not every day — I'm a professional athlete and I have to perform my best! Some days I'm so tired that I just need a glass of wine, my show, and to shut off completely. But usually, that's time for Ash and I to spend together. We cherish that time. Since Ashlyn retired last year [and joined Gotham's front office], we actually have time to miss each other. There is more to talk about and it's not so suffocating with just soccer. We used to try so hard not to talk about work when we got home, but now it's actually enjoyable because I can tell her about my day and she can tell me about hers. It's refreshing. Though I do miss her within the team environment, because we helped each other for so many years to play at the highest level. Maybe not so much the yelling on the field, but sharing jokes, laughs, and being out there fighting towards a common goal together. I miss that.
On the people who help her get it done:
It's my mom, hands down, first and foremost. She has helped us tremendously with both kids and just being a house manager. She comes and tidies up and does all the things that we don't have time to do when we are watching the kids. So that's been super helpful. Then, there's my brother. He's been there by my side, and Ashlyn's too, for a number of years, lifting us up and making sure we are grounded. We have a friend who used to be a night nanny for Ocean when we brought him home last July. She still pops in here and there if we need her to babysit or come in to help nanny during the weekends. Ash and I also have friends from home in Florida and D.C. who have really helped us over the years and supported us all the way through, unconditionally.
This interview has been edited and condensed for length and clarity.