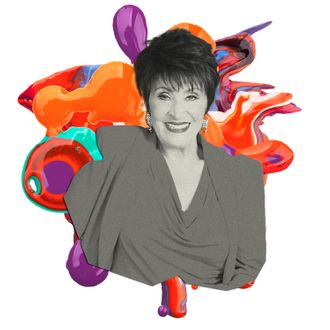 Photo-Illustration: The Cut; Photo: Laura Marie Duncan/Yulia Reznikov
In 1957, a then-25-year-old dancer named Dolores Conchita Figueroa del Rivero landed her big break originating the role of Anita in West Side Story on Broadway. Over the next half-century, Chita Rivera, as she became known, would act in leading roles in Bye Bye Birdie, Chicago, Kiss of the Spider Woman, The Rink, and many others, establishing her as the consummate musical-theater triple threat. A ten-time Tony Award nominee, Rivera has won three, one of which was the Lifetime Achievement Award in 2018. Born in Washington, D.C., to a Puerto Rican father and a Scottish Irish mother, Rivera became the first Latina and the first Latin American to receive a Kennedy Center Honor in 2002. In 2009, Barack Obama presented her with a Presidential Medal of Freedom. And earlier this month, Rivera was honored at the Stephen Sondheim Gala for her contributions to American musical theater.
Rivera's passion for the stage has not ended, even as she has entered her 90s. In her eponymous memoir (out tomorrow), Rivera details her career — from her childhood in ballet classes to playing Claire in The Visit in 2015. She describes her two sides — "Dolores" and "Chita": the former "eager to learn, ready for anything," and the latter "a little more philosophical." Today, Rivera lives "very much day-to-day," she said on a recent afternoon. (As you'll see, she was sparing with the details.) She had a big 90th-birthday party recently and often socializes with old friends. She lives near Nyack, New York, with her daughter, Lisa Mordente, whose birth postponed the London run of West Side Story back in 1958 — so crucial was Rivera's role in the show. Here's how she gets it done.
On her morning routine:
I wake up a couple of times during the night, but I solidly wake up at 10 a.m. I have hot tea with milk and sugar every morning, then I have either toast or a banana-nut muffin. I have private time until noon, when I get on my bicycle and exercise for about 20 minutes. Then I get on with my day.
On taking the direct approach:
I try to solve the problem, first of all. I face problems head on. I don't take walks. I don't meditate.
On criticism:
I use it if it's constructive. I don't use it if it's not.
On the people who help her get it done:
I've had an assistant ever since I can remember. First it was Marion for 25 years. Now I have Rosie, and I've had her for 33 years. She answers the phone, makes appointments, keeps me on target. She reminds me of things that I need reminding of. And she's part of the family now. (We know each other's families.) There's my daughter. There's my trainer, Aries. There is a cleaner for my house. I don't have cooks or people like that. We handle our lives ourselves.
On winding down at the end of the day:
When my assistant and my daughter are here, there's always that time around 5 p.m. that we say, "What's for Dinner?" (That's capitalized.) We either decide what to cook or we decide where to send out. But that's the big question of the day: What's for Dinner? I like crispy things — onion rings, fried potatoes, crispy chicken. And I love to watch murder mysteries and police shows. Especially Cops.
On (not) slowing down:
I decided that I was going to be a dancer when I was much younger. Once you decide to be a dancer, you're devoted to that. And in order to get your legs going and your body going, you have to keep in shape. It's a way of life. And you've chosen it. So you're happy about it. Later, you can't dance as well as you did and can't sing as well as you did. You get older, and you learn how to do things other than dance or act. You adjust to the changes in your life. That's the way it is. And that's the way it will always be. I'm now enjoying the fruits of my labor. I still do my club act though. I still work with my orchestra, my band — piano, bass, drums. I'll have a rehearsal in a couple of weeks with the orchestra. I still do that. That's what I am. I'm a dancer, a singer, and an actor. And whatever comes up, I will do.
This interview has been edited and condensed for length and clarity.