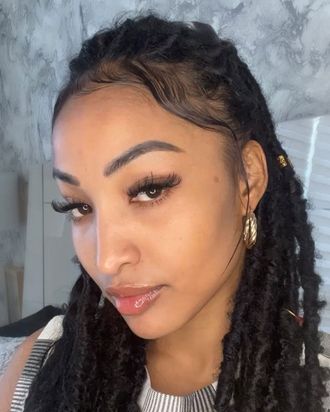 "When people hear my music, I want them to feel confident," says Jamaican artist Shenseea. And apparently, Prince Harry, a fan of hers who says he listened to Shenseea to get him through hard times, agrees. "They may not be okay today, but they're going to definitely figure it out tomorrow."
The 26-year-old rising star has been performing at reggae festivals since 2015; in 2018, she was featured on Christina Aguilera's song "Right Move." Her debut album, Alpha, was released last year and features Megan Thee Stallion and 21 Savage. What's next for her? Coachella. "I'm bringing my dragon to life on that stage; that's the era I'm stepping into," she says. To Shenseea, this means the most powerful version of herself. Between choreography rehearsals, late-night studio sessions, traveling on the road, and being a mom to her 7-year-old son, Rajeiro Lee, wellness looks a lot different for her. On average, she gets about three to four hours of sleep on a good night. She loves challenging herself in the gym, but can barely fit it into her schedule. Her best form of wellness is staying hydrated throughout the day by drinking lots of water. And when asked about meditation, she says, "I just pray and thank God."
Despite sleep deprivation, her skin is always glow-y and bright. She grew up in a Jamaican family where they turned to cultural remedies to combat rare bouts of acne. When Shenseea did decide to experiment with skin care a few years ago, she realized that it was doing more harm than good: "I had nothing wrong with my skin, then started putting a ton of products on my face, which left it even worse. So I decided that when it comes to my skin, less is more." Now, she turns to the simplest skin-care treasures: a moisturizer, SPF, and occasionally an exfoliating scrub.
Here, Shenseea's routine:
She deals with dry skin, so keeping a cream around to lock in moisture is a nonnegotiable for her. She wears moisturizer, but makes sure it is not scented. Her go-to is a dermatologist-recommended drugstore brand, Cetaphil, a nourishing cream for dry skin tones. She lathers this on in the morning and finds that it keeps her skin hydrated well into her late-night studio sessions.
On heavy makeup days, she likes adding a scrub to her routine to deeply cleanse and exfoliate her pores so that no residue is left behind. Her go-to is Neutrogena's Deep Clean scrub, an oil-free formula made to remove dead skin cells from the surface and unclog pores.
The most consistent product in her routine is SPF. A makeup artist introduced her to Peter Thomas Roth's tinted sunscreen, which has a universal tint formulated with safflower extract and vitamins to nourish dry and sensitive skin. She likes to apply a dot on her cheeks and a dot on her forehead, then blends it in for a natural, glow-y finish.
On Jamaican skin-care remedies she follows:
Shenseea likes to care for her skin from the inside out. Because of her Jamaican culture, she has always valued holistic remedies over products. Her occasional breakouts prompt her to drink something bitter, like aloe vera or cerasee tea. The tea has medical benefits tied to boosting skin health, including improving skin conditions like eczema and acne. Aloe vera is known for its soothing properties.
On her creative hair looks:
When it comes to beauty, hair is her chosen medium of creative expression. She can pull off vibrant hair colors, like blue and pink, and whether it's knee-length twists or mullet cuts, no style is off-limits. "Even when I was broke as hell, I was still finding a way to get some synthetic hair to change out my style every week," she says, laughing. "My hair is important to me because I like to look different, and it makes me feel powerful. Getting my hair done makes me feel like I'm channeling different personalities."
On when she feels most beautiful:
"My beauty vibe is natural. When you tell yourself you're beautiful, it shines through. You can just have on lip gloss, but the way you feel will automatically give you a glow. I get up with that mind-set of self-love every day. Yes, I have my down days, but I am confident; that is my entire persona."