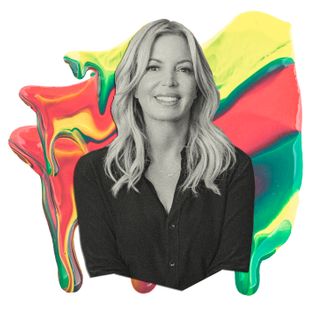 Photo-Illustration: The Cut; Photo: Gremly Media
Jeanie Buss — the first female owner of an NBA championship-winning team — lives and breathes her job as president of the L.A. Lakers. She's up with the sun checking the previous night's scores to "see where we fit in the NBA landscape" before her first cup of coffee, she says. "The players and the coach know that I'm always accessible. The team is a priority in my life." That's to be expected after 40-plus years working in"the family business." If you watched Winning Time, the 2022 HBO series about the rise of the Lakers dynasty, then you know that Buss's father, Dr. Jerry Buss, purchased the team in 1979. (Buss did watch the series, if you're curious. She allows that the actress who portrays her looks like she did at 20, and that John C. Reilly's depiction of her chemist turned businessman dad captures his spirit). She and her siblings were groomed to run the organization. Under Buss's leadership, the team has scored a spot in the 2023 playoffs.
Now Buss is applying lessons learned about filling arenas to her "passion project," WOW, or Women of Wrestling. It's a rebooted version of the 1980s wrestling promotion on which the Netflix show Glow was based. Female athletes play superheroes in scripted matches taped before live audiences for a syndicated TV series. "I want the sacrifices I've made in my personal life to excel in business to bear fruit here," she says. Not that she's had to sacrifice everything — she also became engaged to her boyfriend of six years, actor and comedian Jay Mohr, last December. They live in Los Angeles, of course. Here's how she gets it done.
On her morning routine:
I don't eat breakfast. I usually just have a cup of coffee and kind of think about my day. All of them are different, so I mentally prepare. And, of course, I pick out what shoes I'm going to wear depending on how tall I need to be. If I'm going to be around a bunch of basketball players, I go for high heels. If I'm doing something with the women wrestlers, I go for comfort because sometimes they'll ask me to jump into the ring, and you can't do that in stilettos. I dress from the bottom up.
On being driven:
I consider myself an ambitious person, almost to my detriment. In the '90s, when I was 35 and recently divorced, my father offered me the opportunity to run the arena where the team played. He said, "As your boss, I know you're qualified to do this job. But as your father, I'm telling you not to take it because you're not going to have a personal life." The ambitious part of me wanted the challenge of learning another area of the business. But he was right. It killed my social life [laughs]. I did it for about five years, and it burned me out. I made the decision not to have children. You know, it was kind of made for me because I wasn't … I don't want to say it was made for me. It's that my ambition drove me to continually challenge myself.
On the most demanding part of the job:
When you find yourself in a losing streak, it's hard to keep calm and composed and not get discouraged, to remember that everybody has wins and losses in their life. But it affects how our business operates, and people's attitudes around the office. As the leader, you have to stay strong and not panic and constantly reassess if you're going in the right direction or if it's time to make a big change, to make tough decisions about how you're going to get back on the winning track.
On keeping a level head:
When I'm under stress, I get quiet and reflective. I go on a hike to clear my mind and really focus on what's happening. To eliminate the noise and the distractions, and to clearly see what is going right and where the path is going wrong.
On Jane Fonda's life-changing advice: 
When I was 15, my dad introduced me to her, and I shook her hand. She stopped me and said, "You know, I want you to hear this. When you shake someone's hand, make sure they know it. Grab their hand and be there." As a 15-year-old, I was intimidated. She grabbed my hand and said, "This is how you shake someone's hand. Make them remember you." That was really great advice.
On the right-hand woman who helps her get it done:
For years we've talked about Linda Rambis's title. It always ends up coming back to "special projects" because there's really no way to define everything she does for me personally and professionally, like arranging the celebration around Kobe Bryant's retirement in 2016. She's part of my family. I know she has my back just like I have hers. Even Winning Time features our relationship. They recognize how far back we go, and what our partnership means.
On the moment when she felt like she'd "made it":
In our business, the epitome is winning a championship. In 2020, when the whole world was dealing with COVID and the NBA created a safe space in Orlando, we were able to finish out the season and take it all the way. To win the championship when the players sacrificed so much — being cut off from their families and friends for almost three months and performing at a high level — was extremely satisfying. It was also a moment that I knew meant a lot for other women. I especially liked what Billie Jean King said, that it was important because the world was seeing a woman leading a team of men.
On living apart from her fiancé:
We live in a community called Playa Vista, a relatively new neighborhood where Howard Hughes had his aircraft-company headquarters. I really like it because it takes about ten minutes to get to work. Jay and I basically live together, but we have separate apartments. He's on the first floor, and I'm on the third, and we take the stairs to see each other. We haven't set a wedding date. People are like, "Don't ever change that, even when you get married. That's the best situation." [Laughs]
On her media diet:
I like reading about people in business and how they've succeeded. I'm enjoying Never Ride a Roller Coaster Upside Down, by Jeff Smulyan, and listening to Stephen A. Smith read his new memoir on Audible. My next book is Prince Harry's autobiography. I had the opportunity to meet him and have a nice conversation. He's a pretty straightforward person sharing things that I think are important to him. I admire that. As for TV, I am a zombie-apocalypse person. I just finished watching The Last of Us. And of course, I love comedy. Jay was on Saturday Night Live for two years, so the show is a staple for us every weekend.
On being a "nepo baby":
I've dealt with that label my entire life. I'm not a figurehead. I've earned my position and my seat at the table. This is a competitive field, and people are gonna knock you down just to see what you're made of. So if someone thinks calling me a "nepo baby" will take me down a notch, then good luck to them. I'm not gonna let that deter me. I know who I am and what I've done.
This interview has been edited and condensed for length and clarity.