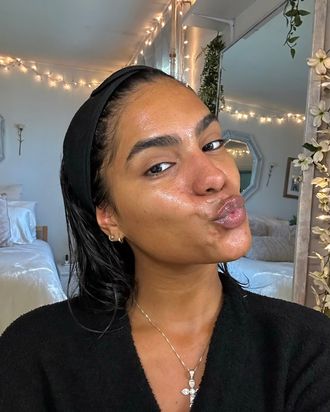 "I'm going to attempt to be a beauty guru," a 14-year-old Monet McMichaels said in one of her first YouTube videos. That was nine years ago and a manifestation for McMichaels's budding future. Now, at 23, she's made her childhood dreams come true, with over 284,000 subscribers on Youtube, 3.2 million followers on TikTok, and 740,000 followers on Instagram. Last year, she graduated from nursing school and instantly rose to fame as one of the fastest growing creators, beloved by the internet for her GRWM videos, daily vlogs, and makeup tutorials.
McMichael's bubbly personality and funny edits are enough to draw you in. Then you see her voluminous hair, sun-kissed skin, '90s-inspired style, and suddenly you're a part of her loyal community there to stay. If you're a follower, then you know that her mom, AlexSandra Madonia — who makes frequent adorable cameos in her content — is her best friend. At a young age, McMichaels was adding olive oil into her lotion bottles for extra moisture and mixing coconut oil into her hair masks, thanks to her mom's advice. Now, she's created an inclusive platform that makes women of color feel seen and is pioneering a new generation of content creators.
As a full-time content creator doing tutorials with icons like Makeup by Mario, her life has changed so much in one year. Although she admits that she still only goes out once a week. "Most of the time I'm at home wearing no makeup," she says, adding that she thrives when she's home and in her routine.
Her nighttime routine is the most important time of the day, because she gets to wind down. "The world is off and no one is bothering me," McMichael says. She turns on music, switches off the lights, and adjusts the shower water to the hottest temperature: "I would like to sizzle my skin off," she says, laughing. Some of her tools: an exfoliating towel, spin brush, and sugar scrubs to massage and exfoliate her skin. It's her way of dusting off the day before getting beauty sleep, which is usually between eight to ten hours every night. When she wakes up, she has coffee, heads to the gym, scrolls her timeline for some inspo, and checks in with her girls. Another of her pro tips? Before makeup, she shaves her face every few months to ensure a smooth application.
Here, McMichael's routine:
She's a double-cleanser and always starts with Elemis's essential oil-infused nourishing balm to melt makeup or excess oils off.
To continue cleansing, she reaches for this face wash from Glow Recipe. It has a unique lotion-to-foam texture that includes ceramides, a key ingredient in the formulation.
In between each step, McMichael spritzes her skin with Caudalie's beauty elixir mist. She loves how hydrated, refreshed, and dewy it makes her skin look. The cult-favorite mist increases the skin's radiance and moisture levels with rosemary and lemon balm essential oils.
She recently fell in love with La Mer's treatment lotion, which she lathers on next. It's made with the brand's signature miracle broth, famous for replenishing the skin. McMichael's notices that her skin is more plump and hydrated post-treatment lotion.
She changes her serums up on a daily, as she still hasn't found the one just yet. For now, she loves Caudalie's vino perfect radiance serum for its brightening benefits that evens her skin tone and reduces the appearance of dark marks. It gives her a good-morning glow.
She likes to keep her moisturizer simple and always reaches for this Kiehl's cream because it's fragrance free and does the job of keeping her skin hydrated from day to night.
On the days she wears makeup, McMichael turns to MAC for skin prep. She loves their Skincanvas cream, a moisturizer formulated with ceramides and hyaluronic acid to hydrate and plump the skin before foundation.
Lastly, she likes to massage and sculpt her face with a gua sha, a face tool that "gets into all the crevices," she says, laughing. After a few minutes of massaging with her gua sha, she feels adequately sculpted and de-puffed.
On re-centering herself and unplugging:
Separating work from pleasure has been hard for her. She likes just scrolling through her timeline, which often overlaps with work, so she's notorious for putting her phone on do not disturb. What does fully disconnecting look like to her? She turns on her Christmas lights, lights candles, applies a face mask, and watches true crime.
On the most surprising element of social-media fame:
Being recognized while he's out, especially when she's with her mom. "All I could have ever asked for was this love," she says, referring to her community. The most rewarding thing to come out of this has been growing a community that makes her feel safe. "At first I had so much anxiety because my business is public and there are so many people's opinions, but I just feel safe. There's so much love and I've created a space where we can all just be human."
On navigating a competitive industry:
Comparison is something that affects everyone, even McMichael has her moments. But she's constantly reminding herself that she's special in her own way, and everyone in the social media world shows up in different and unique ways, "Believing in yourself fully is like a self-love journey," she says. "It's not linear. Some days and seasons are tougher than others," she says. When imposter syndrome tries to win her over, she turns to her personal community to recharge. She was struggling a few weeks ago and began asking herself, Who am I? What am I doing? Her immediate response was to touch base with family and spend time with loved ones.
On advice to aspiring creators:
There was a recent video circulating on TikTok from McMichael's early days as a content creator with a caption that read, "It's so comforting and motivating watching old videos of our favs to remember that they were once where we're at now before they got to the top." McMichael's advice? Be consistent. While it sounds cliché, she says it's what she owes a lot of her success to. "You have to be consistent through the dry spells and the crazy moments. I have a fire in me where I know I have to post a TikTok every day and a YouTube video every Sunday. It feels like I have one shot to do it, and it's exciting, and a dream come true. It's not easy, but it's worth it."