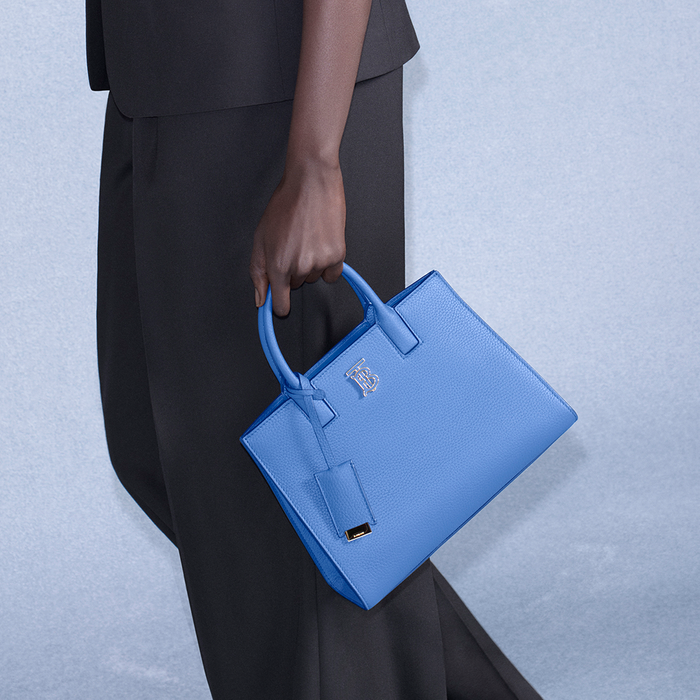 In its simplest form, manifesting is nothing more than making dreams a reality. Based on the law of attraction — like attracts like — manifesting is just an easy way to say that you have goals and plan on achieving all of them. And vision boards are the easiest (and most fun) way to compile your dreams in one place. The best part about a vision board is that you can put anything on it — anything you want the universe to deliver. Major promotion at work? Check. A week-long excursion to Capri? Check. A "surprise" engagement? Check, again.
Visualizing your dream life is a lot easier if you can paint a clear picture in your head. Think of it as composing the script to your own movie. You're more than the main character; you're also the director, the set designer, hell, you're even the costume designer. Every little detail is yours to imagine, even the kind of bag you'll be holding the moment your dream comes true. Allow us to introduce you to the Burberry Frances Bag. Its understated design defined by a leather-inlaid TB motif and leather-wrapped mirror charm engraved with the brand logo is crafted to be your functional forever companion. The dreams on your vision board are bound to change, but at least you'll have an accessory to carry through every stage of your life. Now all you need to do is picture your future — and your Frances.
I'm ready for … a promotion.
You've been hustling for years, but your boss still hasn't acknowledged your potential — but they will. And on the day that they call you into their office to let you know that your performance is worth double what you're currently earning, you want to look like the Iron Lady of the office. The practical structure of the Frances bag is naturally perfect for any work environment, but it's the cherry red color that promises attention. No more fading into the background for you.
I'm ready for … an engagement.
Marriage isn't for everyone, but it is for you. In your heart you know it's time for you to take your relationship to the next level. But these days you can't get engaged without having a stealthily hidden photographer capture the moment. So, when said moment comes, you want to be prepared. Nails done, hair set, and a timeless bag that will look just as good in those photos 50 years from now. A creamy beige bag screams casual bride who totally didn't see this one coming … right?
I'm ready for … a new apartment.
After making the most of your current place, you're ready for an upgrade. In fact, you know you deserve it. Open houses, schmoozing with brokers, interviewing with co-op boards — all of the steps you'll potentially take to finding a new home will require some prep. Print your bank statement and references, and be sure to look the part of a confident single, financially-stable person who's finally earned an in-unit washer and dryer. Nothing says you mean business quite like a polished black top handle bag. Show them just how high your standard for luxury is set.
I'm ready for … a vacation.
Why dream of a trip to Florida when you can dream about spending a week on a yacht in Capri? You don't know anyone with a yacht, but you can see the image so clearly it must be real — at least it will be eventually. Even without concrete plans, submit the PTO request, buy the sunscreen, and order new luggage. And don't forget to pack your cool cornflower blue Frances. The charming shade and glossy leather embossed to replicate the crocodile effect will go perfectly with your seaside setting.
I'm ready for … a major move.
A permanent change of scenery is just what you need. You haven't been able to muster up the guts to do it before, but you're ready now. The only question is: Where to go next. Whether it's on another continent or on another coast, a new home is on the horizon. Packing will require a downsize, so donate your usual massive tote for something just big enough to fit the essentials. Bonus: The Frances is small enough to serve as a personal item in case the path to your new home requires a flight.
I'm ready for … a new love.
Amid all of the pregnancy announcements, you're eager to take advantage of your single status. But you won't find love — short-term or for life — without leaving your house. Since love can be found anywhere, including places as mundane as the grocery store or post office, there's no telling exactly what kind of outfit you may meet your next soulmate in. At the very least you will have your go-to bag with you; the kind of bag that's dainty enough to bring to a bar on a first date but just practical enough to carry with you on your boring Sunday errands. A blush pink seems right for budding new romance. The understated design makes sense for any kind of meet-cute.
This advertising content was produced in collaboration between Vox Creative and our sponsor, without involvement from Vox Media editorial staff.