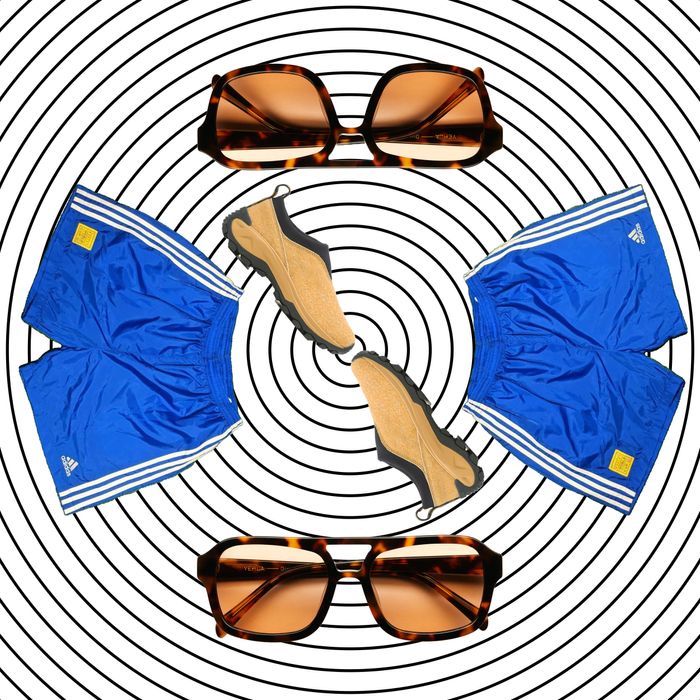 Photo: The Cut; Photos: Retailers
For more of the Cut's favorite fashion, beauty, and home finds, sign up for the weekly Cut Shop newsletter.
Did you wait until the last second to prep your festival outfits? Instead of spending time (and money) going through all your wish lists to see what will arrive before your flight, we encourage you to shop your closet this year.
Who knows what you'll find in its forgotten corners or in the storage boxes under your bed? Approach it as the spring cleaning you've been putting off. At least that's what I'm doing.
Below find less of a shopping checklist and more of an extension of all your Pinterest boards. Be warned: I am by no means a Coachella veteran (it's only my second time), but I do love a good challenge and being comfortable. Plus: I do this for a living and sift through thousands of outfits a day; you don't want to end up on one of the cultural-appropriation Pinterest boards. No feathers, ladies.
Here are my tips:
Build your outfits around your shoes.
Coachella isn't the place to break in a new pair of boots. Yes, those cowboy boots you bought over the winter are waiting for their stomping moment, but they can wait a bit more. Take your trusty worn-down boots instead. That way, you won't have to worry about spills, strangers stomping on your toes, or blisters. Even better? Opt for hiking boots or sneakers. Both with the right pair of socks will have you dancing straight through Bad Bunny's set.
This year, all of my outfits go with my Merrell Winter Moc 3 1TRLs or my secondhand Frye slouch boots I got for $50 on Poshmark.
Accessories are actually key.
To survive a weekend in the desert, you need to prepare, which means that before you even plan your outfits, you need to know where you'll carry all of your essentials.
If you bought the viral Baggu cross-body bag or have a Fjällräven bag you haven't used in a while, now's the time to put it to use. As long as your bag of choice fits the official festival measurements (no bigger than 18 x 13 x 8.5 inches when fully packed), your tiny but mighty bag will store your sunglasses, water bottle, foldable blanket, portable charger, wipes, hand sanitizer, film camera, and everything else.
In 2019, I took my Fjällräven backpack, and it was perfect, never heavy. I couldn't find it in the mess that is my closet, but I did find this Free People cross-body that fits all of the above and still has some space.
Now, to the outfits …
Day 1
Congrats, you made it to the desert! Hopes are high, the heat hasn't gone to your head, and you haven't lost your friend group just yet. Your first-day outfit should reflect your excitement. You may be thinking of doing a sheer trend, but this year, instead of opting for a fishnet skirt and a bikini top (which will still look great) opt for a sheer cotton maxi skirt. It provides all the breathability without the awkward tan lines. I'm pairing mine with a vintage Ralph Lauren button-down shirt to create some contrast. Underneath, I'll be wearing my Cuup bathing suit. If you have merch tees from any of the artists playing, you can wear them over your skirt or dress and not have to worry about purchasing anything.
Day 2
You showed off on Day 1. Now Day 2 is all about being comfortable. It's BLACKPINK day! You know what to expect. You can't go wrong with a shorts-and-top combo. This year, I'm torn between two options: denim Bermuda shorts and a leather vest, or vintage Adidas track shorts and a cotton prairie top. Again, it's a fun twist on a tried-and-true festival-outfit combo. Throw on a sweatshirt when the sun sets and you're ready to go.
Day 3
Days 1 and 2 are catching up to you and your stamina. Keep it easy when it comes to styling and opt for a dress. It will still be easy to twirl and dance around, and I'm sure you already have one that will fit the occasion: a denim dress if you want to opt for a western look, a white cotton dress to continue the cottagecore vibes.