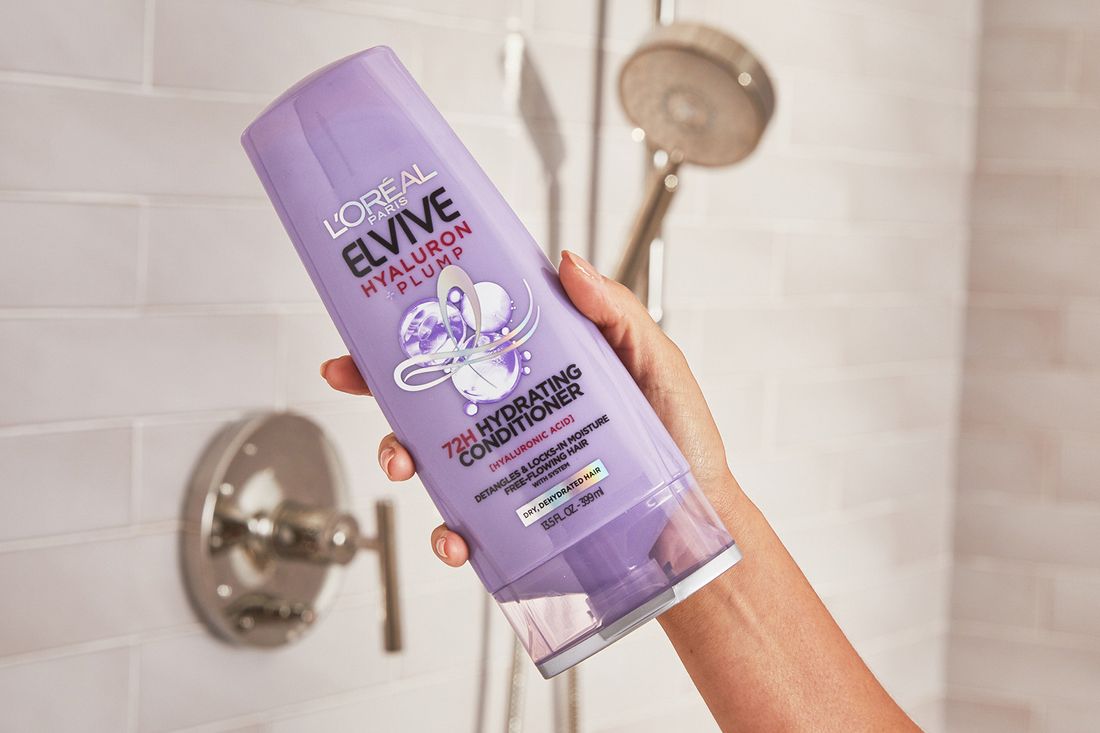 You don't have to be a skin-care expert to know just how good hyaluronic acid is for the skin. From drawing in moisture to aiding in hydration retention to skin replumping, it's like a tall glass of water for all things dry and parched. Naturally, this skin-care ingredient is now making its way into hair-care, both at the luxury and drugstore level, for the way it can enhance the hair's hydration levels and texture while improving style.
As someone with dry skin and dry hair, I'm ready to bathe in the hydrating ingredient at this point, so I tapped board-certified dermatologist Dr. Michelle Henry and L'Oréal Paris Associate Vice President of Scientific Communications and chemist Balanda Atis for more insight.
"Formulas with hyaluronic acid can be used for hydration and replenishing moisture," Atis shares. While your first thought may be that hyaluronic acid hair-care is exclusively for those with dry hair, this isn't the case for a few good reasons. "Hair experiences continued exposure to the sun, heat, humidity, and pollution, which can lead to dryness and weakness," she continues.
While those factors are typically outside of our control, there are also things in our control, like hair color, bleaching, hot tools, and chemical treatments, which also contribute to dryness, frizz, and rough texture. Ultimately, dry hair can sneak up on you in many different ways, hence why it's such a common hair concern.
The remedy to this overall dryness lies in thinking of your hair-care routine as a skin-care routine. Your skin-care routine starts with a cleanser, so your hair-care routine is going to start with shampoo and, of course, conditioner. Atis recommends the L'Oréal Paris Elvive Hyaluron + Plump Hydrating Shampoo, Paraben-Free, and the L'Oréal Paris Elvive Hyaluron + Plump Hydrating Conditioner, Paraben-Free, which includes a hyaluronic acid-infused formula that works not only to smooth the rough texture and frizz that come with dryness, but also to improve your style.
"This duo leaves the hair fibers with a smooth texture, enhanced softness, and boosted shine," Atis shares. While adding moisture may not be the first thing that comes to mind when you want billowy, voluminous hair, it should be, because hyaluronic acid plumps moisture into the hair shaft, which leads it to appear shinier, smoother, and fuller.
As for those that don't suffer from perpetually dry hair, Dr. Henry preaches balance. A great way to achieve that is with the L'Oréal Paris Elvive Hyaluron + Plump Moisture Plump Serum, Paraben-Free, a hydrating hair serum that you can use as needed. You may reach for your hyaluronic acid serum when your skin feels especially dry and that's just the way you should use this hair serum. It's great for reviving and moisturizing dry hair in between washes without weighing it down or making it appear greasy.
If you like to keep your hair routine quick, the L'Oréal Paris Elvive Hyaluron + Plump Flash Hydration Wonder Water, Sulfate-Free goes on after shampoo and works in as little as eight seconds. Yes, it works that quickly so you really have no excuse not to use it. It rehydrates the hair with the help of HA, boosting shine and even minimizing tangles.
Another benefit of hyaluronic acid hair-care that many overlook is the way it hydrates the scalp. "When the scalp is well hydrated, it will perform better and sustain hair growth better," Dr. Henry shares. "So not only do you want to hydrate the scalp, but you also want to hydrate the strands." When your scalp is dehydrated, that can affect your hair and vice versa. It's hard to boost a gorgeous head of hair when your scalp isn't at its best and that's exactly why using HA hair-care is so valuable — it targets both.
As it turns out, the hydrating benefits of hyaluronic acid extend to all things hair and scalp. Hyaluronic acid not only helps your hair feel better but makes it look better, too. Whether it's a moment of dryness or the perpetual kind, it's just the ingredient you want to reach for.
This advertising content was produced in collaboration between Vox Creative and our sponsor, without involvement from Vox Media editorial staff.