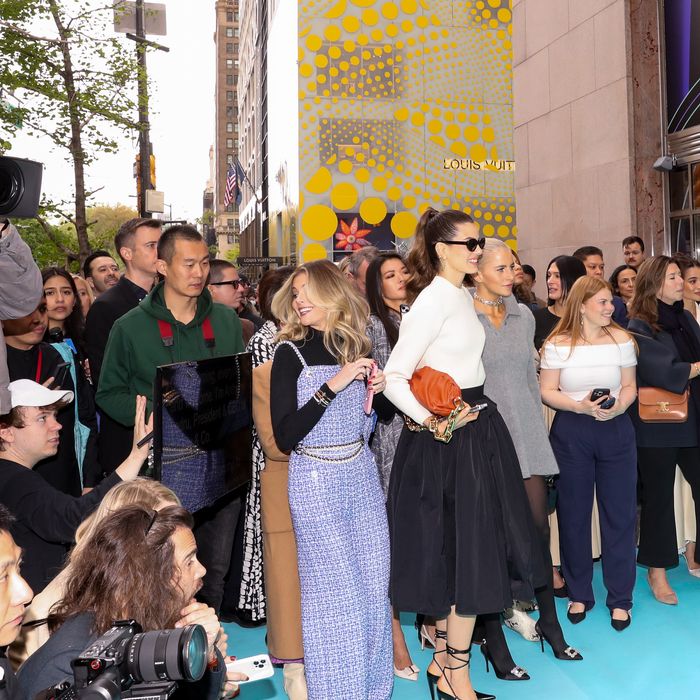 Photo: Neil Rasmus/BFA.com
I couldn't muster the bravery to bite into one of the decadently puffed, buttery croissants, which floated around on silver trays at the opening of the redesigned Tiffany & Co. flagship Wednesday. The fear that the flaky crumbs would flitter down and litter the new, pristine carpet was too great. With a Basquiat as my backdrop, I set my mug and saucer down on a display case filled with gold, heart-shaped "Return to Tiffany" necklaces glimmering beneath the glass. I needed to consume something to be able to say "I had breakfast at Tiffany's." So I scarfed down a tiny quarter-size bagel.
We (meaning Alexandre Arnault, Anna Wintour and her bob, a horde of the most-expensive-looking people I'd ever seen, and I) had gathered to celebrate the first redesign of the Tiffany building since 1940.
At around 8:39 a.m., we were gently ushered outside to the corner of 57th Street and Fifth Avenue. Anthony Ledru, president and CEO of Tiffany & Co., made a speech thanking each of us for being there, as if we'd ever say "no" to the chance to live out many people's greatest film fantasy. He asked Gal Gadot, a brand ambassador, if she'd like to say a few words.
"I'll sing it," she said. Instead of breaking into song, she gave a speech, and approximately two minutes later, an exorbitantly large Tiffany-blue ribbon was cut.
Inside, I made my way to the top floor with the plan of working my way down the winding staircase. The stairwell itself was inspired by a window display of necklaces by Italian jewelry designer Elsa Peretti, which were tiny pendant bottles made to hold real water and a single flower.
Each level housed a different collection of jewelry. On the eighth and ninth floors, the Tiffany Gallery was available only by appointment — which I did not have.
On the seventh floor, high-end jewels, watches, and a workshop. "Some of these pieces take years to make," I heard one woman say to someone else gawking at a windowed room where men in white lab coats peered into telescopes, handling precious gemstones in their hands to be made into jewelry.
Meanwhile, on the sixth floor, the new Blue Box Café was setting up shop. Hundreds of dainty Tiffany boxes dangled from its ceiling.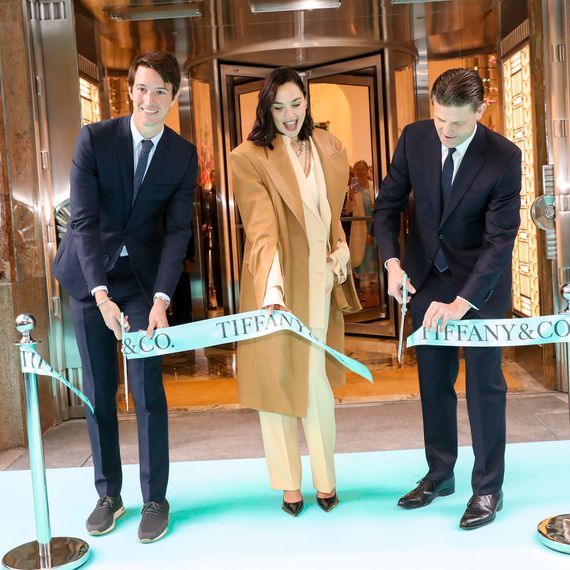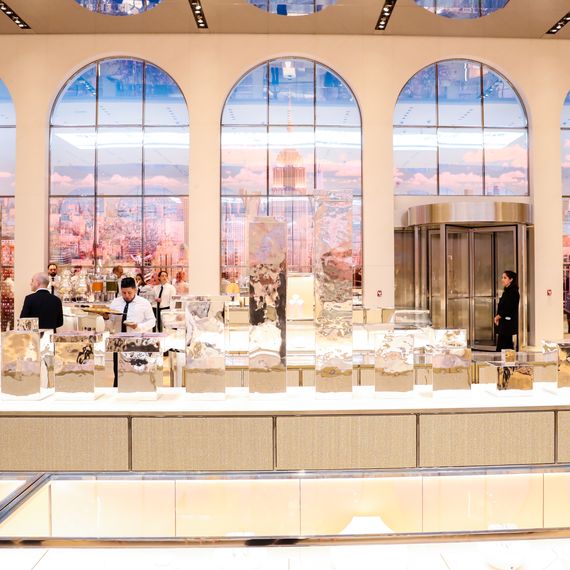 When I wandered down to the fifth floor, I headed straight for the "Audrey Experience," an alcove near the elevator that displayed photos of Hepburn in her iconic costume from the opening scene of Breakfast at Tiffany's. Encased in glass was a re-creation of the dress. And just outside the nook, there was a pseudo-shrine to the cult classic, which included an Academy Award and the book by Truman Capote, including drafts and amended notes. I noticed tears forming in my eyes as I stared into this little glass box, so I quickly shuffled away, praying none of the brisk French women had seen me emote so embarrassingly.
On levels three and four, dubbed respectively "All About Love" (a one-stop proposal destination) and "Gold & Diamond Icons" (a place for gold and, surprise, diamonds), I found myself pacing back and forth over the engagement rings, utterly agog at how iridescent they were in the light. I snapped a few photos of some — you know, just in case. I thought about asking if I could try one on, again, just in case.
I drifted out of the store, where "Moon River" (my favorite song of all time) was playing somewhere on hidden speakers. As I walked into the spring air, I thought about the Tiffany jewels a future version of me might wear. I wondered if I might have a six-prong diamond ring — gold band, of course — sitting on a finger, or two, of mine one day. I wondered if I'd have my own heart-shaped necklace or if I'd be serving guests on Tiffany trays and dining with Tiffany silverware. I wondered if this same monologue had run through Holly Golightly's mind, too.
It felt like I was living in an alternate, glittering reality. But maybe that's the point of a place like the Tiffany store for many of us — to keep some version of a beautiful, shimmering dream alive, suspended somewhere in a yellow diamond or the slope of a silver spoon.
I walked down Fifth Avenue reciting my new mental mantra: "Someday." Then I took the subway home.