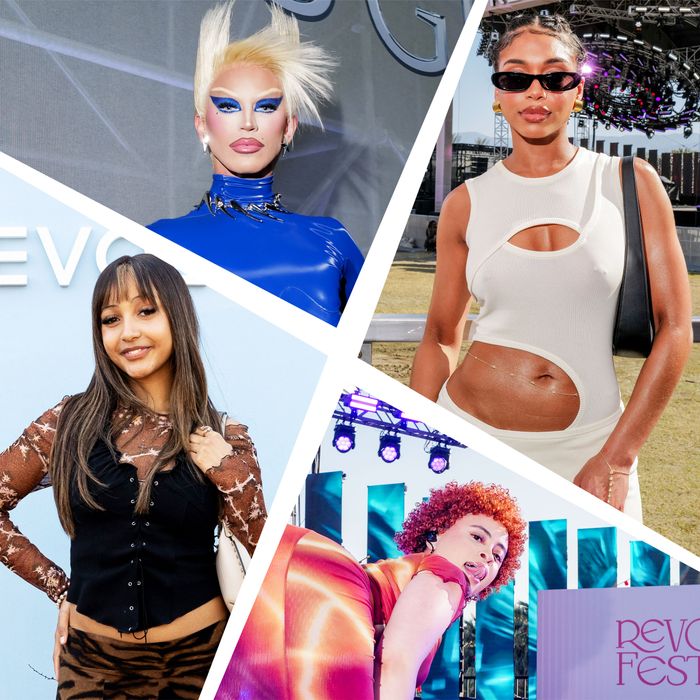 Photo-Illustration: by The Cut; Photos: BFA
Coachella was this past weekend, and it was … interesting. But so were the outfits and parties. As we wave goodbye to the boho chic of yesterday's Coachella trend, we open up the floodgates to "coastal cowgirl," and if you're a celebrity, a white T-shirt and denim shorts will do, I guess.
I know Frank Ocean dropping out of weekend two of Coachella gave you major trust issues, so to restore that, we are fulfilling our weekly duty to provide the bestest party pics this Friday.
Best Cutout: Lori Harvey
It's hot and dry in the desert, and you don't want to be the person in your friend group at Coachella that's about to pass out from heat exhaustion (not that that's ever happened to me). In a provocative cutout white dress, Lori Harvey looks city chic in Coachella Valley at Revolve festival. This ensemble looks not only unique in a crowd full of fringe kimonos but also breathable. Harvey knows her best assets and wears them well.
Best Denim on Denim: Amelia Gray
'90s grunge is back and Amelia Gray is spearheading it in the desert. At Revolve fest, Gray wears a matching upcycled denim-on-denim top and skirt. Who said you can't wear denim in the desert?
Best Animal Print: PinkPantheress
PinkPantheress once said she regretted every outfit she's ever worn, but i'm hoping this is the exception. The singer channeled fierce cheetah energy not only in her outfit — cheetah-striped pants, Advisry Uggs, and a corseted top — but also in her performance (I would've sang the lyrics, queen).
Best Domanatrix-Inspired look: Aquaria
It's not Mugler if it's not a full-body sensual cyborg latex moment. Aquaria wears Mugler x H&M's newest collaboration in a sickening electric-blue colorway with an even more sickening mug to match.
Fire and Ice: Ice Spice
Some may say, "After the storm, the flowers bloom," but we are receiving our bouquet now with this fiery Priscavera "thunderstorm mesh" two-piece set worn by Ice Spice. Not only is she wearing this fire set, but she also blessed us with Rick Owen x Dr. Marten boots and her iconic pose — thank you!
Best Ombre: Alton Mason
Even though ombre is a trend of the past, this dreamy cotton-candy-inspired jacket-and-pants set worn by model Alton Mason at the Balmain x Evian launch is making me think we should bring it back.
Best Day-and-Night Look: Faith Harper and Tommy Carter
Again, ombre might just be making a comeback. At the Mugler x H&M event, models Faith Harper and Tommy Carter give off too completely different vibes but still manage to look stunning and on theme.
Best Floral Moment: Jazmine Rogers
There's nothing that shows your devotion to spring more than wearing florals in the nighttime. Rogers pairs a trendy flower choker with a mixed-print floral dress atop a white T-shirt at the RealReal x Presley Oldham launch.
Best Suit: Zoey Deutch
Zoey Deutch would've killed it at a P. Diddy "all white" party.
'90s Baby Daydream: Sophia Wilson
Cornrows with lime-green rubber bands and a sequin bandage dress: It's the '90s again! Sophia takes the best moments from that era and, thankfully, left the ugly graphic teas and oversize jeans at the door. At Bal Harbour Shops Luncheon, Sophia was honored with a Next Gen Fashion photography award and brought the cutest heart-shaped leather bag to celebrate!
Best Mix of Prints: Gabriella Karefa-Johnson
It's not a Gabriella Karefa-Johnson outfit if there isn't a tasteful mix of prints, patterns, and textures going on. In New York City, a Parisian dinner took place to celebrate Maison Kitsuné's launch of Hotel Olympia, and Gabriella put on her best.
Best Sustainable Bag: Paloma Elsesser
On Thursday night, Coach celebrated the launch of its newest sub-brand, Coachtopia. Built on community and powered by circular fashion, Coachtopia is all about crafting products that reimagine the lifespan of merchandise and the relationship between brands and consumers. Everything is made from either upcycled leather from Coach waste, Coachtopia leather (50 percent recycled leather scraps), 70 percent recycled resin, or recycled polyester. The dinner was curated by Jen Monroe of Bad Taste with a menu fitting the playful and circular aspect of the brand. The one element just as exciting as the bags around the room? The butter candle.
Attendees included campaign stars actor Lola Tung, climate activist Maya Penn, and Aditi Mayer, alongside Paloma Elesser, Hari Nef, and Bailey Bass.