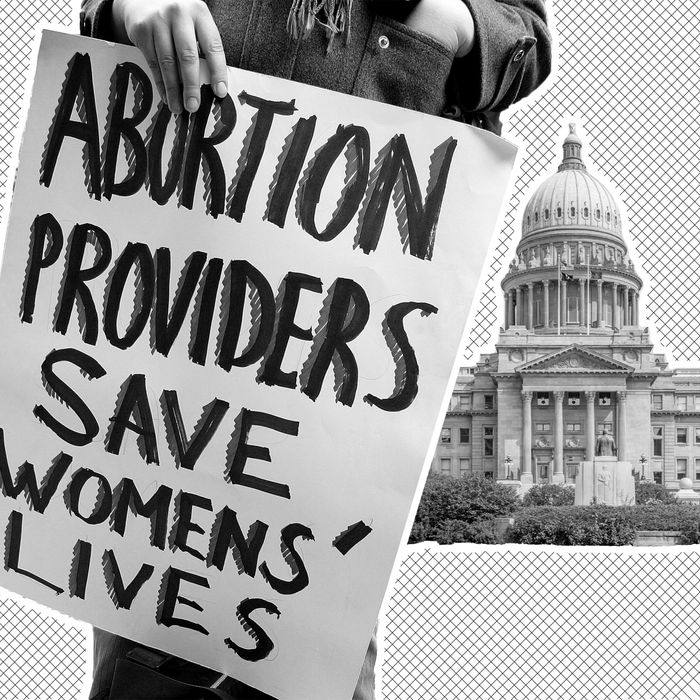 The governor has signed an "abortion-trafficking" ban into law.
Photo-Illustration: The Cut; Photo: Getty
Idaho codified a novel class of made-up crimes on Wednesday when Governor Brad Little signed a bill banning "abortion-trafficking." In short, that means anyone who assists a person under the age of 18 in ending an unwanted pregnancy — whether through taking medication or by undergoing a procedure — may face two to five years in prison. The new law also empowers the patient's parents to sue those involved in "recruiting, harboring, or transporting" their kid, including doctors who live in other states, for a minimum of $20,000 plus attorneys' fees. Should local prosecutors decline to bring charges, the law awards Idaho's attorney general "sole discretion" to do so.
Post-Dobbs, abortion has been illegal in Idaho under all but the narrowest circumstances: Existing state law makes exceptions for pregnancies that threaten the patient's life, and for pregnancies that result from rape or incest that has been reported to law enforcement. The "abortion-trafficking" ban also takes incest into account, barring parents who've impregnated their own children via rape from bringing lawsuits against other adults involved in the abortion. Those adults would still be subject to prospective prison sentences, though the bill's language exempts people who merely "provide information regarding a health benefit plan."
Signing it into effect, Little wrote that the law "does not criminalize, preclude, or otherwise impair interstate travel" — which would be an infringement on his constituents' constitutional rights — and did not bar adults from seeking abortion care outside of Idaho. Rather, he wrote, the bill "seeks only to prevent unemancipated minor girls from being taken across state lines for an abortion without the knowledge and consent of her parent or guardian." The overtones of kidnapping are strong, and in introducing the bill to a House committee in March, Idaho Right to Life lobbyist Megan Wold said she hoped it would prevent abusive men from ferrying girls outside the state for "secret abortions." But the real-life scenarios may simply be an older sibling driving their little sister to an appointment in Washington — where lawmakers are working to protect patients and providers from external interference — or Oregon. Though the legislation is currently slated to take effect in 30 days, Planned Parenthood and the ACLU plan to challenge it in court.
As state legislators across the country tighten the noose on reproductive healthcare, OB/GYNs are finding it increasingly difficult to do their jobs. Aggressive restrictions on how and when doctors can legally intervene to end a pregnancy may obligate them to let their patients' health deteriorate until it reaches a perilous threshold. Bonner General Health, a hospital in northern Idaho, announced last month that it was discontinuing its labor and delivery program, in part because the state's "legal and political climate" — in which physicians may find themselves criminalized for offering "nationally recognized standards of care" — meant "highly respected, talented physicians are leaving." Under those conditions, hospital staff concluded, attracting new doctors to replace them would be "extraordinarily difficult."
One OB/GYN who's said she plans to leave Bonner General is Dr. Amelia Huntsberger, the Idaho section chair of the American College of Obstetrics and Gynecology. "For rural patients in particular, delaying medical care until we can say an abortion is necessary to prevent death is dangerous," she wrote in an August affidavit opposing the state's ban. "Patients will suffer pain, complications, and could die if physicians comply with Idaho law."
The Cut offers an online tool that allows you to search by Zip Code for professional providers, including clinics, hospitals, and independent OB/GYNs, as well as abortion funds, transportation options, and information for remote resources like receiving the abortion pill by mail. For legal guidance, contact Repro Legal Helpline at 844-868-2812 or The Abortion Defense Network.