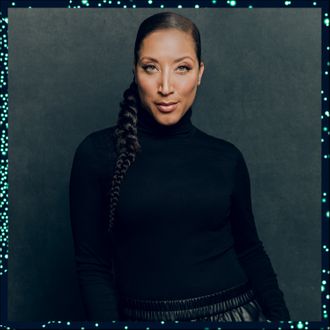 Photo-Illustration: The Cut; Photo: Kevin Scanlon
Robin Thede has always been funny, and she's always known it — she was named after Robin Williams, after all. As children in Iowa, Thede and her sisters were the only Black kids in their school, leading to much teasing and isolation. The sense of community she was denied at school she found instead on television, watching Whoopi Goldberg's one-woman show and In Living Color. "I saw that Black women could be funny and actually make a living," she tells Cut editor-in-chief Lindsay Peoples on this week's episode of the In Her Shoes podcast. "I was like, 'What?!'" She's since established a successful career in comedy through her work on shows like Key and Peele, Chocolate News, and Real Husbands of Hollywood. In 2015, she became the first Black woman to be head writer for a late-night talk show (The Nightly Show with Larry Wilmore) and then hosted her own late-night show on BET from 2017 to 2018. Then, in 2019, came A Black Lady Sketch Show, of which Thede is the creator and executive producer. Cast members have included Quinta Brunson and Ashley Nicole Black, and that's saying nothing of the amazing roster of guest stars (Angela Bassett, Issa Rae, Gabrielle Union … we could go on).
Ahead of the season-four premiere on April 14, Thede spoke to the Cut about the demands of being a showrunner on a series you also star in (it isn't always a barrel of laughs), from creating the sketches to prepping with the crew, being in hair and makeup, and shooting the show. Thede credits her team and castmates for keeping her life and show a "well-oiled machine." As for the creative inspiration and where all those characters come from? "My brain is a cartoon on a loop," she says. "Imagine an outlet for all of the craziness in your life. That's what I have."
Thede believes that her legacy will come not only from her hard work as a writer, producer, and showrunner, but also from her willingness to help others along the path to success. "Legacy is creating what you leave behind for everyone else through the lens of having interacted with you," she says. To hear more, subscribe for free on Apple Podcasts or wherever you listen, below.