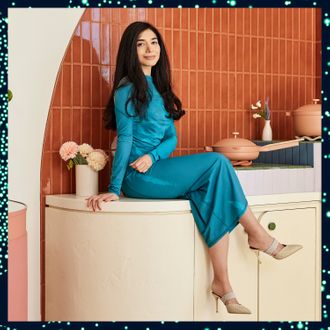 Photo-Illustration: by The Cut; Photo: Our Place
Direct-to-consumer pots and pans may be all over Instagram, but Our Place — the female-led kitchenware brand started in 2019 by Shiza Shahid — has built a particularly devoted following. In addition to looking pretty in photos, the brand's viral Always Pan is shallow enough to flip an egg but deep enough to roast a chicken, cutting down the need for an eight-piece pot and pan set. It's earned the nickname "the Rolls Royce of pans," and an international fanbase of people who love to cook but hate the cleanup.
It wasn't always clear that Shahid would one day found a viral cookware line. Growing up in Pakistan, she expected to remain in her hometown and work for a nonprofit.  After attending Stanford, she spearheaded the Malala Fund, a nonprofit that advocates for girls' education, with Malala Yousafzai's father. But Shahid always dreamed of starting her own business, and eventually left her position to create clean, easy, and sustainable cookware that looks great and makes the process of cooking "less oppressive."
"In the food space, there has been a very long history of erasure," she tells Cut editor-in-chief Lindsay Peoples on this week's episode of the In Her Shoes podcast. As an immigrant who rarely saw her Pakistani culture represented in the mainstream culinary industry, cultural inclusivity is especially important to Shahid: She says the Our Place staff celebrated over 32 traditions last year and has kept the legacy and heritage of vintage crafts for some of her products. "When we cook and share food, we connect to our communities, culture, and bodies. That's what Our Place is about."
Now, she has more than four million people cooking with her pans. She spoke with Peoples about not following a traditional career path, leaving the Malala Fund, and navigating a product going viral.