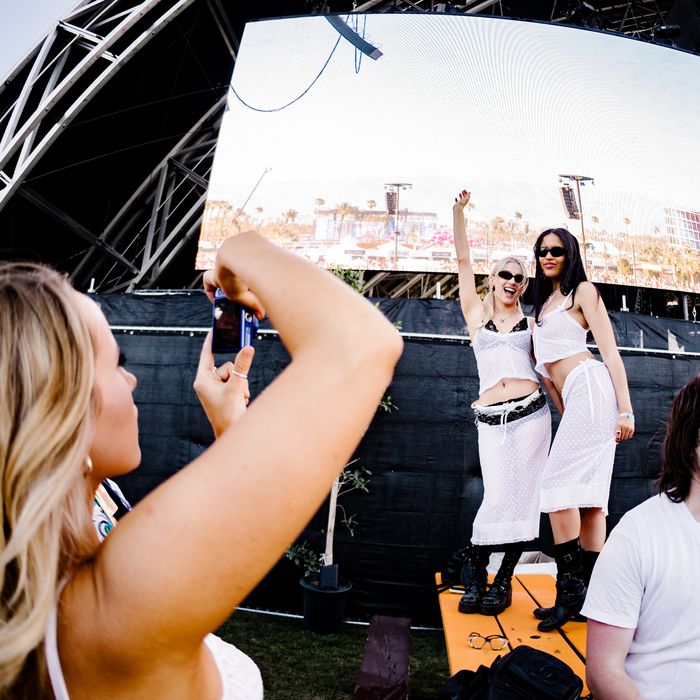 Photo: Matt Winkelmeyer/Getty Images for Coachella
"It is Coachella day three, but I have made the executive decision that I am going to go home today," Kensington Tillo, a 23-year-old beauty influencer, said on TikTok after declaring she would not be attending the remainder of the festival because she wanted to "not push myself." Tillo was invited to Coachella and accommodated by Kourtney Kardashian's lifestyle and wellness brand Poosh titled Camp Poosh. Since Tillo's an influencer, the brand probably paid for her flight, stay, Coachella wristband, and activities while on the campgrounds. She detailed in a TikTok that the trunk full of goodies Poosh gifted her would be everything needed to "save my life" for the three-day weekend festival. However, despite the Lemme gummies, which promise to help you "chill," Tillo felt it was best to head home early.
"I'm really starting to listen to my body and not push myself when my body is telling me to sleep and go home. I need to listen," Tillo said. The influencer claimed that when she doesn't listen to her body, she starts to "completely spiral" and recounted an experience of being on another trip and forced to "rage and party," leading her to push her limits.
The blowback was swift. Some called her "wasteful" and suggested she fulfill her work obligations despite feeling exhausted. One user commented, "How privileged," to which Tillo defended herself, asking why she should push herself beyond her limits when dealing with "extreme anxiety."
This led to a conversation pitting usually boomers and millennials (like Kim K. saying, "No one wants to work these days") against a younger generation that wants to set boundaries around mental health and work. Tillo said she is exercising her boundaries within the workplace, even if that work comes with perks like free Coachella wristbands, a chef, etc.; these gifts are proven not to outweigh the human need for rest to balance out the work.
Like any employee, Tillo put in the work: She took the selfies, she made the TikToks, and she tagged the brands. Even though it doesn't seem like a lot (at least not worth missing Frank Ocean over), she listened to her body and didn't burn out. We say, since when is it "privileged" to know your limits?