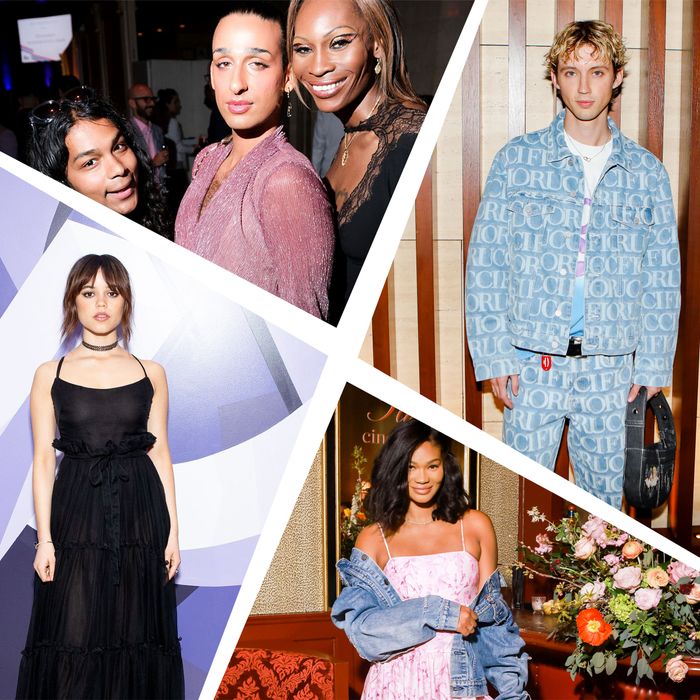 Photo-Illustration: The Cut; Photos: BFA
So much has happened this week: Timothée Chalamet and Kylie Jenner were outed as an alleged couple, a new Succession episode aired (R.I.P Logan Roy), and Taylor Swift is newly single (R.I.P Jaylor). As these world-altering events took place, one thing remained constant: People were still partying.
Among the parties, the Lesbian, Gay, Bisexual & Transgender Community Center held a 40th-anniversary dinner at Cipriani Wall Street on April 13. The event featured a drag story hour, honored queer icons, and raised $1.7 million for the center's programs and services. Actress Dominique Jackson and poet Alok Vaid-Menon gave speeches on navigating queerhood after being honored. Vaid-Menon highlighted the importance of self-acceptance. "In the pursuit of getting the world to accept us, we also have to recommit to accepting ourselves. That's an ongoing lifelong process — unlearning the shame that we have as queer people," they said.
The dinner brought together a diverse group of supporters including icons such as Devin Halbal and Sasha Velour. The center's executive director, Glennda Testone, acknowledged the significance of the organization as a place where people from all walks of life, including drag queens and finance bros, can unite to support the same cause. "I think the magical and special thing about the center is that it is just one of the rare places where everyone in our community can come together and support each other. It's just so powerful," Testone said, recognizing the organization's growing diversity and value as a sanctuary for those seeking acceptance in the heart of New York.
Below, this and other parties this week.
Best Denim on Denim: Troye Sivan
On April 5, Fiorucci celebrated its spring-summer 2023 collection with a dinner at Ardor Terrace at the West Hollywood Edition. Troye Sivan threw it back to the '90s by wearing an oversize denim-on-denim look featuring major Fiorucci logomania.
Best Rave Look: Gia Kuan
Coachella is right around the corner, and PR mogul Gia Kuan is reminding us that it's all in the accessories. Colorful rings, gemstones, and eye-catching headwear are sure to be seen in the Valley this year, and if not, then it was at least worn at the Won Soju x Seoul Salon launch party.
Wednesday Addams Dupe: Jenna Ortega
Jenna Ortega attended Dior Beauty's LA The Grey Zone pop-up for the new Gris Dior campaign and is having a really hard time trying to prove to us that she's nothing like her Netflix original series character, Wednesday Addams.
Doll Check-in: Devin Halbal, Cyrus Veyssi, and Dominique Jackson
Doll check-in! Doll check-in! The girls have arrived in stunning lace, feathers, and gems for the Lesbian, Gay, Bisexual & Transgender Community Center's 40th-anniversary dinner. The organization held a night of extravagance while recognizing trailblazing members of the LGBTQ+ community, organizations, and allies for their work and commitment to achieving equality for all.
Best Springtime Pattern: Chanel Iman
You know you're dressed appropriately for an event when you're matching the décor, as Chanel Iman is at the Cinq à Sept store opening.
Best Accessory: Michelle Li
At Bernadette's spring 2023 collection launch, Michell Li came in a blinding yellow dress paired with a subtle and sweet hair bow. Being coquette is all in the details.