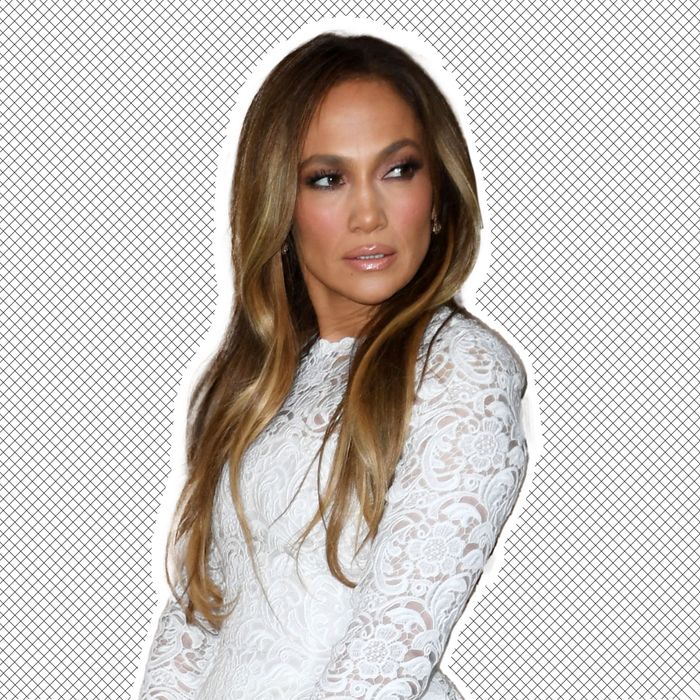 Photo-Illustration: The Cut; Photo: Getty
This week, Jennifer Lopez launched Delola, a new company that sells tequila, vodka, and amaro spritzes. It's named after "Lola," her "carefree, fun side" (?) and is inspired by the Italian coastline. And while it's pretty standard for celebrities to start booze brands, in J.Lo's case, the decision has some people scratching their heads since she notoriously doesn't really drink alcohol.
"I just wanted to create something better, better tasting, better ingredients, something I wanna drink with my friends and family, and that is Delola," she says in a promo video. Talking with People, she acknowledged that she's "not a huge alcohol whatever — alcohol drinker," explaining that it was important to her that it be "really pleasant-tasting," as well as healthier than other cocktails (Delola is gluten-free and not packed with sugar). Still, selling alcohol seems a little inconsistent given everything she's said over the years about how little she drinks. In an interview with Us Weekly in 2016, she said that she doesn't "drink or smoke or have caffeine" because "that really wrecks your skin as you get older," according to Hollywood Life. She told InStyle that same year that drinking can "ruin" your skin, but clarified that "during celebratory toasts, everybody's like, 'You can't toast with water!' So I'll toast with alcohol and just take a sip."
Interestingly, many of these interviews appear to have since been taken down — but fans have not forgotten, commenting on the Delola promo video that J.Lo was "being a hypocrite," and "making a money grab." The word "disappointed" came up a lot, and several people wondered why J.Lo didn't create a nonalcoholic line à la Blake Lively's Betty Buzz. Others pointed out that starting an alcohol company seems at odds not just with the fact that J.Lo doesn't drink, but that her husband, Ben Affleck, is in recovery. While having a sober spouse doesn't mean a partner can't drink, in this case, it adds to the sense of Delola feeling disingenuous.
All that said, it's certainly not the first instance of a celebrity shilling a product they don't care to use themselves.