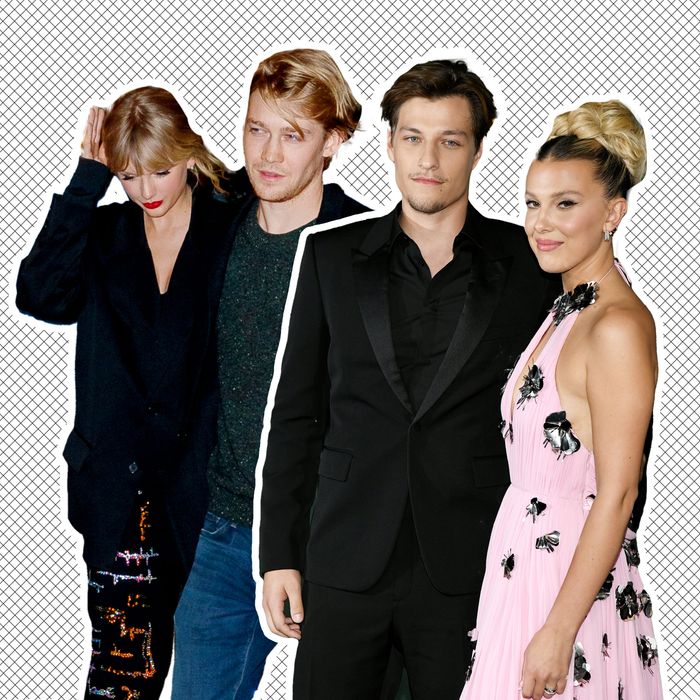 Can you tell these men apart?
Photo-Illustration: The Cut; Photos: Getty
Because my job is to keep track of celebrity relationships, I usually operate in a constant state of whiplash. Well, this week has left me more disoriented than ever. As you probably know by now, Taylor Swift broke up with her British boyfriend and muse of six years, Joe Alwyn. Heartbreaking for some, nauseating for others, the harbinger of an incredible album for me. A few days later, some happier news arrived: Millie Bobby Brown suggested on Instagram that she's engaged to her boyfriend of several years, Jake Bongiovi. He is the son of rock legend and Sex and the City boyfriend Jon Bon Jovi and also the third-generation heir of the namesake pasta-sauce brand.
However, you'd be forgiven for wondering if, in the few short days since splitting up with Taylor Swift, Joe Alwyn suddenly got engaged to Eleven from Stranger Things. Or if, for the past six years, Taylor Swift has been dating Bon Jovi's 20-year-old son. I say this because … these men look the same?
This thought would have never occurred to me were it not for the cosmic collision of these two events in such a short span of time. When one door closes, another one opens, and these doors look exactly alike. Until recently, Jake had bleached hair, which made him look like Joe Alwyn if he joined the cast of Euphoria. Now that Jake has shed his gilded tresses, the resemblance is much more apparent.
Maybe you can tell them apart. Here's Joe:
And here's Jake:
Joe again:
Jake:
Are you confused yet?