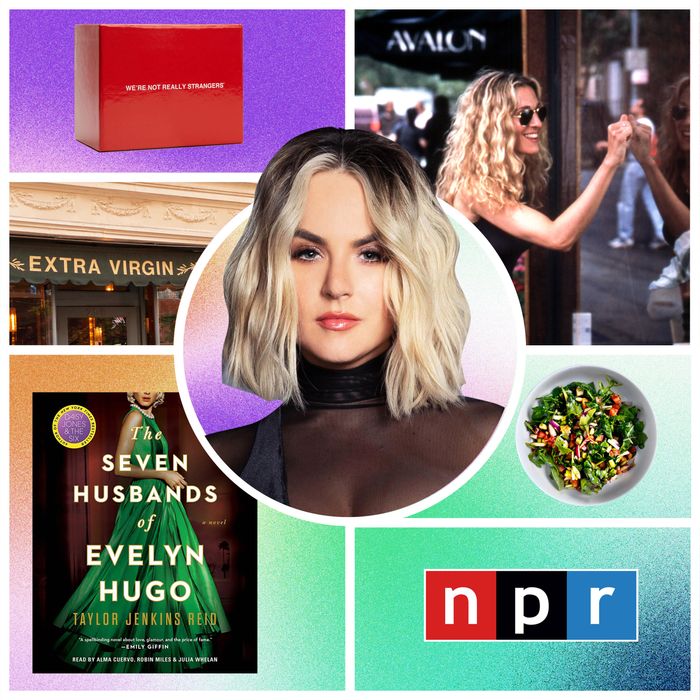 Photo-Illustration: by The Cut; Photos: Alfredo Flores, Getty Images, Shutterstock, Amazon
Joanna "JoJo" Levesque is no stranger to making record-breaking accomplishments, and while it is thrilling to hear she's making her Broadway debut in Moulin Rouge! The Musical this month, it's not exactly a surprise. This is, after all, the woman who broke into the top-40 charts at just 13 years old, starred in a handful of breezy comedies, won a decade-long legal battle with her record label, and whose cover of Drake's "Marvin's Room" is possibly (at least in my house) better than the original.
But JoJo came to Broadway in a roundabout way. She never thought she'd star onstage, let alone as Satine, the show's tuberculosis-ridden courtesan, until she saw Adrienne Warren's Tony-winning performance in Tina and later saw her friend Angelica Ross make headlines in Chicago. By the time the touring production of Moulin Rouge! The Musical came to Los Angeles, she knew she had to get on that stage.
Now, the 32-year-old musician will take on the role made instantly iconic by Nicole Kidman in the Baz Luhrmann film, and just one week into the run she is already loving the tight community created by each show. "I've always felt like a lone wolf and kind of on my own," she says, sitting in the Al Hirschfeld Theatre's fuzzy red seats. "I'm an only child and I started performing so young as a solo act. To be a part of what is very much a team sport? I love it."
Moulin Rouge! is a jukebox musical that includes several covers of well-known love songs. We know you can body a cover, but was there any song you were nervous to take on in the show?
I was most scared to take on "Firework" because it's the most exposed; Satine is starting to open up and the stakes become clear of what her journey is going to be in the show. And she's up there by herself. I think our take is very special because it brings new life to those lyrics. I remember I cried the first time I saw it performed by Courtney Reed on the touring production. Like, "Damn, I had never heard this song before." So I'm trying to find my own truth in it.
Have you developed any pre-performance rituals?
I like to get a workout in. I take my dog for a walk. I'm doing all my weird singer vocalizations, you know, [lip trills] up and down. I add Pedialyte to my BCAA and drink that during the show, and a ginger chew in my mouth. And my stylist, Johnny Wujek, made me a playlist for when I go running. That's what I listen to before I get ready. I try to just zone out and get into a fun framework so I'm not taking this too seriously and freaking out.
What's on the playlist?
A lot of fun dance music that I hadn't heard before. There's this one song called "Pretty Girl Era," which has become my theme song as I'm getting ready.
What's the last thing you cooked?
I don't cook here in New York because I don't love my stove … it's electric. But the last thing I made was a salad, because you can't really mess that up too much. And I'll just be heating up these Sakara meals; I do meal delivery three days a week, which makes life really easy.
How much earlier before the show do you get to the theater?
I get here two hours before the show because I do my own makeup. I do my ice roller. I was just sent this really dope cryogenic thing that you pop in the freezer and it feels so good; just this frozen metal thing. So I'm de-puffing, I'm doing all my creams and 30-minute vocal warm-up that I have on my phone from my teacher, Nick Cooper. Then I do my makeup and I get in the zone.
Where do you get your culture recommendations?
I follow Secret NYC. I love listening to NPR in the morning; have that on my radio blasting in my apartment. And then I just have cool New York friends who tell me where to go. To be single in the city is really fun; meeting nice guys who want to take you to cute places you haven't been to. I have gorgeous girlfriends and guy friends who want to explore different parts of the town. I'm definitely having a moment and it's very fun.
Do you have any comfort rewatches?
I'm Sex and the City right now. Season two is my favorite, and I'm on season three. Carrie hasn't met Aiden yet, she's still with Big. I just went to this restaurant, Extra Virgin, that was near her apartment in the show, and had a moment.
Is there something you'll never watch, no matter how hard your friends try to put you on?
Game of Thrones.
You're not a fantasy fan?
I do like fantasy, and I like hot sex scenes, so it seems like something that would be really up my alley. But the thing is, I've tried to watch the first three episodes twice now, and everybody's like, "Just get through the first, you know, several episodes," and the likelihood of me returning for a third time is … I don't know. That's a big commitment. And it's a lot of characters to remember? I don't know.
What's the best piece of gossip you've heard?
Whenever somebody gets a lot of plastic surgery done and then lies about it, I always think that's interesting gossip. When they either told you that they, like, got this major body surgery done or whatever, and then shy away from talking about it? I just think that's interesting. I don't judge. It's just interesting because I think that we're turning a corner now where more people are speaking openly about what they're doing, but still live in a time where we're kind of coy about it.
Do you have a favorite game that you like to play?
We're Not Really Strangers. It's a card game. They have a friendship edition, a relationship one, dating, a self-exploration thing. It's just deep-ass questions; I like that. "What was the first thing you thought about me when you met me?" Just deep getting-to-know-you and getting-under-the-surface-type stuff. They have a beautiful Instagram, too. And I like Monopoly.
What's a book you couldn't put down?
The Seven Husbands of Evelyn Hugo. I was walking and reading; that's how you know it's really good. I was just living my life and consuming this book, which is giving Elizabeth Taylor. It's an archetype of a woman we've known through pop culture, and it's just beautiful. A delicious read. Sumptuous.
What's the worst advice you've received?
To listen to your feelings. I don't think you should listen to your feelings, I think you should listen to your intuition. Our feelings can lead us astray at times. Sometimes you need to zoom out, take a look at your life as an objective observer and say, you know what? Even if I don't feel like challenging myself, or introducing this new routine, or saying goodbye to a person that I know is not healthy for me, sometimes you still need to do that.
And the best?
Best advice I've received is from one of my castmates here, Sophie Carmen-Jones. We're both making our Broadway debuts — she's coming from doing this show in the West End — but we were talking about our nerves, the physical manifestations of the anxiety we feel inside. She was saying we have nothing to prove, nothing to push, only fun to have, and a room to explore. Doing a show like this where you're singing these songs that are not for the faint of heart, you can't push. You have to find a really healthy placement in your voice and do something that will be sustainable, to learn how to give 80 percent so you can be at 100 percent the whole week.
Did Adrienne Warren give you any advice about making your Broadway debut?
She's given me a lot of advice and has been such an incredible friend and resource through it. Her advice was to find your show within the show, do what you need to do for you. Have a good relationship with the sound person. Ask for what you need to hear on the stage, and stay healthy.
Imagine you're on your night off from the show, you're going to dinner and calling an Uber XL — which five celebrities are you putting in there?
That's a weird question. I don't know. Honestly, I would have my cast come but I feel like that's not what you're looking for.
All four Sex and the City girls?
Right.
Whose boyfriend gets to come along?
I don't want nobody's man! But I loved Aiden, and I really do hope that we get to see them get back together next season of And Just Like That ... I love spending time with fabulous older ladies. Really, all the women from Sex and the City could come in the XL with me. I just love learning from women who have more life experience under their belt and can take me to fabulous places, tell me about love and life, and put me on to where to get great clothing.
Do you ever go to a museum at 10 a.m.? Because that's who's there.
Yeah, I really enjoy that. On a day off, I'll probably go to some museums here.
Finally, what's the worst thing someone could do at a dinner party?
Bring their dog. I think that some people, particularly in L.A., feel like they can bring their dog anywhere. I love my dog, but it's inconsiderate for people to bring their animal without asking. And, listen, I've been the obnoxiously drunk person many a time, particularly in my 20s, but getting obnoxiously drunk and making people feel awkward … I don't like that.