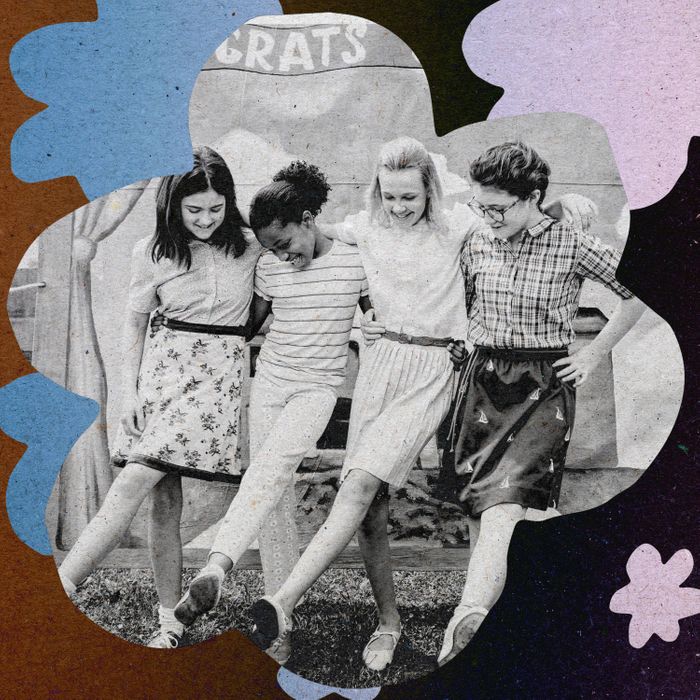 Photo-Illustration: by The Cut; Photo: Dana Hawley/Lionsgate
"Swellness" is a monthlong series exploring the health and wellness stuff no one talks about.
When Kelly Fremon Craig was in the fourth grade, her best friend let her in on a secret. "There's this book you have to read," the preteen said as the duo splashed around in the aboveground pool at Fremon Craig's home in Southern California. "It has these three girlfriends, and there's this exercise they do, and it's written by this woman named Judy Blume."
The book, Fremon Craig learned, was called Are You There God? It's Me, Margaret., and off her friend's recommendation, she picked up a copy. Like millions of readers before her, she was instantly drawn into the story of 11-year-old Margaret and her dreaded move to the New Jersey suburbs. In a matter of days, she'd read the novel cover to cover, devouring scenes of school parties and bra fittings and trips to Florida and, most memorable of all, the "exercise" that her friend had told her about.
Like Margaret and her peers, Fremon Craig found the idea of there being something tangible that a flat-chested preteen girl could do to speed up the whole puberty thing impossible to resist. And so, after she informed her pal that she had finished the book, the duo immediately planned their next move: to sneak into their basements, stand side by side, and chant with all the passion in the world, "I must, I must, I must increase my bust!"
The only problem? It was all wrong. Instead of keeping their arms at their sides, the girls stretched out their elbows, overemphasizing the clap and losing the symmetry. Fremon Craig might never have realized the issue, though, if 30 years later, Blume herself hadn't been standing on the set of the Margaret movie adaptation, watching in horror as the writer-director adapting her beloved book instructed the preteen actresses to spread out their own elbows in turn.
"We had to go back and do it again," Blume recalls, sitting beside Fremon Craig on a restaurant patio in the author's home of Key West, a month before Margaret's April 28 release. "Thank God Judy was there that day," the filmmaker says, grinning.
No one, perhaps, is more grateful than Blume. For decades, the author had adamantly opposed adaptations of most of her books, certain that they'd disappoint readers and fail to live up to their lore. (She also hated the idea of the films eventually airing on network television with commercials in between key scenes.) She'd said "yes" to a few offers — including a 1978 made-for-TV version of Forever … and a Fudge sitcom on ABC that lasted two years in the '90s — but the receptions had been so lackluster, and her involvement so minimal, that trying again just didn't seem worth it.
Yet around 2018, with a new agent on her payroll, a recently celebrated 80th birthday, and a growing appreciation for the adless world of streaming, Blume found herself slowly changing her mind. "I started to feel, around then, like, You know what? They're gonna do this stuff after I die," the author, now 85, says with a shrug. "So it will be better if I do it now and I have some say over what happens to it." (She also relented, after several years of hesitation, to letting filmmakers share her life story in a documentary, Prime Video's Judy Blume Forever, out April 21; it's never been a better month to be a Blume fan.)
Still, while conversations began about adapting many of her books, Margaret stayed wholeheartedly off the table. As the most popular (and, as the documentary discusses in detail, the most controversial owing to its frank depiction of periods, puberty, and interfaith marriage) of Blume's 30 books, the novel simply had too much at stake to be risked by a potentially underwhelming adaptation. "I thought of how bad it could be," she says, chuckling. "I just didn't want to do it."
Then Blume received an email that changed everything. In August 2018, within hours after seeing a tweet sent by Blume expressing her newfound openness to adaptations, Fremon Craig wrote the author a "love letter." She expressed her lifelong desire to adapt Margaret and her adoration for Blume, whom the 42-year-old credited for inspiring her passions for reading and writing (Blume's 1975 young-adult novel, Forever …, otherwise known as the book with teenage sex and a penis named Ralph, was the first book she'd ever read in one sitting, at age 12).
Blume was intrigued — in large part because, two years before, she and her husband, George Cooper, had seen and loved The Edge of Seventeen, an incisive, heartfelt coming-of-age dramedy starring Hailee Steinfeld that marked Fremon Craig's directorial debut. "What I was wishing as I was watching was that we could get one of my books to be adapted in such an intimate, real way," Blume recalls.
What she didn't know at the time was that it was her own books — Margaret in particular — that Fremon Craig used as inspiration when writing the script. "As I was making The Edge of Seventeen, she was in the back of my mind," the filmmaker says. "There was a direct link back to first reading her books and feeling like, Oh my gosh, somebody gets me. And somebody's saying all of the embarrassing bits, too. Somebody's getting really specific about these experiences that we don't talk about."
"I wanted to make something that felt that honest and true, that felt like Judy Blume's books," Fremon Craig continues.
The director infused that desire into her letter, charming Blume with her clear enthusiasm for the author and her material. But that alone wasn't enough. "It was a wonderful letter, but a lot of people can write wonderful letters," Blume says. What really stood out was the fact that Fremon Craig mentioned that the legendary producer James L. Brooks (The Mary Tyler Moore Show, Taxi, As Good As It Gets, Jerry Maguire) was her mentor — and as such, he'd be on set every day of filming, just as he was for The Edge of Seventeen.
A longtime fan of his work, Blume was thrilled at the prospect of having the producer's input on Margaret alongside Fremon Craig's. The trio spent "a good afternoon together" in Key West, Blume remembers, feeling one another out and discussing their vision for the film. By the end of the day, Blume was onboard — as long as the filmmakers agreed to one major stipulation. "I wouldn't do it if you'd said to me, 'It has to be updated; it can't be set in the '70s,'" Blume reminds Fremon Craig now. "I'd thought about it a lot, and I'd felt that there was no way that it could ever be today. Nuh-uh."
Thankfully, the director completely agreed, and by early 2020 the Margaret movie was under way with Lionsgate behind it and a relative newcomer, Abby Ryder Fortson (who had previously played Paul Rudd's daughter in Ant-Man), cast in the title role. Blume signed on as a producer, a title she took seriously. "Producers don't really necessarily do anything. But I did," she says with a laugh. "I feel my credit is due."
On set, she spent her days watching dailies, filling Fremon Craig in on characters' backstories (including that of Margaret's mom, Barbara, played with new depth by Rachel McAdams), and correcting any errors (which, in addition to the "bust" scene, included the crew providing the wrong brand of sanitary napkins; "They were buying Modess or Kotex or something, but it had to be Teenage Softies!" Blume says. "I'm proud of myself for that").
She and Cooper even filmed a cameo: a cheery scene featuring a sunny stroll and an overheating dog. It would have been a blink-and-you'll-miss-it moment if Blume weren't, well, Blume, and thus instantly recognizable.
But as promising as things seemed, Blume's initial worries about Margaret's onscreen fate didn't disappear completely. "I knew that certain scenes were going to be just great," she says, citing the climactic boy-girl party, in which Margaret gets her first kiss, as a favorite. But still, she adds, "it's always different when you see the edited movie."
When it was finally time to view the finished cut of the film, Blume simply hoped for the best. One-hundred-odd minutes later, she found herself clapping the hardest in the room. "Oh my God, I am so, so glad I did this," she says now. "I had tears of relief — just crying with joy."
Margaret, says Blume, captures "the whole spirit of the book." And indeed, the film portrays its title heroine's coming-of-age with the same ecstatic joy and sensitive touch as the 1970 novel, an end-to-end delight for both preteen and adult viewers alike. On the Today show last winter, Blume went so far as to pronounce the movie as even better than the original. Hearing Blume recite her praise for the film now, the director is visibly emotional. "My biggest ambition from the beginning was to make you proud, honestly," she tells Blume quietly. "I really wanted to do right by you."
Blume pats her hand: "I would not be doing any of this if I did not really love this movie and care about it — and I do."
Which isn't to say, however, that the author's fears over the quality of her other novels' potential adaptations have lessened. "Absolutely not!" she said, laughing, when asked if Margaret has given her more confidence in that regard. "I just want to set that straight for you." Besides, she adds, the other ones currently in the works aren't really hers, not like Margaret is. There's a Summer Sisters TV series in development at Hulu, but there's no writer attached, and while Mara Brock Akil has signed on to turn Forever … into a Netflix show, "it's a reimagining" of the best seller rather than a straight adaptation, says Blume.
If Fremon Craig were to tackle another one of her books, then maybe Blume would be more optimistic — not that she'd ever broach the question. "I never wanted you to feel, and I still don't, that, 'Ugh, Judy's asking me and I can't say 'no,'" Blume tells the director. Fremon Craig beams from ear to ear as she responds, "Even you saying that is the biggest compliment in the entire world."
Really, the director says, if Blume wanted to work with her on a grocery list, she'd say "yes": "I would love to have Judy in my ear forever."