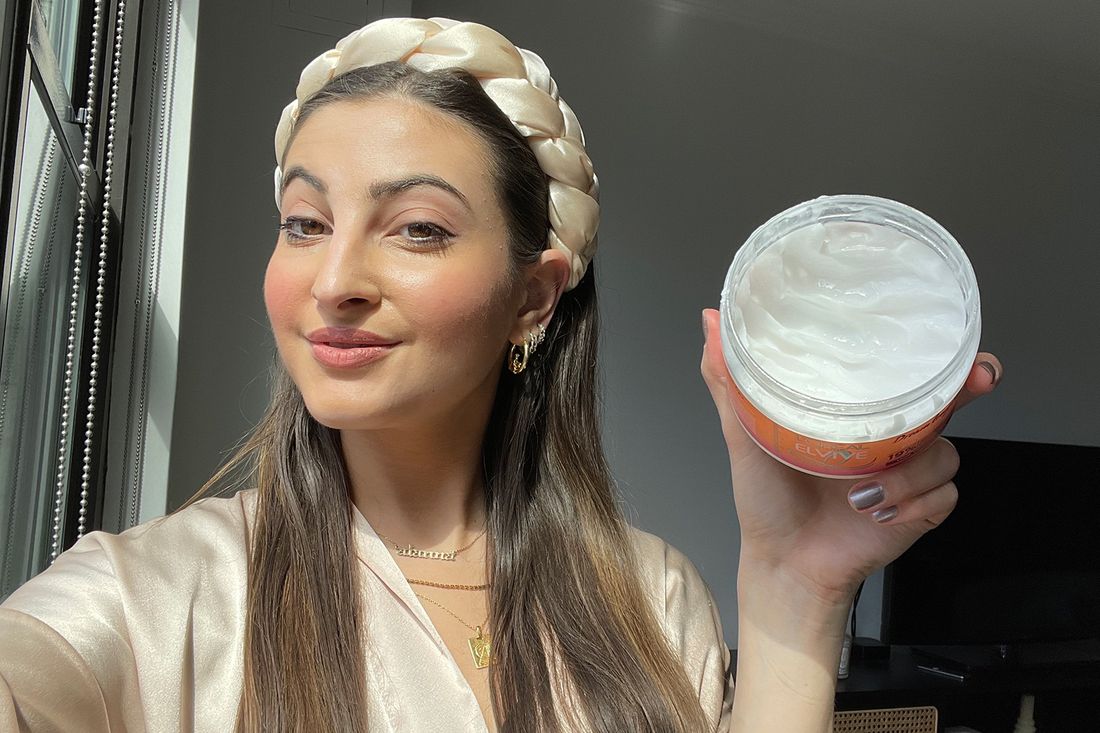 Photo: Alanna Martine Kilkeary
Soap cutting, acrylic nail-clicking, and even mushroom ASMR (seriously, look up Dr. Gordon Walker of @fascinatedbyfungi) are just a few of the mesmerizing content creations out there that trigger the autonomous sensory meridian response, a pleasing brain-tingling sensation. The possibilities don't end with fungi, though, as the sights, sounds, and feels of beauty products have been another form of the ASMR trend, and one I'm particularly excited about.
My latest ASMR obsession is in the form of a real, tangible product itself: The L'Oréal Paris Elvive Dream Lengths Fiber Mask. This hair mask is one of the most unique hair products I've ever used because it's formulated with a restoring fiber concentrate that has actual stretchy fibers that invoke ASMR tingles to those who use it.
Before I delve into the oh-so-satisfying details of this stretchy mask, let's review a little background on beauty-related ASMR content — in short, it's addicting. From videos of opening and closing skin-care bottles to the glugglug of serum being sucked out of a bottle to the sounds and perceived feels of applying thick, sticky moisturizer, these are only a few examples that are quite enjoyable and relaxing to me. That's why recreating that sensory experience in my own beauty routine has become a goal of mine, and this hair mask does just that and more.
Grab a dollop-sized amount into your hands (I scoop some up with my fingers), and clap the product together between your palms — it should start to feel slimy in the best way. Once you separate your hands, the product will create a web of strings between them, and you're ready to apply. Starting at the root, fork the product through your strands from root to tip and massage it in for two to three minutes before washing it out.
Even when reaching into the jar, you'll notice how stretchy and malleable the mask is — it brings me back to the days of at-home Nickelodeon Slime kits, minus, well, the mess. The product clings to where you put it, different from the likes of slime-ridden walls and carpets of kindergarten classrooms. The satisfying feeling and sound, however, are the same. It feels joyously sticky when on your hands, sounds squishy in between your fingers, and coats your hair in a stringy blanket that washes out easily for softer, smoother hair texture.
What's more is that this mask is just as effective as it is stretchy. The formula contains a collagen peptide concentrate that works to repair damaged strands and split ends, making it ideal if you have long hair that needs detangling and taming. After the first few uses, my hair felt a lot softer and stronger and was knot-free after my washes, and also appeared shinier throughout the week. I also didn't need to add an extra step of leave-in conditioner, which is usually the only thing that keeps my excess flyaways at bay.
Instead, after using the mask alone, my hair looks full, frizz-free, and resilient. I'm not sure if ASMR scents are a thing, but the mandarin, pomegranate, and milk sorbet scent is just as delectable as it sounds, adding another spine-tingling sensory element to the experience.
This hair mask proves that my personal beauty routine can give me the feeling of relaxation and enjoyment in the same way watching ASMR content does. Using this mask not only makes my regimen a lot more fun, but it also helps loosen me up — which is one of the best things you can get out of a beauty routine. The mask gives you both a tangible element, in the form of stretchy fibers, and an intangible one, in the form of self-indulgence — everything an ASMR experience should be.
This advertising content was produced in collaboration between Vox Creative and our sponsor, without involvement from Vox Media editorial staff.