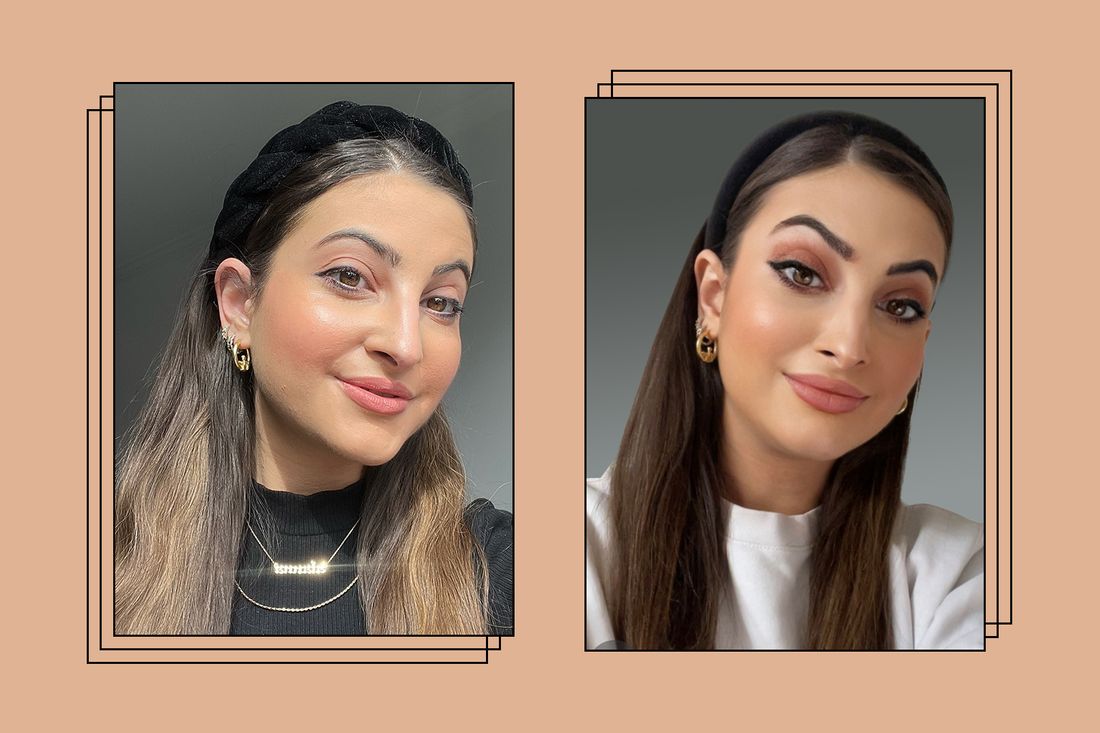 Photo: Alanna Martine Kilkeary; Photo-illustration: Sarah Duvivier
As a beauty editor who straddles the line between a millennial and Gen Z-er (looking at you, all '94s), I'm generally happy about the fact that I missed growing up with face filters on social media, but I'm also extremely fascinated by them. Take TikTok's "Bold Glamour" filter, for example. It makes your skin smooth, your brows bold, your lashes multiply, and your lips plump and juicy — and who wouldn't want that?
Hot take, though: You can easily achieve one or more of these qualities with makeup. Draw on your brows a little thicker, invest in some lash extensions if you please — and for a non-textured skin look, get your hands on the L'Oréal Paris Prime Lab Pore Minimizer Primer instead.
Before I could truly test my hypothesis of being able to achieve AI-perfect skin without a filter, I wanted to try "Bold Glamour" myself to see what the hype was about. I opened my TikTok page, toggled it on, and let's just say, a resounding yikes was my first reaction. It certainly upped the ante of my brows (which I don't really think need much more ante … ), and added layers of lashes to my eyes, making them appear more doe-like and Disney Princess-esque. My skin had just as much of a noticeable change, too; it was velvety-smooth and blurred — without an impression of texture in sight.
Let's be real, I didn't love the way this filter made my brows and lips look, but I loved the way it airbrushed my skin for a velvet-matte and ultimately pore-free finish. That's what made me believe I could try the Prime Lab Pore Minimizer Primer to achieve a similar look IRL and see if it could live up to its AI counterpart. This formula is great if you're looking for something to gently exfoliate and keep your skin looking just as matte and smooth as the filter. It has an AHA, LHA, and BHA complex — a fancy mix of acids that will help visibly improve discoloration and uneven skin texture over time. The formula itself is silky in texture and bright in color — a vivid Easter egg pink that easily absorbs into the skin and turns transparent. I applied a dime sized amount all over my face (a little goes a long way!) and instantly, my skin felt like velvet.
Applying my foundation and concealer on top was even more enjoyable — the products melted right into my skin with very little blending effort. There was not one pill in sight, either, which is always a feat every makeup primer I try must overcome. The formulas clinged to the makeup primer like a magnet. I finished the look with some setting powder and a cream blush, which also effortlessly glided onto my skin, and my take on an AI-complexion, IRL, was complete.
Throughout the wear, my skin looks the way it does with the "Bold Glamour" filter sans the dramatic brows, oversized eyes, and exaggerated lips. My skin looks sleek, plush, and resilient with barely any texture. This primer gives me what TikTok doesn't — it minimizes my pores and airbrushes my skin the way a filter does; but it still lets my natural imperfections shine through, which, (another) hot take: I'm perfectly okay with.
This advertising content was produced in collaboration between Vox Creative and our sponsor, without involvement from Vox Media editorial staff.