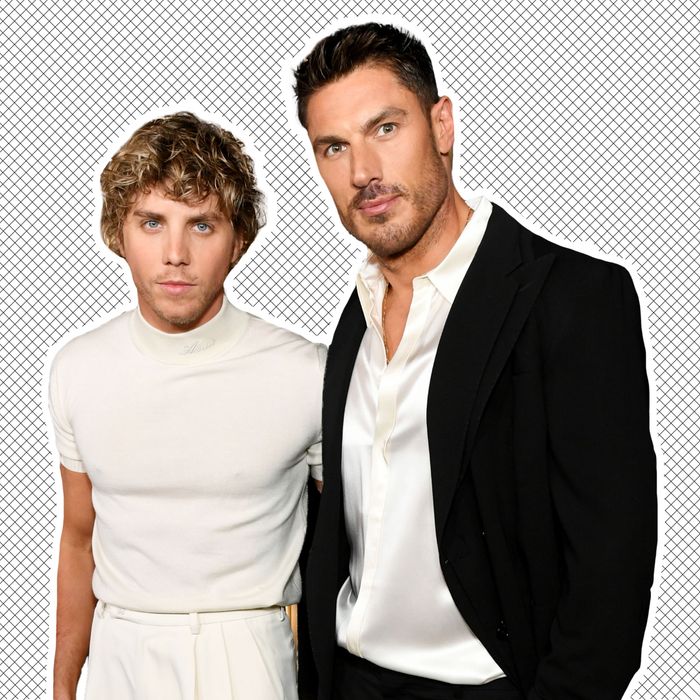 Blessings to them
Photo-Illustration: The Cut; Photo: Getty
It's been about a month since actor and ubiquitous L.A. guy Lukas Gage went Instagram official with celebrity hairstylist Chris Appleton — as good a time as any to get married in front of God and Kim Kardashian, and that appears to be exactly what they've done. Congratulations to the happy couple and to Kim K., not only on scoring this coveted invite but also on officiating the ceremony. That is, at least, how a photo that Gage shared on Wednesday makes it look: Gage and Appleton stand in front of Kardashian, gazing into each other's eyes with hands clasped. Kardashian, meanwhile, observes from behind her notes while dressed in priestly black. Is this a tableau staged specifically for the 'gram, or is this real life? A perennial question with no clear answer.
Gage and Appleton have been posting (and talking about) each other since February, when an Instagram carousel from their vacation in Mexico, followed shortly by a joint red-carpet appearance, got the relationship rumors going. Though Gage initially dodged questions about whether they were together, Appleton confirmed their relationship in March during an episode of The Drew Barrymore Show, saying he's "very grateful to be able to share my time with someone very special." Days later, he shared a photo dump devoted entirely to Gage, identified in the caption as the "apple" of Appleton's eye.
Gage appeared on the Today show a few weeks later and acknowledged the relationship, saying that both he and his mane "needed to be tamed." He added that he was "very happy, very lucky, and very much in love."
By April 5, Entertainment Tonight's sources were saying that actually the couple had been engaged this whole time or at least since approximately their Mexico trip. Now TMZ has purportedly obtained their marriage license from the Clark County clerk's office, seemingly confirming the "Page Six" report that Kardashian and five other guests witnessed Gage and Appleton get married at the Little White Chapel in Las Vegas over the weekend. Kardashian is Appleton's friend-slash-client, if you were wondering what she was doing there, and the two are very close — close enough that she private-jetted Appleton and Gage to an Usher concert in Vegas on Saturday and maybe also presided over their union? We await more details as we mourn the celebrity-wedding-guest mash-up of the century. But blessings to our grooms.
This post has been updated.