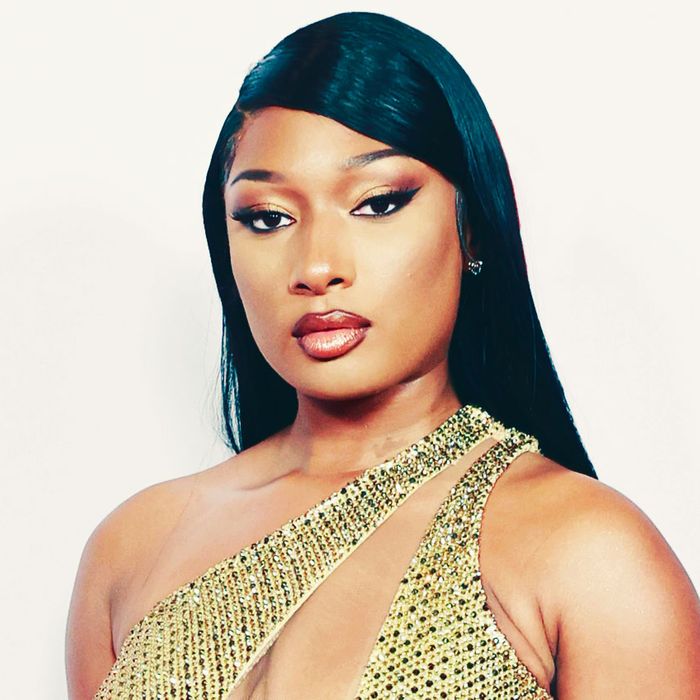 Photo: Emma McIntyre/Getty Images for iHeartMedia
Megan Thee Stallion will no longer call herself a victim, but a survivor. In a wide-ranging as-told-to essay for Elle, she opens up in what she says she hopes will be the last time she addresses the shooting that led to more than two years of social-media frenzy and a closely watched trial in the press.
The rapper Tory Lanez shot Megan in the foot in 2020 and was convicted on three felony charges in relation to the shooting last year. Throughout the trial, Lanez, a Canadian whose legal name is Daystar Peterson, denied the allegations. "Not only did I survive being shot by someone I trusted and considered a close friend, but I overcame the public humiliation of having my name and reputation dragged through the mud by that individual for the entire world to see," Megan says.
Here are the biggest takeaways from the essay.
Megan says she was surprised that people didn't believe her story.
Although she had initially hoped to keep the shooting and its aftermath private, Megan says, once it became public, "everything changed." "It never crossed my mind that people wouldn't believe me," she says. "Still, I knew the truth and the indisputable facts would prevail." When Lanez was found guilty in December, "it was more than just vindication for me, it was a victory for every woman who has ever been shamed, dismissed, and blamed for a violent crime committed against them," she says.
Megan says she fell into a depression while the case and trial were unfolding, and she is still recovering.
The conspiracy theories, jokes, memes, and other insults made at Megan's expense were difficult to deal with, she says, adding that people treated her pain as a running joke. Particularly hurtful were comments by her industry peers. While she does not name any specific people, she says that "instead of condemning any form of violence against a woman, these individuals tried to justify my attacker's actions."
And though she was "smiling through the pain, still posting on social media, still performing, still dancing, and still releasing music," behind closed doors, she says she was falling into a depression. She didn't feel like making music and worried that people didn't care about her anymore. "There would be times that I'd literally be backstage or in my hotel, crying my eyes out, and then I'd have to pull Megan Pete together and be Megan Thee Stallion," she says.
 She also advocates for support for other survivors of violence: "My heart hurts for all the women around the world who are suffering in silence, especially if you're a Black woman who doesn't appear as if she needs help." She says that often people assumed she didn't need support because she looked strong and was outspoken. "I didn't fit the profile of a victim," she says.
Megan calls for resources for women "to recover from these tragedies physically and emotionally, without fear of judgment. We must do more than say her name. We must protect all women who have survived the unimaginable."
Megan says the essay is the last time she will address the case against Lanez in the press.
Because the trial and the surrounding media coverage were so draining, Megan says she is moving on: "I understand the public intrigue, but for the sake of my mental health, I don't plan to keep reliving the most traumatic experience of my life over and over again." Notably, she never refers to Lanez by name in Elle, calling him "my attacker" throughout. "I'm choosing to change the narrative because I'm more than just my trauma," she says.