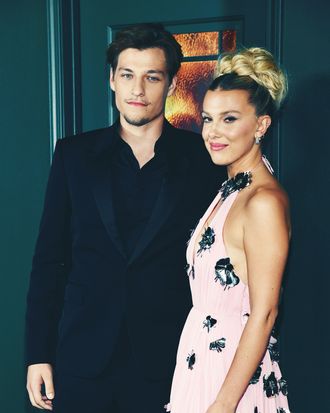 Photo: Kristina Bumphrey/Variety via Getty Images
Millie Bobby Brown appeared to announce her engagement to Jake Bongiovi in an Instagram post on Tuesday, per "Page Six". The black-and-white photo of the couple shows Bongiovi with his arms wrapped around Brown, a diamond ring in clear view on her left hand. She captioned the post with Taylor Swift lyrics: "I've loved you three summers now, honey, I want 'em all," from the song "Lover" (Swifties are losing it).
Bongiovi, the son of Jon Bon Jovi, posted a similar photo from a different angle to his own Instagram with the caption "Forever 🤍." Brown, 19, and Bongiovi, 20, were first rumored to be dating in the summer of 2021 when he posted a photo of them together on his Instagram. Later that year, Brown appeared to confirm their relationship when she shared a photo of the two kissing while riding the London Eye. In January, Brown called Bongiovi her "partner for life."
And if you're still hung up on the fact that Brown is 19, not, say, 11, trust me when I say you're not alone.