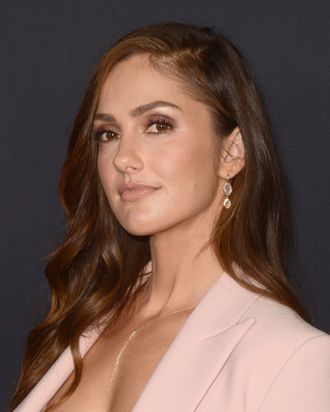 Photo: Kathy Hutchins/Shutterstock/Shutterstock / Kathy Hutchins
Minka Kelly is opening up about her life in a forthcoming memoir, according to "Page Six," writing about her "colorful and chaotic, unstable and inconsistent, unpredictable" childhood, including going to the clubs where her mother worked as a stripper when she was a kid; performing at peep shows at an adult-video store to support herself; and the toxic relationship that led to a pregnancy and an abortion when she was 17.
The Euphoria and Friday Night Lights actor has previously spoken about getting an abortion, saying in 2019 that it was "the smartest decision I could've made, not only for myself and my boyfriend at the time, but also for this unborn fetus." But in the memoir, titled Tell Me Everything, out on May 2, she discusses the experience at length and in more detail.
According to "Page Six," Kelly writes about moving in with her then-boyfriend, Rudy, and his family after her mother, who had been a stripper, abandoned her in Albuquerque. She chronicles the volatile relationship, recalling that Rudy often called her "a slut." She describes a time when Rudy insisted on taking graphic photos with her that were so inappropriate, a manager in the Walgreens where they took the photos to be developed told Kelly that they didn't print "pictures like that." In response, she writes, Rudy bought a video camera and had Kelly perform "raunchier" scenes. (She alleges Rudy later tried to sell the video to tabloids, and it cost her $50,000 to buy it back.)
In another instance, according to "Page Six," Kelly writes that Rudy insisted she tattoo his name on her body. Even though she knew it wasn't a good idea, she needed a place to live, so she ultimately agreed to get a tattoo of her lip print "on the side of my pubic mound," something she would spend years lying about to future partners. "I was too ashamed to admit the truth," she writes. She also recounts when Rudy attempted to convince her to be intimate with a mutual female friend, and when Kelly declined, Rudy and the friend began having sex in front of her. The next day, Kelly discovered she was pregnant.
Kelly's mother, Maureen, returned to Albuquerque and suggested that the two raise the child together. "Raise this baby together, how?" she writes, according to "Page Six." "With what money? What home? What insurance? I couldn't imagine bringing a baby into what my mother brought me into. Absolutely not."
According to the Daily Beast, Kelly also writes about dating her Friday Night Lights co-star, Taylor Kitsch, while starring in her breakout role as Lyla Garrity on the show. Kelly writes that in the wake of her breakup with Kitsch, she would show up to work smiling, believing she was just being professional, while other members of the cast felt badly for Kitsch, thinking he was heartbroken. "My co-workers weren't taking me out for drinks after work to mend my broken heart; they were taking him out," she writes.
That breakup taught her the value of vulnerability and openness. "Vulnerability begets connection, as evidenced by the outcome of both our coping mechanisms," she writes. "My tough-guy approach only left me alone. If you behave as if you need no one, if no one around you knows any better, most certainly, no one will, in fact, be there."