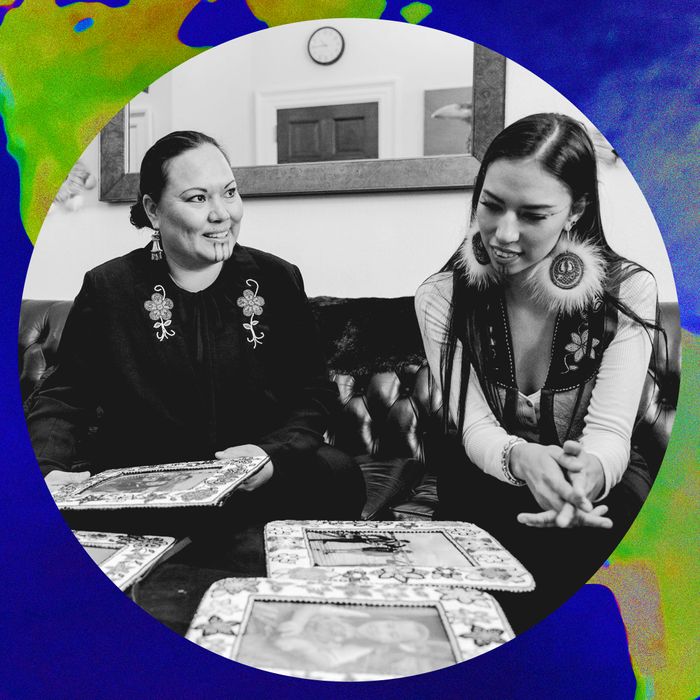 Quannah Chasinghorse and her mother, Jody Potts-Joseph.
Photo-Illustration: by The Cut; Photo: Keri Oberly
Before the 2020 election, model and activist Quannah Chasinghorse spent her days marching and speaking at rallies for environmental justice. A member of the Hän Gwich'in and Oglala Lakota tribes, she developed a closeness to her Native Alaskan land and a drive to protect it early on. By the end of that year, Calvin Klein had tapped her for a youth voting campaign and she had signed with IMG Models. Since then, she has walked for Savage X Fenty, Gabriela Hearst, and Chanel, been on the cover of Vogue Mexico, and attended the Met Gala twice.
Chasinghorse was born in Arizona and raised largely in Alaska. She discovered modeling when she was 3 years old, living in a remote village in Mongolia. Before her family had learned the language, her mother would often turn the television to a fashion channel that played runway shows, set to music, around the clock. "I would sit there and watch it for hours and hours," Chasinghorse says. "Ever since then, I started posing everywhere I went."
Her rise as a prominent voice in the environmental movement and the fashion world has been swift, but she credits it to the strong women that came before her, including her mother, Jody Potts-Joseph. Potts-Joseph grew up in Eagle Village, on the upper Yukon River, living a subsistence lifestyle, hunting and fishing the way her Hän Gwich'in people have for 10,000 years. As a single mother, she sought to raise her kids with deep connections to their ancestral land, which is constantly threatened due to the climate crisis.
Through their activism work within their Native communities and beyond, Potts-Joseph and Chasinghorse connect humanity to the land front and center. Below is a conversation between the two.
Jody, what was your upbringing like? 
Potts-Joseph: I was raised very much as a part of the landscape, just by virtue of following our traditional way of life as Hän Gwich'in people. A big part of how I wanted to raise my children in a modern world was for them to also have a connection to our Indigenous lands and sacred places. The value that comes with a traditional way of life is an understanding of our place in the world, knowing that, as we care for the land, the land cares for us. That's something I grew up with, but also taught my children — to never take more than they need. There are a lot of important values, like perseverance and respect, not just for the land, but for ourselves and for our elders. Also, a big part of our culture is humor. You can't live this hard life without having a sense of humor.
Quannah, growing up, how have you reconciled traditional values with modern life?
Chasinghorse: My mom did a really good job making sure that me and my siblings understood that, as Native people, we walk in two worlds and we have to navigate them both in very different ways. Even as a little kid, my culture was such a big part of my life that, when we moved back to the city of Fairbanks, it was a whole transition. In elementary school, my science projects weren't Western science, they were Indigenous science, like Lakota astronomy. I tried to take every opportunity that I had in school to educate people about our culture.
But as I got older, I felt like my peers would always judge me. I wanted to be proud, but society around me was telling me not to. I started to try to assimilate to Western society more and more because I felt like I didn't fit in. I didn't feel that I fit the beauty standard.
As I started to become a more prominent figure in the climate movement in land protection, I found my confidence and I was able to see my beauty through that. I found power in my culture and way of life. My mom made sure that, even if we lived in a city, every time hunting season opened up, every time we had a long weekend, we were always back out in the woods.
That's why I think my modeling work kind of changes the game, not just for me, but for a lot of other Indigenous women that, as they grew up, felt like they had to hide some parts of themselves or pretend to be something they were not.
You both have traditional Yidįįłtoo facial markings. What is the significance of these tattoos?
Potts-Joseph: I'm a traditional tattooist, and I gave Quannah her traditional markings as part of her coming-of-age ceremony. For so many years, the American government was trying to "kill the Indian, save the man." We were shamed for generations. A big part of our tattooing being revitalized is reclaiming our identities and finding strength in that.
Chasinghorse: Our tattoos tell our story in different ways. Most of them can be personalized, so that's why you see different facial markings on different people. My mom has three lives to signify her three kids, and also that she has met certain rites of passage: entering womanhood, getting married, and knowing what it's like to bring life into this world.
I only have two: The first line is for my coming of age, and the second one, which is two half lines on my chin, is knowing what it's like to experience unconditional love, to understand it, but also to heal from it. Leaving a five-year relationship, I had to relearn how to love myself. That was more challenging.
In what ways have you brought your heritage into your modeling career?
Chasinghorse: The fashion industry is detrimental to the climate crisis. We're trying to get a lot of the industry to move forward in a better way. For me, that looks like using my platform to uplift other people. I want to make sure that people at the frontlines are being heard; people that are doing hands-on work in our community and risking their lives.
If I work with brands, I try to make sure that they're working with a nonprofit or have a plan to go sustainable — upcycling, recycling, reducing the amount of materials that need to be made, being mindful of where they source their materials, and so on. Right now is not the time to be playing games and ignoring the world's problems.
It's scary to talk out — I get it. Trust me, it's my life. I have a target on my back; Native women go missing or are found murdered at one of the highest rate of any other person in the U.S. I'm talking about issues that people don't want to hear about. But that's how you grow and that's how you learn.
I also try to utilize my platform to uplift Native artists. I want to be able to show the fashion world true Indigenous and authentic work because, in this industry, there's a lot of cultural appropriation. I'm reclaiming my culture by making sure people understand that, if they want to work with me, they have to work with me in my authentic way.
How would you characterize your style?
Chasinghorse: I grew up with only boys, so I got a lot of their hand-me-downs growing up. My own style is very comfortable and relaxed. I add some Native jewelry in there. And whenever I go shopping, I try not to buy brand new things. I thrift as much as possible. A lot of the new stuff I do have is usually gifted to me from a brand or from friends. I also try my best to support Native brands and artists, like Red Berry Woman, Jamie Okuma, Lauren Good Day, and Osamuskwasis. Indigenous fashion is not where it needs to be. I think it should be included in the fashion discourse because of our art and our materials and love that go into everything that we do.
How have the women in your life inspired you to use your voice?
Potts-Joseph: We come from a matriarchy. In our culture, women are strong and voice our opinions. I was raised by a very strong mother and I saw her stand up for things that she believed in.
I raised Quannah and her two brothers as a single parent. I took them out on the land as much as possible. Having a mother who is a hunter and is intimately involved with all aspects of that, really helps build a strong body, but also mind.
I also had a really demanding career with in law enforcement for ten years, and there were a lot of times where I'd have to dart off to a remote village and, if my kids needed a ride, the support system I had were all my female best friends. So my kids, especially Quannah, were raised with several strong Native women by their side.
Chasinghorse: The more I stepped into this work, the more I realized that a lot of the work is Indigenous women showing up all the time. You see the power that Native women carry in everything that they do. Their work is driven by the love of our communities and the love of our land and our ways of life and our people. Having those examples my entire life, I just don't see any other way to be.
Your family recently started an organization called Native Youth Outdoors. Why do you think something like this is important for Indigenous Alaskan youth today?
Chasinghorse: We need to create space where youth can be safe, where they can have fun and learn and unapologetically be themselves. A lot of Native youth still hold that shame from assimilation from the colonization, from their parents or their grandparents. We are the ones that are breaking the cycles.
Potts-Joseph: I really believe that Native people, especially our youth, are an untapped talent bank of athleticism. Alaska Native youth, and American Indian youth, face some staggering statistics — we have really high rates of poverty and depression and suicide, so I'm hoping these opportunities will build resilience and help them find purpose.
Outside of fashion, what are some of the causes that mean the most to you?
Chasinghorse: The Arctic National Wildlife Refuge [a 19.6-million-acre area in northeastern Alaska] has been under threat of oil development for so many years. It is one of the places that's ground zero for the climate crisis.
In order to grieve, you have to know what it is to love. And that's why our people grieve so much when it comes to losing land or losing our rights. I definitely grieve for our salmon, for our caribou, that are dying because of the climate catastrophes in their environment, their habitats being completely destroyed by extractive industries.
A lot of communities in Alaska have already been displaced. A lot of our communities have had to move from their ancestral homes because it's not safe to live there anymore. It's hard to talk about one thing without bringing up another because it is a domino effect.
This conversation has been edited and condensed for clarity.