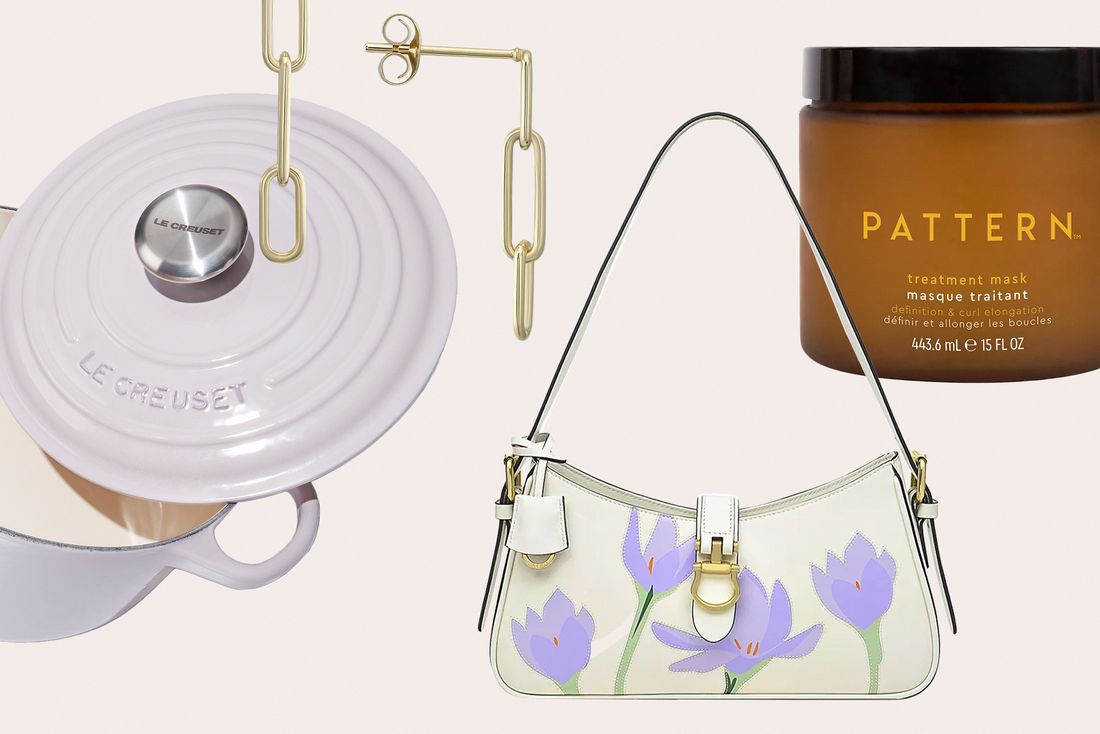 If you find yourself asking if the moms in your life want another bouquet delivered on Mother's Day for the fifth year in a row — they don't. It's time to surprise them with something different for a change (and maybe yourself with improved gift-giving abilities?) with a gift that celebrates their unique personality or caters to their needs — and lasts longer than a week. Hold your new mom friend accountable for taking some much-deserved me-time with luxury bath beads. Or feed your own mom's obsession for all things Le Creuset with a dutch oven in the brand's latest colorway. Whatever you choose, these gift ideas from Macy's let her know that you see her and appreciate her much more succinctly than peonies ever could.
For the mom who loves staying in
She's basically a professional homebody, with a designated tea-making station and a roster of candles for all different moods. Help her make her space that much cozier with a seriously luxurious throw. Between the soft knit and the versatilely neutral shade, it'll be her constant companion from room to room.
For the mom who lives in luxury
She's a true lady of luxury who regularly drops cash on bags and shoes that cost more than your rent. Treat her to the ultimate luxury gift: 10k gold earrings that she'll never want (or need) to take off — and hopefully pass onto you one day.
For the mom who's always on the go
From her many hobbies to the three book clubs she insists she needs to be a part of, this mom's got a social life that's more active than yours. Help her keep up with it all with a pair of Mary Jane ballet flats that are equal parts comfy and on-trend.
For the mom who swears by the classics
From her tartan-lined trench coat to her boar bristle hair brush with the red cushion pad, this mom is all about products that stand the test of time. Why should her signature scent be any different? The Clinique Happy fragrance is a classic for a reason. The notes of grapefruit and bergamot create a uniquely uplifting scent, with a cheerful limited-edition illustrated bottle to match.
For the mom who could use some me-time
You may not be able to give her a full evening with zero interruptions, but you can give her the next best thing: A luxurious bath experience. These bath drops contain a blend of softening oils and dissolve in water to help nourish the skin.
For the mom who loves entertaining
She's the ultimate party planner and a consummate host. Give her the perfect excuse for her next get-together, like this set of blush wine glasses that she won't be able to resist showing off.
For the mom who enjoys playing with fashion
Her sense of style is just as fun as her personality, with lots of vibrant colors and playful patterns in the mix. Add a new accessory to her rotation with this delightful leather shoulder bag featuring whimsical blooming buds.
For the mom who appreciates wine
This wine preservation system lets you extend the life of a bottle for up to four weeks. In other words, it's the perfect treat for the mother figure in your life who enjoys her nightly glass and taught you the difference between a riesling and a pinot grigio before you learned how to drive.
For the mom who takes skin-care seriously
Return the favor to the woman who showed you the importance of a healthy complexion with an innovative beauty tool that may just replace her standing facial. This wand can be used for four types of facial therapy, including microcurrent therapy (to stimulate muscles), LED photo rejuvenation therapy (to treat skin issues), sonic vibration therapy (to enhance circulation), and heat therapy (to increase blood flow).
For the mom who loves spending time in the kitchen
If her collection of Japanese knives and color-coordinated cookware are her most prized possessions, she'll be thrilled with a new Le Creuset dutch oven, especially if it's in the brand's latest colorway: A pretty pale lilac that can pass as a neutral.
For the mom who's always on-trend
Waistcoats are having a moment, and the stylish mom will definitely approve of this menswear-inspired vest. It can be worn with matching trousers as part of a tailored set or with slouchy jeans for a more relaxed look. Plus, the lightweight linen is perfect for the warmer months.
For the mom who always has amazing hair
Fuel her good hair days with a salon-worthy, celebrity-approved treatment she can accomplish at home any time she wants. This rice water-infused hair mask helps to soften, strengthen, and hydrate hair for defined, silky curls.
This advertising content was produced in collaboration between Vox Creative and our sponsor, without involvement from Vox Media editorial staff.