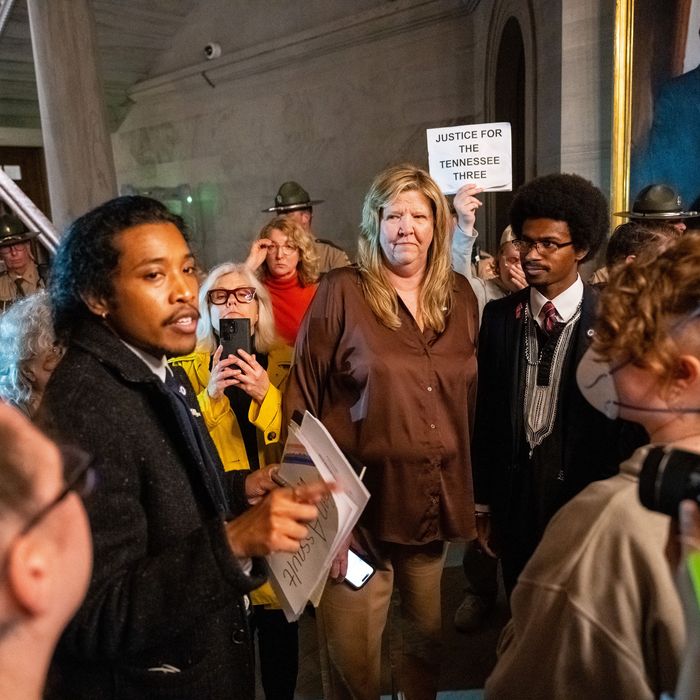 Photo: Laura Thompson/Shutterstock
Last week, 11 days after a shooter walked into the Covenant School in Nashville and killed three students and three adults before being gunned down by police, Republican lawmakers in Tennessee voted to expel Justin Pearson and Justin Jones, Democrats who protested for gun control, from the state House.
The Republican-led House did not have enough votes to expel Gloria Johnson, a third Democrat who protested alongside Jones and Pearson. The removal was considered a historic act of political retaliation, as expulsion is extremely rare (this is only the third time since the Civil War era that the Tennessee House has expelled a lawmaker from its ranks, according to the New York Times).
Here's what we know.
The shooting at the Covenant School left six people dead.
On March 27, a shooter entered the Covenant School, a private Christian school in Nashville, and killed three children and three adults. Authorities identified the shooter as Audrey E. Hale, a 28-year-old who "at one point" attended the school, though they have not yet identified a motive. According to the Washington Post, Hale's parents thought that Hale owned one gun and had sold it, but police said that Hale legally purchased seven firearms at five local gun stores. Hale, police said, had been receiving treatment for an unspecified "emotional disorder."
Several publications report that there has been some confusion about Hale's gender. John Drake, the chief of the Metropolitan Nashville Police Department, told NBC News that officials "feel that she identifies as trans, but we're still in the initial investigation into all of that and if it actually played a role into this incident." Many Republican politicians and conservative pundits used the shooting as an opportunity to spread misinformation about and fuel hate toward transgender people. Transgender people rarely carry out mass shootings, while cisgender men overwhelmingly do; in fact, transgender people are far more likely to be victims of violence than perpetrators of it.
Following the shooting, three Democrats protested in support of gun control — and Republican House leaders quickly moved to expel them.
A few days after the shooting, hundreds of protesters gathered at Tennessee's statehouse to call for stronger gun-control measures. Democratic representatives Johnson, Jones, and Pearson joined the protestors, using a bullhorn to cheer the crowd on from the house floor.
While those in support of gun control praised the representatives for speaking up, Republican lawmakers, who have a supermajority in the house, were less impressed. House speaker Cameron Sexton halted the session for an hour, tweeting that the representatives had broken the institution's "rules of decorum and procedure" and calling their protest "unacceptable." On talk radio, Sexton called the protest an "insurrection" and vowed that the Democrats would face consequences.
After the protest, Jones, Johnson, and Pearson were swiftly removed from their committee assignments, and Republicans filed resolutions to expel them from the House. The resolutions say that the three Democrats "did knowingly and intentionally bring disorder and dishonor to the House of Representatives." Johnson told reporters that she, Pearson, and Jones "broke a rule" by speaking out of turn, but emphasized that they "walked to the well to speak to the people that begged for us to protect them." Meanwhile, Pearson posted the letter he wrote to fellow House members, acknowledging that he did not "follow decorum," but stressing that he was speaking up for constituents.
"If this House decides to expel me for exercising our sacred First Amendment right to help elevate the voices in our community who want to see us act to prevent gun violence, then do as you feel you must," Pearson wrote. According to The Tennessean, the Democratic caucus "stands firmly united" with Johnson, Jones, and Pearson, and the ACLU said that the effort to remove the representatives "undermines democracy."
House Republicans voted to expel Jones and Pearson.
Last week, members of the House voted along party lines to expel Jones and Pearson, while the vote to expel Johnson fell short by one. Asked by reporters why she thought she was spared, Johnson said, "It might have to do with the color of our skin." Pearson is Black and Jones is Black and Filipino. Johnson is white.
Photographs and videos show that hundreds of protesters returned to the House on the day of the vote to continue to call for gun reform and lend support to the representatives, shouting "shame on you" when Jones and Pearson were voted out. After the vote, Pearson told reporters: "To get to the issues that are at stake, sometimes it takes breaking a few decorum rules."
Following the vote, Jones and Pearson's seats were listed as "vacant" on the House's website. Since the 2024 general election is more than a year away, their districts will hold special elections to fill the seats, with an appointed interim representative serving until then. According to NPR, expelled representatives can return to their office "by being appointed by the commission and/or by running again." The state constitution doesn't allow for them to be expelled for the same offense a second time.
Four days after being expelled, Jones was reinstated when the Nashville Metropolitan Council voted unanimously to send him back to the Tennessee General Assembly as an interim representative for his district until a special election is held. He returned to his job Monday. The Shelby County Board of Commissioners voted unanimously to send Pearson back to the House on Wednesday. Both Jones and Pearson have said they plan to run in the special election, per PBS.
Mickell M. Lowery, chairman of the Shelby County Board of Commissioners who put forth the resolution to reinstate Pearson, said on Wednesday that while he understood that Republicans wanted to send "a strong message" to Pearson and Jones, the process to vote them out of the House had been "conducted in a hasty manner without consideration of other corrective action methods."
This story has been updated.