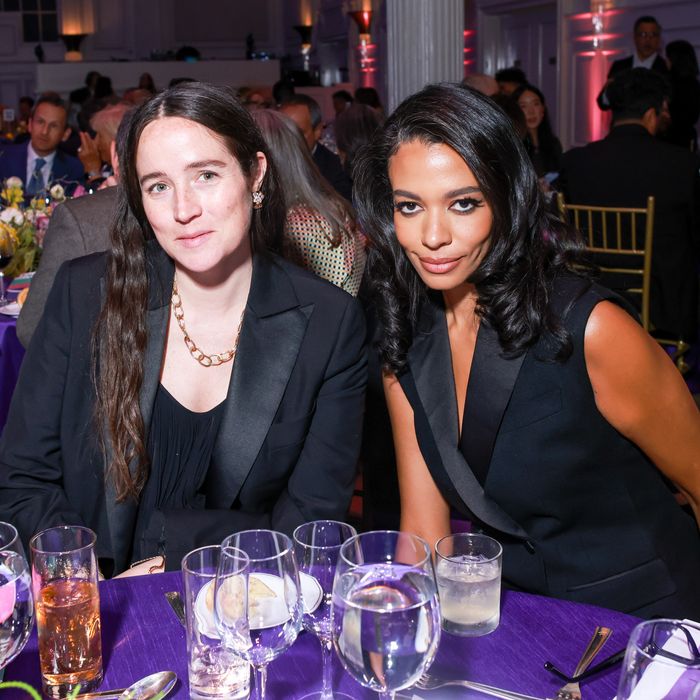 Photo: Yvonne Tnt/BFA.com
The New Museum held its annual spring gala at Cipriani South Street last night — an event that honored artist Judy Chicago and philanthropist Charlotte Feng Ford.
Keeping in line with the dress code "Electric Sunset," guests came wearing spring hues like green and magenta, mango-colored washes of chiffon, brocade coats, and dynamic prints. There were multiple people in iterations of Issey Miyake's pleated numbers as well as every statement accessory you could imagine: Prada boleros, Bottega mules, Luar bags, and zip-tie headpieces.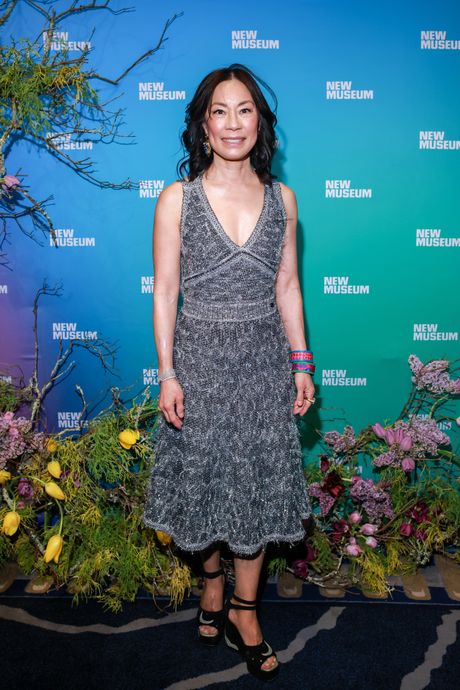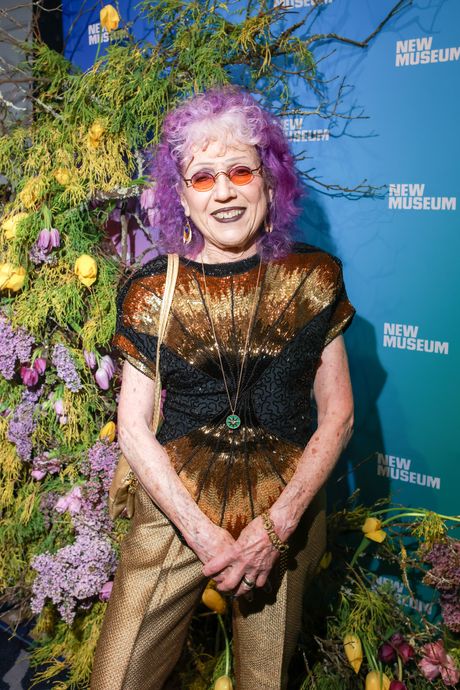 "I'm really excited to see the auctions," said gala guest Jordan Huelskamp, head of curatorial at Artsy. "You see interesting things happen at benefit auctions, because bidders are boozed up and ready to bid."
Jazsalyn, creative and curatorial director of Black Beyond, was excited to be surrounded by her peers: "We're all sitting at the Gucci table, so I'm just here to celebrate the past two years that I've been a member of New Inc," an incubator at the New Museum for people working at the intersection of art, design, and technology.
I made my way between the circular tables to find a bountiful spring floral arrangement at my seat. There were dinner napkins (which I took as a souvenir) that featured Judy Chicago's 1973 painting "Let It All Hang Out." The artist was recognized for her pioneering feminist art and activism spanning six decades.
"I'm blending sophisticated and street," Ajai Kasim, artist and former Gucci Changemaker said of his look. "I feel that a talking piece really gives you room to get to know me."
"My look is Maria Pinto head to toe! I'm a born-and-bred Chicagoan, and she's a Chicago designer," said Naomi Beckwith, deputy director and chief curator at the Guggenheim Museum. "This deconstructed dress is made from an amazing yellow fabric that is foldable, washable, hangable, drapable," Beckwith said, which she wore over an overcoat jacket that she calls "a cigarette coat."
"Tonight, we're here to pay tribute to the high priestess of art," said Massimiliano Gioni, artistic director of the New Museum, introducing Chicago. The night proceeded with remarks by both Chicago and Ford, followed by an auction led by the zestful Amy Cappellazzo, which included works by Andrea Bowers, Jamian Juliano-Villani, Jim Shaw, and Cecilia Vicuña with gala-edition pieces by Nicolas Party and Faith Ringgold. Multidisciplinary artist and composer Samora Pinderhughes ended the evening with a soulful medley of songs accompanied by a talented lineup of frequent collaborators and backing vocalists. There's nothing like springtime in the city!