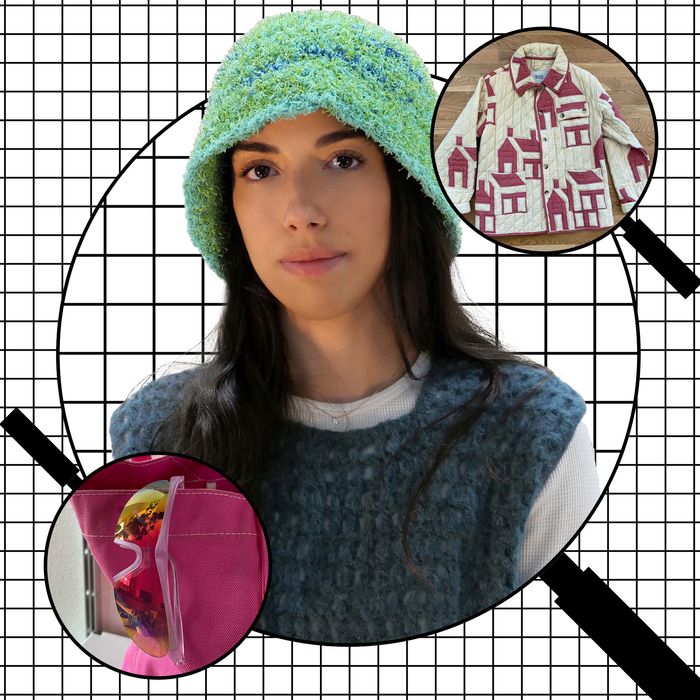 Photo-Illustration: The Cut; Photos: Nicole McLaughlin
For more of the Cut's favorite fashion, beauty, and home finds, sign up for the weekly Cut Shop Newsletter.
From denim beanies to a Carhartt jacket bikini, there are very few materials designer Nicole McLaughlin hasn't given new life to. When we caught up with her over Zoom, she explains that to her, good style is "being resourceful" and bad taste is overconsumption. "Even with thrifting culture, you can end up buying too much or things you don't actually need because it's a good price," she says.
Her style leans more toward "gorp-core" with a practical aspect to her wardrobe — think looser pants for climbing, reflective sunglasses for running, totes for carrying all her gear, etc. While she loves the thrill of thrifting, she spends a reasonable amount of time on eBay sourcing pieces for projects. "I've maxed out how many things I could watch on eBay," she laughs. Her eBay pro tip? Search every possible keyword, even misspellings!
Below, see where McLaughlin got the pieces that made it into her curated lifestyle.
Where did you get your nightstand?
My nightstand is from Snow Peak. It's meant for camping. I love the way that it looks, and I needed something that was practical. It folds up and you can store it pretty easy.
On my nightstand, there's a cork jewelry plate holder from Craighill. I have this necklace that I wear every day; it's a little chain with a pearl on the end of it. I'm engaged and usually leave my ring there at night when I'm sleeping so I don't lose it. I also have a couple of pieces I've gotten while traveling, like this cool beaded necklace from Mexico that I love. It's nice because I have the tray to keep [the pieces] close by and admire them.
What's the last thing you bought?
I bought a Minilux film camera from eBay. I bought it so I could take project and style pictures on it. I went to a camera store, and they restored it and fixed it for me. I've been enjoying getting to know the camera and getting into film. I studied photography and digital art in college, and bringing that back and relearning a skill that I had once is pretty fun.
I love that I can get really clear shots with my iPhone camera, but sometimes you want something nostalgic.
Where did you get the item you've had for the longest time?
My Knoll tote bag. It was my lunch bag when I was in elementary school. It has my last name on it because my mom wrote it. I just put books or my lunch in it and then would bring it to school. It used to be my mom's. My mom is an interior designer for commercial spaces, so she always gets these promotional items. It's so funny to me because now much of this stuff is being sold secondhand for a lot of money. I went to this thrift store in London that was selling these Knoll things for $200, and it's funny because I had those when I was a kid because my mom would get them at trade shows.
Knoll has become one of those brands that are big in streetwear now, which is so funny to me. My mom still doesn't understand the hype around it.
In my bag, I keep a lot of Chapstick. I use the Sex Wax Chapstick or the Dior Lip Glow. The Sex Wax has SPF in it because I've been getting really burnt on my lips. I also have sunscreen. I use the Tula Probiotic Superfood Sunscreen or Elta MD.
Where did you get your favorite pair of shoes?
They are my recent Vault by Vans collaboration. It's an idea that I've had for a while. I always thought about the canvas on the Vans and it reminds me of a tote bag. It sparks this idea of a gardening tote. I created the original prototype, and I wanted to make it in real life. I bought this old gardening tote that I found on eBay that had like a little hole in the bottom, and I made the shoe out of it and it works so well.
You have the pockets on it and can put little trinkets in it if it's sitting. The Vans logo that's on the side of the shoe turns into a handle and wraps around the back. Everything clicked and the colors just made so much sense, and I did reference heavily the Boat and Tote label that's on the L.L.Bean Bag and created the label from there. I was just really excited about how it came out. It's probably my favorite footwear project that I've worked on so far.
Where did you get the item you wear the most?
Beanies from All and Extra. I was doing an event in Whistler, Canada, a couple of months ago, and there was this girl who came up to me and makes these hats and she gave me a hat she made for me. It was camouflage, and I love the pattern that she used for the shape. I followed her on Instagram and she had a drop, and I bought that bright-pink one and I've been wearing it all the time. I need more people to find these smaller artists that are creating these pieces and support them. I've been wearing it pretty much all winter long.
Where did you get your signature scent?
Concrete by Comme des Garçons from Dover Street Market. I was in Dover a while ago just smelling all the scents, and this one really stood out. It smelled so great, but I couldn't afford it at the time. When you find a smell you're intoxicated by, you just keep thinking about it. A bunch of time passed and I got a bonus through my job and it was the first thing I bought. I switch it up, though. I have a couple of Le Labo ones, this Air Company fragrance, and a Loewe one. That was my first real signature scent. It also brings back a lot of memories during that time.
Where did you get the item you splurged on the most?
A Bode jacket. It was 2019, and I was going to Paris Fashion Week and I wanted to buy a nice jacket but still support a sustainable brand. I think Bode has done a really cool job of finding these vintage dead-stock materials and bringing them back to life in really great quality. It's just a brand that I think is doing really interesting things and a lot of cool references to vintage. It was a pretty big purchase for me, but I went freelance and I need a couple of pieces I could wear to hold my own when I go to a Fashion Week. I really love the pattern on it. There's houses on it, and it just gives a vintage vibe.
Where did you get the item that gets complimented the most?
District Vision sunglasses. I'm really into running, and they make really great sunglasses for outdoor activities. They have a lot of really cool and interesting frames. They do a lot of development work to get these sunglasses as great as they are. I linked with the guy, Tom, who started it a couple years ago, and he just had a really cool vision and it's been awesome to see their brand grow. They're doing womenswear now, and they have running shorts that I love to wear. I love that they're really into experimenting with different styles, and now they're doing a lot of cool collaborations like Suicoke and MFG.
Where do you get your favorite gifts to give?
Ssense. I love their homeware section. I always find some interesting stuff there. If I'm looking for a birthday or Christmas gift for someone, I tend to go on there and find something cool, like candleholders. I found these place mats that I like so much that I buy them for myself and other people.