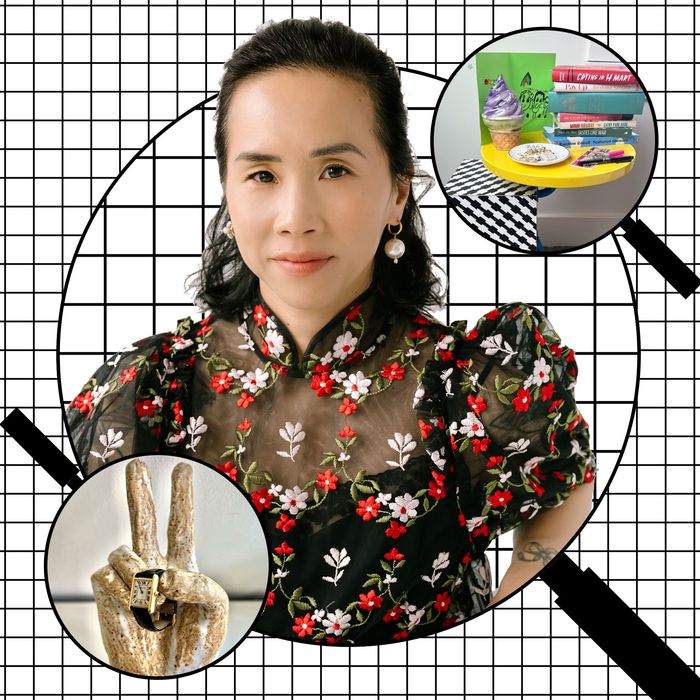 Photo-Illustration: by The Cut; Photo: Carina Skrobecki, Olivia Kim
For more of the Cut's favorite fashion, beauty, and home finds, sign up for the weekly Cut Shop newsletter.
Olivia Kim's unlikely source of style inspiration is her 4-year-old daughter. The Nordstrom SVP explains, "She is super-decisive about what she wants to wear. Some of the outfits she puts together are just so courageous and brave. I'm not even sure where she is seeing or getting this stuff." Even though her personal style leans more toward head-to-toe black, she loves the "the cacophonous color and pattern mix."
On the opposite end, she considers bad style to be like clickbait. Bad style, she says, is just copying a "trend without inserting your authentic self and just doing it for the show of others and hoping that you get a like."
She considers herself old school when it comes to shopping, preferring the in-store experience over shopping online: "When you walk in, what's the first thing you see like what's the music you hear? What does it smell like? What are people like? What are your interactions with people?" While she loves to thrift, she also spends the majority of her time shopping at Nordstrom, of course. (Her office is right above a store.)
Below, see where Kim got the pieces that made it into her curated lifestyle.
Where did you get the last thing you bought?
Nordstrom. I bought this a really amazing Simone Rocha choker. It's a metal chain choker with pearls woven through. We just celebrated this really cute party with Simone and our partnership with her so I bought that necklace to wear to dinner. It's super chunky and heavy. It reminds me of this like very raver vibe but I love it. I've been wearing it non stop with lke jeans and a T shirt and then also with pretty dresses.
Where did you get your favorite piece of clothing?
My Comme des Garçons dress from Nordstrom. I don't wear that often because it literally weighs like 20 pounds; it's superheavy. It's really structured. In the past, I have just worn it with white tights and Air Force 1's. I always wear it with something super-casual. You have to walk through doorways sideways because you don't fit because it's so wide and flat. It is really one of my all-time favorite dresses ever. I'm Commes des Garcon's biggest fan, I love everything Rei Kawakubo does, and we're one of their biggest partners. We would often buy many of the dresses from the runway either for display or to tell the complete story of the collection, and that was one of them. We only had one, and my name was all over it.
Where did you get your nightstand?
It's a Memphis nightstand from Nordstrom. We did a partnership with the Memphis Collective, and we had an incredible display at the store, so I bought it. And as for what is on it, it's mostly books. I'm a voracious reader. Particularly I've been interested in books from Asian or Korean authors lately. I've also been reading a lot of books about the disparity around workload between men and women, particularly the mental workload women take on. I've been reading this amazing book by this awesome woman who started Girls Who Code, Reshma Saujani. She's been such an advocate for women in this space. Then there's this other writer that I love, Rainbow Rowell. She's a young-adult writer, but she writes these incredible books my best friend and I have been reading.
Where did you get your favorite skin-care product?
A brand called As of Today. It's a Korean-based beauty brand that is really affordable and high quality. I've been using Korean beauty my whole life! I grew up using Shiseido and Sulwhasoo, and it's 15 steps and superintense. As of today, it's just four steps, including the cleanser, and I get compliments on my skin all the time, which never really has happened before in my life, especially now that in my mid-40s.
Where did you get your signature scent?
When I was in college, my favorite store downtown was called If. That was probably one of the first stores that I knew of that had Comme des Garçons, Issey Miyake, and Rick Owens in the early mid-'90s. At the time, it was a huge splurge to buy perfume while you're struggling and eating ramen in college. The smell is just something that I've always loved. It's a little bit woodsy; it's a little churchy and incense-y. It's just something that has stuck with me all this time. I was shocked that it's been 20 years since.
Where did you get the item you've had for the longest time?
Sanrio. I've been collecting Sanrio stickers and stationary since I was a little kid. Boxes and boxes of stickers, pens, notepads of Hello Kitty, My Melody, Little Twin Stars, Tuxedo Sam, etc. They still have sanrio.com, where you can find a whole bunch of stuff, and if you are as obsessed as I am, it's super-dangerous because they send out a weekly email with all their new arrivals. My husband is like, "Again? " I'm getting packages from them weekly. I buy a lot of stuff on eBay, too. I look for a lot of vintage Sanrio. I've been collecting this since I was 5 or 6. A lot of the stuff that I have is original, copyrighted Sanrio made in Japan from like 1977, which is basically when Hello Kitty (and myself) was born.
Where did you get your favorite pair of shoes?
Doc Martens. My longest-running favorite pair of shoes that I always come back to and rebuy again and again are the mono all-white three-hole Oxfords. I always go back to the Moto ones, the ones that don't have any contrast stitching, the all-black or the all-white in particular. If I love a shoe, I'll buy two of them at the same time, knowing that sometimes products change. I've typically been buying my Dr. Martens when I was in London or in Japan, but I guess you could just also buy them. We sell them at Nordstrom, and you can also just buy them on drmartens.com.
Where do you get your favorite gifts to give?
Smythson. I love to buy books at the airport. They always have a super-great selection of them, particularly at Heathrow. I love the little teeny-tiny ones that also come with the gold pencil. I keep one in almost every one of my purses. I'm super-old-school in that way, too. I still take notes with pen and paper, and I still write down grocery lists on a piece of paper. I love them, and I give them out to a lot of my co-workers for their work anniversaries. I like that they can be monogrammed, and I get a brand-new yearly agenda every year.