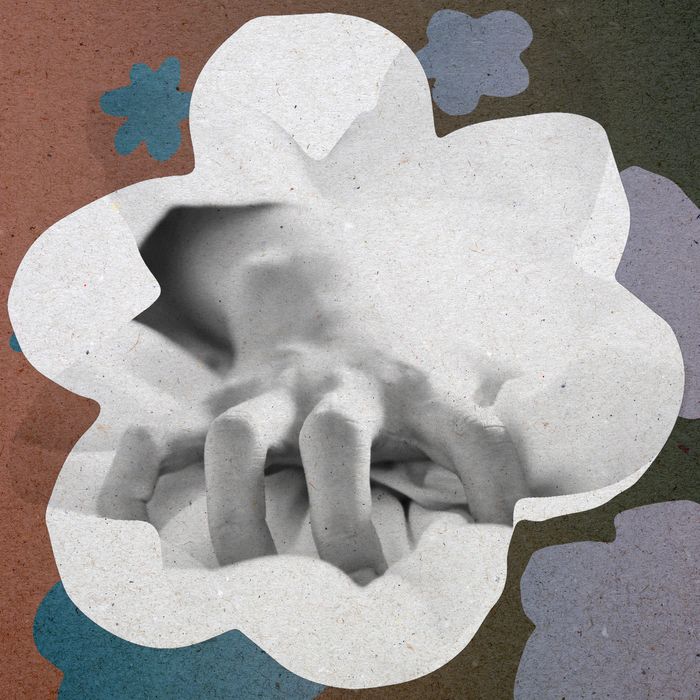 Photo-Illustration: The Cut; Photo: Getty
"Swellness" is a monthlong series exploring the health and wellness stuff no one talks about.
It seemed almost cruel to be released directly back onto the city streets — at rush hour and in midtown Manhattan no less — after what had just happened. I'd imagined lounging in some sort of cozy waiting room to gather my thoughts, maybe sipping a cup of tea, relishing in the afterglow. Instead, I dressed in a hurry, exchanged an awkward hug, and stood in a daze as the apartment door closed in my face.
This is how newborns must feel, I thought to myself: expelled from the warm comfort of their mother's womb and thrust into fluorescent lights and loud sounds. 
But I hadn't been reborn. I'd experienced one of the most mind-blowing, toe-curling orgasms of my life while Enya played on repeat in the background.
On the train home to Brooklyn, I tried to recount the day's events in my head, but everything was a bit hazy. I'd put myself in someone else's hands, literally: I'd given a stranger, a woman, $270 for an erotic massage in a last-ditch attempt to find pleasure in my body, the same body that had given me so much displeasure in recent years. As I stood, wedged between strangers on the subway, I couldn't help but smile at what I'd done.
When I walked in the door, my husband looked up from his computer with a perfunctory "Hey, how was your day?" My usual response was an autopilot "Fine," but today I was on a different plane.
We've been together for 14 years, and for the first five of those, we couldn't keep our hands off each other. Our morning sex resulted in frequently showing up late for work, and our evenings and weekends were mostly spent between the sheets. My lingerie collection took up two dresser drawers.
Our relationship began aboard the flight deck of the Intrepid Sea, Air & Space Museum on a sweltering July evening at what had been touted as New York's largest singles event of the summer. Neither of us was there to meet The One — I worked for the company producing the event, and he worked for one of the beverage sponsors. We met when one of his team members introduced me as "the woman who saved their asses." Spotting us chatting, the overzealous roaming photographer asked us to move a little closer together for a photo op. My now-husband casually tossed his arm around my shoulders and pulled me in. It felt like we'd been together forever. We shared a cab home and exchanged numbers. Within two months of dating, we were practically living together.
Now, nearly a decade and a half later, something's changed: my body. The trifecta of childbirth, nearing the half-century mark, and a metabolism rate that has slowed to a crawl has caused me to gain weight. Up until that point, I was a size two despite never exercising and a diet of vending-machine cuisine. First, my clothing started to feel a bit snug. Then I began to struggle with zippers and buttons. At night, when I undressed, I was faced with red angry marks around my waistline and pronounced indentations from a wardrobe that no longer fit comfortably.
I tried cleanses and meal plans, counting points, and intermittent fasting. I hired personal trainers, nutritionists, and Park Avenue weight-loss specialists. At the end of the day, nothing worked because the cold, hard truth was I didn't do the work. I constantly talked about trying to lose weight and get back to the body I had in my 30s, yet I wasn't willing to make any sacrifices. I was in an ugly state of limbo between what I wanted and what I was willing to actually do to get there.
It all made my sex drive weaker than a dial-up modem. My husband, on the other hand, maintained the sex drive of a frat boy. He'd routinely press up against me after turning off our bedroom lights, and I'd say I had a headache or cramps or some other excuse. One fed-up sigh later, he'd turn over, giving me his back.
It wasn't that I didn't enjoy sex with him — when we actually had it, it was great. But somewhere along the line, I'd let the thoughts in my head take over, and it's hard to have an orgasm when you're too busy wondering if you're positioned in the least fat way possible. And so I began avoiding sex altogether.
Even when masturbating, I couldn't control the strength of my self-degrading thoughts, so I gave up on that, too. Some girlfriends swore by libido-boosting prescription meds. Another raved about the results from a vaginal injection known as the O-Shot. One friend joked that if I were a man, I could engage the services of an escort or, at the very least, find a massage parlor with someone willing to give me a happy ending.
It's not that much of a stretch when you think about it. I already outsource everything else: a Taskrabbit to install the allegedly DIY peel-and-stick wallpaper. A Glamsquad to give me a smoky-but-not-too-smoky eye for the annual private-school gala. A DoorDasher to turn a food craving into dinner.
After Googling erotic massage and happy ending massage for women and coming up with a list of local massage therapists that didn't all necessarily seem to fit the bill, I finally came across a New York story about a guy, Dr. M, who gives women free erotic massages from his apartment. The only hitch: Potential clients were required to submit a photo in advance. Maybe it's a safety thing. Maybe it's a vanity thing. Either way, considering that my self-image was already in the toilet, I ruled him out. (That and something about outsourcing this to a guy felt like crossing a line into infidelity.)
Eventually, I came across listings for Tantric therapists offering sensual massages for women and couples. Their websites all looked the same: a smattering of stock-photo images showcasing flickering candles, flowers in bloom, and statues draped in spiritual beads. Keywords such as nurture, sacred, and intuitive filled their "About Us" pages. Clients were taken on journeys of self-love and body positivity inside welcoming environments filled with ambient lighting and soothing music — calm oases in a bustling city. The therapists were referred to as healers, priestesses, and guides.
As I read further, I soon learned the yoni massage was named for the Sanskrit word for lady parts and roughly translated to "sacred space or cave." Seeing that my own sacred space felt like an abandoned storage unit, I continued scrolling.
Every 20-something white female featured on the site appeared to have an identical bio, so I picked the one with the earliest availability and completed the new-client intake form, which required my LinkedIn profile and a photo of my driver's license or passport to verify I was really me. Within an hour, I received an email from a woman named Shanti confirming my appointment for the next day and clarifying that the "donation" for the hour-long massage would be $270 in cash. Her only instructions for the next day were to go to 59th Street and Eighth Avenue and to text her once I arrived for the exact building and apartment number.
That she intentionally didn't provide the address in advance stopped me in my tracks and made me reconsider what I was doing. What if this was a scam? Or some sort of sex-trafficking ring? Or an elaborate blackmail operation? At least a dozen more what ifs raced through my head. I forced myself to ignore all of them and went about the rest of my day, which now included getting a Brazilian wax.
I intended to tell my husband about my plans, but everything happened so fast, and now I wasn't quite sure how to broach the subject. Then, as I stepped out of the shower that night, my husband barged into the bathroom and spotted my newly waxed and barely-there landing strip and raised an eyebrow. The jig was up.
As I toweled off and he stood flossing, I confessed. I told him I'd been making up excuses to avoid sex because of my weight and that this session was something I needed to do for myself. I also promised to text him my whereabouts the next day. He tried to mask his surprise that I'd gone to these lengths, but he didn't try to change my mind. Having been married to me for more than a decade, he knew better.
The next morning, I put on the nicest pair of underwear I owned and headed to meet Shanti. As instructed, I arrived at the designated corner and texted her. She responded less than a minute later. I quickly texted my husband the exact location where I was headed, and once he replied with a thumbs-up, I took a deep breath and pressed the buzzer outside a nondescript three-story walk-up.
The apartment was on the ground floor, and the door was ajar, which made me pause. But then Shanti, a brunette with the body of a ballerina, peeked out and greeted me in a hushed tone. She was barefoot and wearing a paper-thin sundress.
Waving me inside a dimly lit room that smelled of sage, generic New Age music playing softly, she invited me to sit down alongside her on a nearby worn love seat. She wasted no time, looking directly into my eyes and asking, "What brings you here today, Jenny?"
My eyes welled up with tears. "Well, I've gained a lot of weight, and I no longer feel comfortable having sex because I'm self-conscious, but I still want to um …" I fiddled with my wedding band.
"Feel good?"
I nodded.
"Well, you're in the right place," she said and took my hand, explaining that the purpose of the yoni massage was to help people feel more comfortable by exploring their relationship with their bodies and releasing any tension.
She led me to a brightly lit bathroom filled with a variety of bath products, turned on the shower, instructed me to rinse off, and left. It wasn't until I stepped out of the tub that I realized there were no towels, leaving me no choice but to call out to her. When the door opened, Shanti was holding open an oversize white towel, beckoning me to come closer. I beelined into her arms in an effort to hide my body.
She gathered my belongings and once again took my hand, this time guiding me into a small room with a massage table. Incense burned on a shelf next to an empty ceramic tray, which she informed me was for my donation. When she excused herself, I placed the cash onto the tray and slid onto the table, covering my body with the towel.
She returned with a smile and removed the towel, motioning for me to sit up. Then she climbed onto the far end of the table so we were facing each other. She took my hand and guided it to my heart and told me to take several deep breaths. We sat staring into each other's eyes, breathing in sync.
When she stood up, she lifted a decanter from the floor, and I watched as she slowly poured its oil into her palm and rubbed her hands together, gesturing for me to lie down. I closed my eyes.
She started kneading my shoulders, working her way down the front of my body. I emitted a tiny gasp. I was torn between wanting to remain present and watch her every move and the natural impulse to close my eyes.
Her fingers moved down past my belly, and she gently spread my legs apart, stroking my inner thigh and making her way up to my pubic area. Maybe it was her delicate manner, or perhaps it was because I'd never been touched by a woman, but every scintilla of my body felt alive, as if an electric pulse was pumping through my veins. At some point, I thought I heard someone moaning nearby. It was me. The sounds were coming from somewhere deep inside.
When I climaxed, my entire body shuddered, and though my eyes were shut, I swore I saw a vibrant display of colors beneath my lids. It was the most powerful and freeing feeling in the world. I uttered, "I want to stay here forever," before catching myself and nearly dying of embarrassment.
She grinned and continued caressing me as my body trembled. Soon, I came again.
Every part of me was tingling and it was beautiful. At that moment, I loved every inch of myself. For the first time in as long as I could remember, I was grateful for the body I inhabited because it allowed me to feel such pleasure.
When I walked through our apartment door later that evening, I was still tingling from the aftershock. "Fine" no longer seemed like an acceptable response to my husband's inquiry when it had, in fact, seemed monumental. "Don't you remember what today was?" I responded, unable to contain my joy. For a moment, he panicked as if he'd missed school pickup or an anniversary. "Hello, it's not every day your wife gets an erotic massage. Do I look any different?" I half-joked, heading to the bathroom to inspect my face for some sort of physical change. Seeing my reflection smiling back at me, I gently touched my face and neck and mouthed the word Wow. It wasn't just about the orgasm — it was about my body cooperating and allowing me to once again feel unadulterated pleasure in a way I thought might have been gone forever. For once, my mind and my body were on the same page.
That night in bed, I did not pretend I was asleep. I was more awake than ever. For the first time in years, I was the one to initiate sex.
There are times in our lives that we are bound to feel like a car stuck in the mud, waiting for assistance. Shanti arrived on the scene when I needed her most and gave me the push I needed to get me out of my rut. Better than the orgasm itself was this giant sense of relief in knowing I was still very capable of embracing intimacy. It's been nearly four years since my appointment with Shanti, and I still battle with my weight, but what I've gained is the notion that I am still worthy of enjoying pleasure in the body I have.
Now I focus on how my clothes fit instead of what size is marked on the label. I no longer rely on a revolving door of neutral tones to camouflage my shape, leaning instead toward cheery colors, funky patterns, even sequins. I've invested in a vibrator strong enough to drown out any negative noise in the back of my head. And I've stopped taking efforts to cover up my body in my husband's presence and, to his surprise, I don't always insist the lights be turned off during sex.