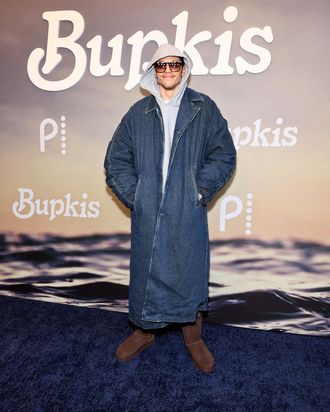 Photo: Arturo Holmes/WireImage
Pete Davidson's sartorial choices continue to inspire, perplex, and challenge the boundaries of appropriate outdoor clothing. On Thursday, he showed up to the premiere of his loosely autobiographical show, Bupkis, in a piece of outerwear that I can most simply describe as an ankle-length jean jacket.
This garment is like if you took the stuffing out of one of those weighted-blanket robe coats and cross-bred it with a pair of Delia's jeans. It has a distinctly rumpled look, like it's been sitting in a washing machine in Davidson's mother's basement for quite some time.
If anyone knows how to dress around this unique piece of apparel, it's Davidson, who paired it with a gray hoodie (hood up, of course), brown Uggs, and oversize flat-top sunglasses. The entire look gives off the energy of someone who loves dressing up in a way that tells everyone he actually hates dressing up. Judging from his large grin, Pete is pleased with the execution.
So was his new girlfriend, Chase Sui Wonders, who reportedly arrived separately from Davidson but was "googly-eyed at him" during the event, per Page Six. If we are to learn anything from this experiment in dark wash, it's this: When in doubt, swathe yourself in denim and sheepskin. It's clearly working for him.