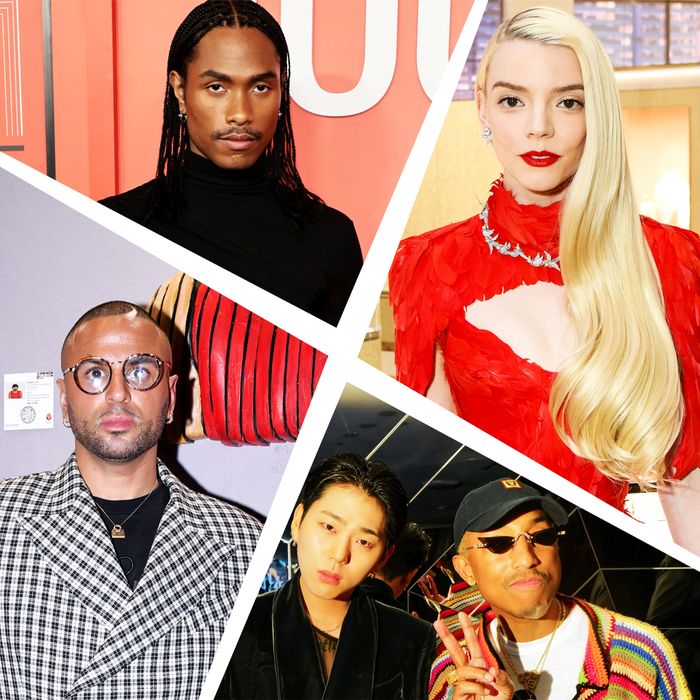 Photo-Illustration: by The Cut; Photos: BFA, Courtesy of Time 100
We're a week away from the Met Gala, and all of the celebrities have touched down in New York — which means the parties this week are more fun but harder to get into. While the lines are probably still wrapped around the block from Thursday night's Tiffany & Co. launch, it may have been well worth it to catch a glimpse of Zico and Pharrell Williams having a conversation.
South of midtown, Apex for Youth held its 31st Inspiration Awards Gala at Cipriani South Street on April 26. The philanthropic event raised upwards of 3.2 million dollars for underserved immigrants and Asian American youth. This year, Asian American trailblazers were honored for leading and inspiring new generations of the AAPI community at the event. "Growing up as an immigrant was challenging, I was a mentee who needed a mentor. While I did not have access to an organization like Apex growing up, I was able to find mentors across all walks of life who helped get me to where I am, " said Simon Kim, a restaurateur and honoree of the gala. "I am humbled to now be in a position where I can work closely with Apex to support and empower this next generation of AAPI youth to feel unstoppable."
Below, see our favorite looks from all of the best parties in town.
Best Odd Pairing: Gayle King and Mark Wahlberg
Please leave it to these two to find each other at an event and be somewhat on theme. Their pairing and what was possibly talked about seem questionable, but what's more uncertain is how Mark Wahlberg is wearing a Tiffany's-blue sweatshirt to a black-tie Tiffany & Co. launch event. We might be witnessing a moment in history, making this the best "odd pairing."
Best All-Black Look: Steve Lacy
At the Time 100 Gala, Steve Lacy can't help but serve in a sheer cross-body cape top and black trousers. This look was made for him.
Best Mother Moment: Tracee Ellis Ross
It's hard not to scream "Mother!" every time you see Tracee Ellis Ross step out and hit the red carpet or, in this case, the Tiffany's-blue carpet. While we're praising all-black outfits, we have to mention this one. And the ruby pendant matching her red lipstick pulls this look together in a beautifully feminine way.
Most Weather-Appropriate Look: Pete Davidson
We have already asked this question here, but I'm here to reiterate it: What is this coat?
Best Gingham Look: Raul Lopez
Nothing says spring like gingham, the pattern for picnic blankets, cottagecore dresses, and, according to Raul Lopez, a suit. At the Bronx Museum Gala, Raul stepped out in a head-to-toe black-and-white-checkerboard suit to give off his best "artsy" look for the occasion.
Best 'Old Money' Look: Noah Beck
The kids these days can't stop saying the words quiet luxury and old money, and I see why. Noah Beck channels the oldest of money with riding boots and a white billowy shirt at the Ralph Lauren Miami Design District store opening.
Best Night and Day Looks: Pharrell Williams and Zico
Ahead of his Louis Vuitton runway debut, Pharrell Williams plays it casual and cool with a Mickey Mouse graphic tee and multicolored zip-up cardigan while posing next to Korean rapper Zico. The rapper channels a suave look in an all-black velvet suit — which is a great way to spice up a traditional suit.
Best Skater Look: Evan Mock
It's one thing to arrive on theme for an event, but it's another thing to be the theme. In the case of the Alexis Sablone X Converse event at the Guggenheim, that theme is "artsy skater boy." Evan Mock showed up perfectly as himself to bring the art and skate worlds together in an all-black leather outfit accessorized with a sideways cap.
Best Feather Moment: Anya Taylor-Joy
Each week, more celebrities seem to incorporate feathers into their looks. This week, Anya Taylor-Joy looks stunning in a fiery red-feather ensemble. She is the runner up for Mother Moment, but for now, we'll give her Best Feathers.
Best Floral Look: Nadya Okamoto
At the Apex Youth Awards Gala, Nadya Okamoto is dressed perfectly appropriate for the springtime by wearing literal florals. This look is not only camp, but it stunningly stands out in the best way.