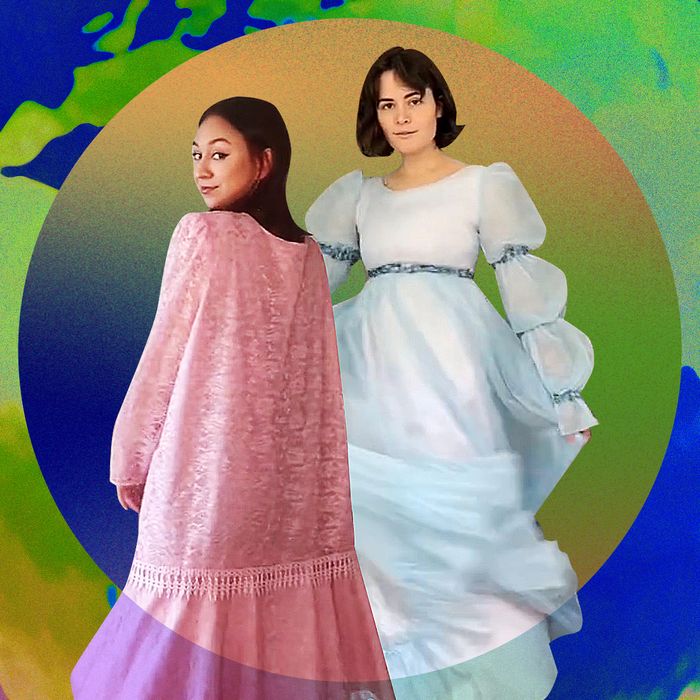 Photo-Illustration: by The Cut; Photos: @kianabonollo, @kelley.heyer/TikTok
Remember that iconic Pretty In Pink scene where Molly Ringwald, all pouty and dejected, decides to spruce up her frumpy old dresses to make a polished new prom look? How about Emma Stone in Cruella squinting over a sewing machine to make the puffiest 20-foot gown from trashy scrap fabric? Of course, we also have the classic rags to riches, the "swish of a wand" transformation in Cinderella, and Julie Andrews snipping up the drapes to clothe the von Trapp family in The Sound of Music. Clothing transformations have existed forever. And no matter how you feel about the pink prom dress that Ringwald's character wore (ick), watching her measure the old fabric and breathe new life into it had many of us at least thinking about digging out a sewing kit.
But these days, the revered chop-and-create vision doesn't evoke the same excitement and applause — at least not on TikTok. The difference is that in these famed before-and-after videos, the "before" dress is often labeled as holier-than-thou "vintage fashion." Take TikToker Kiana Bonollo's viral birthday dress. The patternmaker created a three-part series on upcycling the powder-pink polyester-lace dress her grandmother had worn to her mother's wedding in 1991 to create a spicier, sheer ensemble with black fringe and a bodice. But what should have been a harmless and fun project of simple rewear, reuse, and recycling quickly emerged as an online hate magnet.
The first video has 22.4 million views and more than 1,300 comments with people sounding off about how Bonollo "destroyed" her grandmother's legacy. Other comments include "You've ruined a gorgeous vintage dress for a see-through piece you could buy," "This is a crime," and more intense critiques like "This makes my blood boil." Wow. The 24-year-old TikToker made a response video revealing that her grandma had passed down a bunch of similar-looking lace dresses for Bonollo's sewing projects to ensure that the pieces are not just gathering dust or rotting away.
As with most things on TikTok, more than just one creator was affected by aggressive attempts to preserve vintage fashion in its absolute, untouched state. A couple of weeks after Bonollo posted her videos, Kelley Heyer, a New York–based actor, posted a TikTok retooling a '70s vintage dress that she'd bought on eBay, like Bonollo, to make a birthday outfit. Heyer had deepened the neckline of the pouffy, baby-blue organza gown (to resemble Daphne Bridgerton's regencycore style), shortened its hemline, and replaced the floral lace with turquoise glass beads. Again, vintage-fashion gatekeepers arrived in droves — and with startlingly similar comments.
After TikTok, both of these cases found fame on Twitter, where users were baffled that people would scold others for reusing clothing in a "buy less" world. At a time when we're campaigning for sustainability and making a conscious effort to increase the life of clothing, what's with all the fuss over protecting old dresses like they're artifacts?
"People have a more emotional attachment to clothing than they may with other forms of material culture because of its proximity to the body," says Amber Butchart, a fashion historian and curator. "We have a very visceral relationship with it." However, she highlights that refashioning an outfit only adds to the garment's story, and the impassioned rejection of upcycling is a relatively new behavior. This may be because we're more likely to romanticize the past now than ever. Boomers are not the only generation craving the "simpler" days of a bygone era. A younger crop has lived through two recessions, a pandemic, and growing anxieties of climate change, so holding on to objects from when things felt better — even if it is an ugly polyester dress — is oddly comforting.
Danielle Vermeer, co-founder and CEO of fashion-thrifting app Teleport, believes that the issue lies in our need for more awareness of how much vintage clothing we have. "It took me three seconds to find a similar dress on the Gem App, and there are hundreds more," she says. "Charity shops are inundated with donations of old clothing — with over 85 percent being dumped into landfills because no one's buying them." But think about it. If you saw Bonollo's grandmother's floppy pink-lace dress in a thrift shop, would you buy it? Save for a hyper-specific theme party or the rare TikTok video, most of us would not have any use for the dress in its original state.
And many of these vintage finds don't have a strong cultural pull. They aren't Marilyn Monroe's "Happy birthday, Mr. President" dress that Kim Kardashian famously wore. "Marilyn's dress was a highly documented piece of history," says fashion analyst Mandy Lee, who collects Chopova Lowena skirts. "I think understanding the rarity of the garment is important but, above all, conserving vintage fashion is a deeply personal decision that only the owners can make." In Bonollo's case, while the dress had sentimental value, her family agreed that its charm wouldn't be lost if it were repatterned. As for Heyer's, it was an unclaimed piece waiting to be bought or thrown out.
The more time we spend chronically online, the more we're swayed by powerful visuals. In these TikTok videos, we see vintage dresses being physically chopped up (as old scraps of fabric fall to the ground) only to become seemingly trendier versions of themselves — ready for a spin in a new world. This feels much more honest than skimming through your activist friend's Instagram story with dull-looking stats about how much textile waste is created every minute. Studies show that, every 16 seconds, an Eiffel Tower's height of clothing is relegated to a landfill. So by all means — chop, chop.