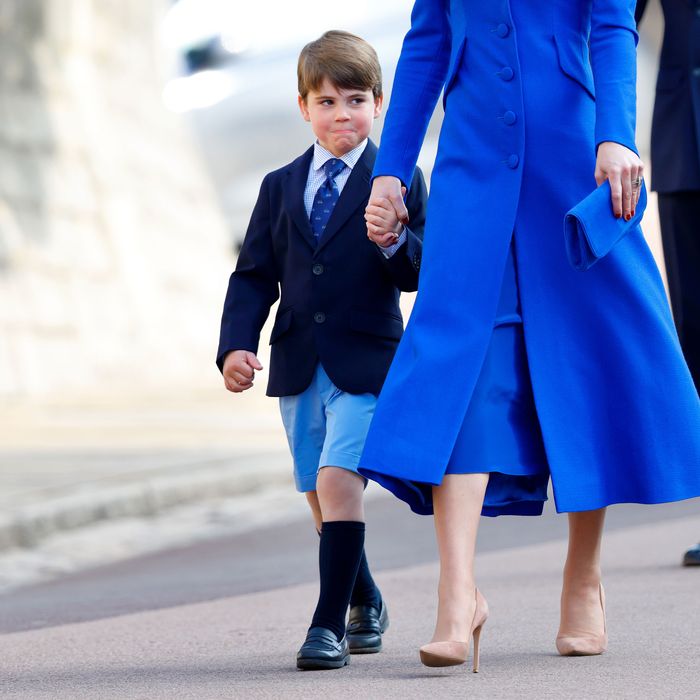 Photo: Max Mumby/Indigo/Getty Images
Prince Louis, age 4, likes finger-painting and flowers. He enjoys showing off his impressive facial-muscle range. But most of all, he loves his sensible cotton shorts, which accompanied him for his debut at the royal family's Easter church outing on Sunday.
The prince joined his siblings, Prince George and Princess Charlotte, and his parents, the newly crowned Prince and Princess of Wales, for Easter services at St. George's Chapel in Windsor Castle. Everyone in the family was dressed in some shade of blue, including George, who stuck with his usual corporate attire, and Charlotte, who wore a floral dress and tights. For Louis, nailing the coordinated family look also meant matching his firm partners–slash–dad and brother with a business-guy blazer and tie. Unlike William and George, though, he sported a pair of cerulean Bermuda shorts that gave him the distinct air of a banker on his way to play golf: business on top, Vineyard Vines on the bottom.
Louis also wore a tie covered in little bicycles, perhaps to remind everyone that he is, again, 4 years old.
This face also helped: