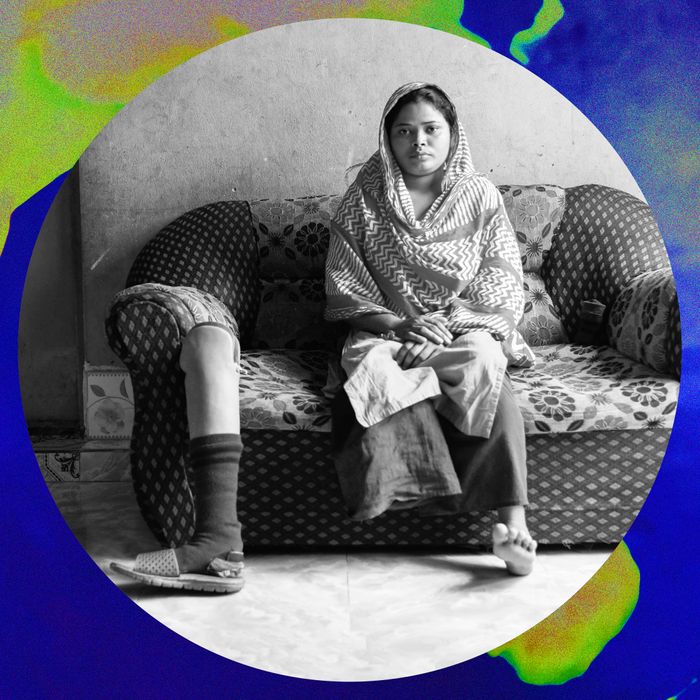 Rana Plaza collapse survivor Sumi Akhter, 26, poses for a portrait with her prosthetic leg at her residence ten years after the tragedy.
Photo-Illustration: by The Cut; Photo: Piyas Biswas/SOPA Images/LightRocket via Getty Images
When Mahmudul showed up to work at the New Wave Style factory in Dhaka, Bangladesh, on April 24, 2013, he expected to spend the day like any other — surrounded by sewing machines on the eighth floor. But the workday had barely begun when the power went out and the racket of diesel generators began to fill the factory. The next thing he knew, the building was collapsing under his feet.
"I was stuck with 17 others, and except for me, everyone died in the rubble," Mahmudul, who asked us to just use his first name due to fear of retaliation, recalled later in a video recording shared with the Cut. "Many workers were rescued by cutting off their limbs."
Over 1,000 workers died that day in what became known as the Rana Plaza factory collapse, the deadliest accident in garment-factory history. Over 2,500 others, including Mahmudul, were injured or permanently disabled. That they had been making clothing for western brands like Benetton, Primark, Mango, and Walmart laid bare an extractive relationship between East and West at the heart of the global fashion trade.
Though the collapse was tragic, it wasn't exactly a surprise. Six months before, over 100 garment workers died in a fire at the Tazreen Fashions factory. And just one day prior, workers had been evacuated from Rana Plaza owing to cracks in the building but were ordered back to work the next day after the owner declared the structure safe and workers were told by their managers they'd be denied a month's wages if they refused.
Kalpona Akter, a former child laborer in the Bangladeshi garment industry, had begun organizing on behalf of worker safety years before the collapse. She was in the U.S. advocating for the Agreement on Bangladesh Fire and Building Safety when she heard about Rana Plaza. She immediately changed her ticket to get back home as quickly as possible and spent two weeks at the disaster site, where volunteers were digging people and bodies out of the rubble. According to Aftab Alam, a lecturer at the nearby BRAC University in Dhaka, far more people died in the collapse than were counted in the official reports owing to the ad hoc nature of those early volunteer digs through the ruined building.
"The gravity of pain, you could not believe it," Akter recalled on a Clean Clothes Campaign Zoom call this month. "The air was that thick with the smell and with the pain that everyone could feel. You could not stop crying."
A decade after the collapse that turned Mahmudul's world upside down, Rana Plaza has become a symbol of fashion's exploitative and colonialist supply chains at their worst.
The conversation around sustainability and workers' rights in the Global North has deepened in the ten years since the collapse, according to Orsola de Castro, co-founder of the advocacy group Fashion Revolution. But many have sidestepped the core issues that led to the tragedy in the first place: a search for ever-cheaper production to make ever-higher profits. "We still haven't heard of a brand putting their hand up, saying, 'I shall produce less, and I shall make better clothes, made by people who are adequately paid,'" she said.
Plus, added Mark Anner, director of the Center for Global Workers' Rights at Penn State, these issues cross international borders. If Bangladesh increases protections for workers but western brands remain committed to driving costs as low as possible, those brands will eventually leave Bangladesh for cheaper labor elsewhere, pushing old labor problems into new nations. "How far can Bangladesh go to improve its conditions if all the neighboring countries around it are not doing the same? We're going to have to have a much more systemic approach to solutions," he said.
To make even this much progress in Bangladesh took dedicated organizing. A handful of London-based designers who had already been focused on "ethical fashion," ashamed of and outraged by western fashion's role in the collapse, started a public-facing campaign to commemorate it. Led by independent designers de Castro and Carry Somers, that campaign grew into Fashion Revolution, which eventually became one of the largest fashion advocacy organizations in the world, active in 88 countries as of 2023.
"Not everybody knew about what had happened; it took a lot of awareness raising," de Castro said in a phone interview. "Activism at that point was extremely important, to ensure that that moment would be, tragically, a new starting point."
Inside multinational brands, another response was brewing. The Agreement on Bangladesh Fire and Building Safety that Akter and others had been campaigning for before Rana Plaza was thrust into the spotlight in a new way. Where brands had been making largely ineffective "voluntary commitments" to worker safety in their supply chains for years, the agreement — which eventually became known as the Bangladesh Accord — stood out because it was legally binding. Factories were inspected through the Accord, and brands would provide financial support for upgrading safety features.
With public pressure and outrage over the tragedy mounting, a few big brands signed on to the Accord in May 2013, and soon it snowballed with more than 200 companies eventually agreeing to its terms.
The Accord didn't fix everything, but it did make the Bangladeshi garment industry demonstrably safer: In 1,600 factories inspected under the Accord, 93 percent of safety hazards have been mitigated, according to Akter, impacting over 2 million workers. Originally set to expire in 2018, the Accord was extended and expanded over the years into the International Accord in 2021, which came into play in Pakistan in 2022. The International Accord is currently set to expire in October 2023.
The Accord's binding nature, co-governance and a system for addressing worker grievances "changed the whole discussion on how to address labor standards and worker-rights violations in the industry," according Anner. "The idea of a binding accord with global brands and retailers became the model going forward."
From Anner and Akter's perspective, the garment industry in Bangladesh is certainly less deadly than it was in 2013. But for workers like Mahmudul, the impact of the incident lingers a decade later. While many of the brands that were producing in Rana Plaza have successfully rehabilitated their public image, Mahmudul is unable to work owing to injuries that disabled him in the collapse; he and his family frequently resort to begging or borrowing to make ends meet. (Earlier this month, according to a local site, the High Court granted bail to Sohel Rana, the owner of Rana Plaza.)
There's still so much work to be done. Where 2 million workers have been made safer by Accord-bound factories, another 2 million work in factories that are untouched by Accord safety agreements. Workers are "not free to exercise their union rights," and severance pay remains elusive for many, said Akter. The power dynamic between western companies and the garment sector in Bangladesh remains deeply unbalanced, too: At the outset of the pandemic, brands such as Nike, Levi's, and Gap stopped paying for orders that factories had already completed, and that burden was passed on to workers already making poverty wages, according to Anner. Brands that did eventually pay up only seemed to do so in response to organized pressure from advocacy groups like Remake.
"This made black and white how vulnerable our workers are regarding economic security," said Akter.
Safety and wage security are two sides of the same coin, she said — if workers had wage protections in Rana Plaza in the first place, she pointed out, perhaps they could have afforded to say no to bosses who told them to reenter a factory that had visible cracks in the walls.
More than anything, "that we still don't have anything approximating living wages in the industry" stands out, said Anner. It's a problem made more dire by inflation, wage stagnation, and the devaluation of Bangladeshi currency: Five years ago, Bangladeshi minimum wage was equivalent to about $98 a month; today, it's closer to $75. "It's a hard time to be a garment worker," he said. "It always has been, but the basic economics of it right now is really putting a lot of pressure on workers and their families."
Akter hopes that Rana Plaza and the decade since its collapse have made
the connections between the people making the clothing in Bangladesh and those buying it in the U.S. and Europe undeniable — our problem is your problem, she hinted. The success of the Accord, though limited in scope, has provided clear proof of what works: legally binding agreements that create real accountability for both brands and factory owners.
In the decade since Rana Plaza, factories in Bangladesh have gotten safer. Now it's time to turn up the heat on other issues, like a living wage, Akter said. "In the last ten years, our main focus was how we can have a safe workplace, save lives, rather than focusing on other issues. But it is a time now where I think we can talk about other issues."