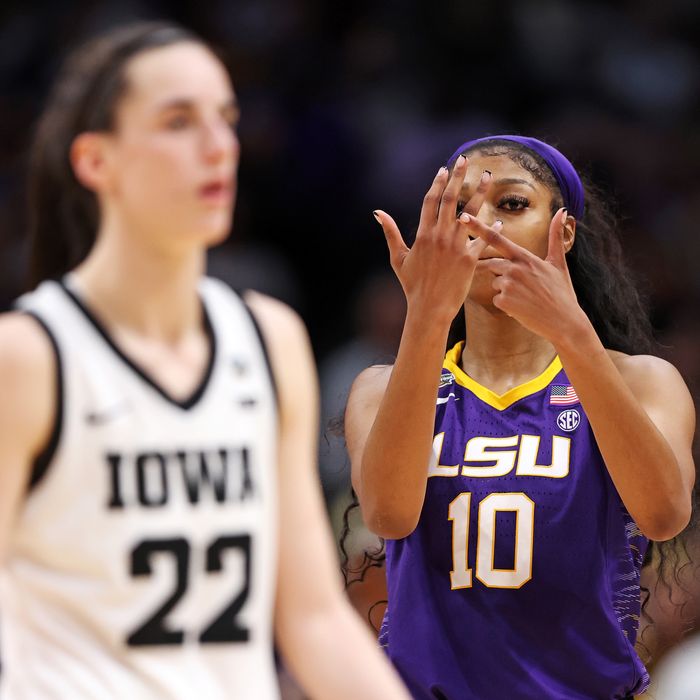 Photo: Maddie Meyer/Getty Images
When Louisiana State University's women's basketball team won its first-ever national title Sunday night, one of its star players, Angel Reese, celebrated with the classic John Cena "You can't see me" hand move, which appeared to be directed at University of Iowa's Caitlin Clark. Reese added a little flair, pointing to her ring finger, effectively saying she was getting the championship ring.
Within seconds, people took to Twitter to call Reese "classless" and an "idiot," among other things. Some people went on tirades about how they "lost all respect" for her. The critics neglected to mention that Clark did the same move a week earlier to a losing team, which was met with so much enthusiasm that ESPN aired a segment called "Caitlin Clark: The Queen of Clap Backs." Reese herself even said that her use of the move was in response to Clark. "Caitlin Clark is a hell of a player for sure, but I don't take disrespect lightly," Reese said after the game. That Clark, a white woman, was celebrated for taunting another team (in a segment using vernacular popularized by Black women, no less) while Reese, a Black woman, was vilified for doing the same wasn't lost on viewers who pointed out that the real difference between the two women is their race.
One of most egregious takes came from former MSNBC anchor Keith Olbermann, who initially called Reese a "fucking idiot." He later apologized for being "uninformed" and not knowing the full context, bizarrely admitting that he doesn't follow basketball — but he did not apologize for insulting Reese. In his eyes, the problem is that Reese and Clark "can be classless winners who are willing to overshadow their own team's victory."
The controversy reveals that, even though more people are watching women's basketball, many still aren't comfortable with the sight of women playing as competitively and aggressively as men do. Sports commentator Emmanuel Acho put together a handy collection of just some of the times men playing sports taunt one another.
Men are rarely called out for this behavior because it's understood to be part of the fun of the game. In fact, they tend to be celebrated, with people joking about their dance moves and imitating them, while women are vilified and asked to quiet down. Who can forget when people were angry with the U.S. women's national soccer team for celebrating their 2013 World Cup victory too much? Or all the times Serena Williams was held to a different, higher standard by umpires, opposing players, and the public for being angry about certain calls? The episode with Reese and Clark is just a reminder of the double standard people have for women — especially Black women. Dog whistles like "classless" and "disrespectful" have long been used to put down and contain Black women's experiences and joy.
After the game, Reese said she was aware of the double standard. "All year I was critiqued about who I was," she said. "I don't fit the narrative. I don't fit in a box that y'all want me to be in. I'm too hood. I'm too ghetto. Y'all told me that all year. But when other people do it, y'all say nothing," Reese said. "So this was for the girls that look like me, that's going to speak up on what they believe in."
Following LSU's victory, First Lady Jill Biden said that she would like both the LSU and Iowa teams to come to the White House, according to the Associated Press. "We hope LSU will come," Biden said. "But, you know, I'm going to tell Joe I think Iowa should come, too, because they played such a good game." The invitation sparked a new wave of discussion about double standards: Typically, only the winning team is invited to Washington to meet with the president. Biden's invitation likely came from a generous place, but for Black people, it was a reminder of the ways goalposts are often changed even after we've met or surpassed expectations.
Black professional athletes, sports commentators, celebrities, and politicians spoke out on Tuesday, saying that inviting both teams was the wrong thing to do. Reese had the perfect response to the First Lady: "A joke," she tweeted.
Amid a significant amount of backlash to the idea of inviting the runners-up to join the winners at the White House, Jill Biden's press secretary clarified that, actually, LSU is the only team invited to the White House. "Her comments in Colorado were intended to applaud the historic game and all women athletes," she wrote. "She looks forward to celebrating the LSU Tigers on their championship win at the White House."
Even if Jill Biden's invitation did still stand, Iowa players don't seem too keen on taking her up on it. In an ESPN interview on Monday, Clark was asked if she'd join LSU at the White House as a second-place team member. She said, "I don't think runner-ups usually go to the White House. I think LSU should enjoy that moment for them. They deserve to go there. Maybe I can go to the White House on different terms. But that's for LSU."
This post has been updated.