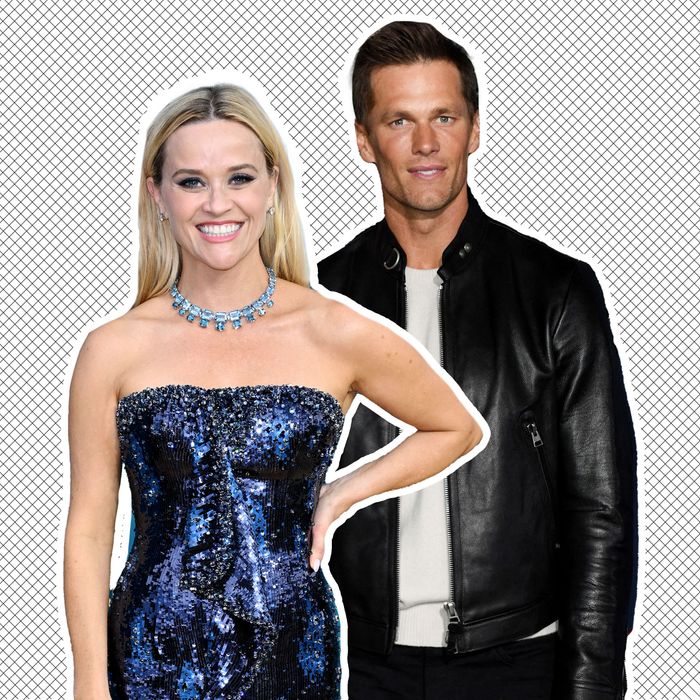 Photo-Illustration: The Cut; Photos: Getty
If tabloids are to be believed, the Hollywood dating pool right now is just a bunch of recently broken-up celebrities bouncing off each other in a big, prenup-fueled game of flirty bumper cars. At any moment, two newly available A-listers could be grabbing dinner at Carbone, chitchatting in a VIP club, or making out in Tokyo. We are entering horny season, but surely some of these people are at home doing a face mask and processing their breakups, no?
True to my suspicions, at least one speculative couple was recently eliminated from the realm of possibility: Reese Witherspoon, who announced she and husband Jim Toth had made a mutual decision to part ways in March, and newly divorced dad Tom Brady, who is currently weathering his retirement and the end of his 13-year marriage to Gisele Bündchen. Shortly after Witherspoon's Instagram statement went live, Deuxmoi shared an anonymous blind item claiming that an "A-list actress who JUST announced her divorce is newly dating A-list NFL athlete who is also recently divorced." (The tip apparently came from legallyblonde@patriotsbuccaneers.com.)
However, the gossip was swiftly shot down by representatives for both parties, who told People in no uncertain terms that Witherspoon and Brady are definitely, absolutely, positively not dating. Based on intel from their teams, People called the idea that these two are even close to knowing each other "completely false" and also "completely untrue." Actually, they haven't even met, okay?! Similar statements appeared in "Page Six" and Us Weekly. May this resounding "no" serve as your weekly reminder to take celebrity-dating rumors with a grain of salt, no matter how thrilling they may be.