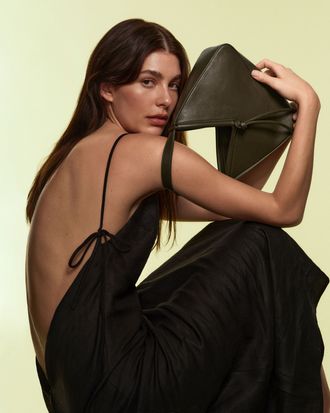 For more of the Cut's favorite fashion, beauty, and home finds, sign up for the weekly Cut Shop Newsletter.
What is it?
Long known as the one-stop shop for wedding-guest dresses, Reformation is adding bags to its roster. Today, the brand is launching its first-ever Ref bags modeled by Camila Morrone. Available in three core abstract shapes, you're bound to find a bag that matches your personality as well as it does your outfit.
If you're still getting familiar with Reformation's ethics, the entirety of its handbag supply chain is located in Europe, and the brand works closely with 100 percent of the farms that source its leather. These bags have minimal hardware, making recycling easier through the brand's RefRecycling program.
Do I need this?
Yes, if you need an everyday bag that defies escalating micro-trends, then the Ref bag is for you. If you're a student or need a new work bag, then the Oversized Vittoria Tote might be your fit. Or if you're looking for a bag that will pair well for a night out on the town, then the Mini Chiara Convertible Bag will surely fit your favorite lip gloss, and then some.
How do I get it?
The collection — with prices that range from $248 to $698 — is available today, April 24, online at thereformation.com.
What are people saying?
On Instagram, fans of the brand are thrilled about the launch. In the brand's most recent Instagram posts, it has accrued comments saying "Love" while somebody else commented, "It's a need."