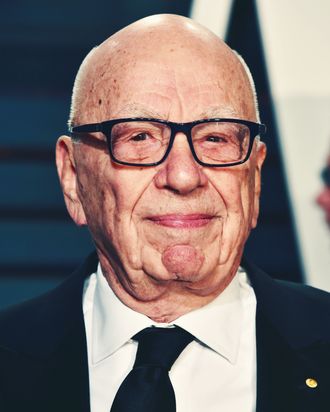 Photo: Alberto E. Rodriguez/WireImage
Sounds like notorious 92-year-old media mogul Rupert Murdoch has not found love again, despite recent and auspicious reports of a forthcoming fifth wedding. According to Vanity Fair, the News Corp CEO Rupert Murdoch and his latest fiancée, Ann Lesley Smith, have called off the engagement they announced a mere two weeks ago. Vanity Fair did not confirm a reason for the supposed backtracking, but did note that "one source close to Murdoch said he had become increasingly uncomfortable with Smith's outspoken evangelical views."
The New York Post's "Page Six," a Murdoch property, broke the news of the engagement on March 20, because what is more romantic than publicizing your newfound love in a newspaper that you own? Murdoch told the reporter that he was "very nervous" proposing to his new lady, a 66-year-old former San Francisco police chaplain who — according to the Christian Broadcasting Network — also worked as a dental hygienist before she became a conservative radio broadcaster. "I dreaded falling in love," Murdoch said, "but I knew this would be my last. It better be. I'm happy." Smith called their union "a gift from God."
Said gift apparently arrived in September at Murdoch's vineyard in Bel Air. There, one month after Murdoch finalized his divorce from his fourth wife, Jerry Hall, he met Smith at a 200-person event. Smith and her late husband, Chester Smith, a country-western singer who died in 2008, had also owned a vineyard, and she and Murdoch apparently bonded over their mutual hobby of vineyard-owning. Six months later, perhaps feeling especially connected to his roots (as Murdoch pointed out to "Page Six," he's "one-fourth Irish"), he proposed on St. Patrick's Day with an Asscher-cut diamond solitaire ring.
You may recall that Murdoch and his six children are the rumored inspiration for Succession, and recent reports of sibling rivalry within the family sure do support that theory. Much like Logan, Rupert also has an impressive amount of faith in his own life span. He told "Page Six" that he and Smith are "both looking forward to spending the second half of our lives together." Guess that's not happening now!
This article has been updated.