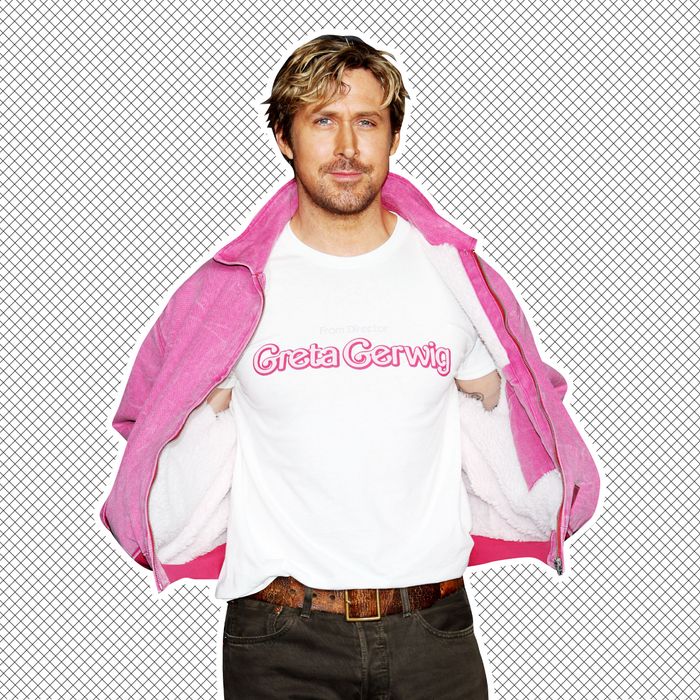 Send help
Photo-Illustration: by The Cut; Photo: Getty Images
When an actor goes Method, it can sometimes be hard for them to come back to their real selves: Austin Butler's Elvis impersonation may have won him a Golden Globe, but it imprisoned him (maybe voluntarily) inside the King's voice for years. Lady Gaga bragged that during her nine months spent playing an Italian murderess in House of Gucci, she refused to speak in anything but the Russian accent she developed for the role. And Ryan Gosling is, right this minute, colonized by the spirit of a Ken doll after taking on the role of Barbie's boyfriend for Greta Gerwig's upcoming Barbie movie. Making matters more confusing, Gosling claims he didn't even know Ken before he encountered this script and became totally consumed by its "Kenergy."
"I only knew Ken from afar. I didn't know Ken from within," the actor said onstage at CinemaCon in Las Vegas on Tuesday, wearing a jacket the color of Barbie's Corvette and a shirt bearing Gerwig's name in Barbie font. "If I'm being really honest, I doubted my Kenergy. I didn't see it. Margot and Greta, I feel like they conjured this out of me somewhere." Apparently, Gosling is having a hard time coaxing that genie back into its bottle.
Gosling's character is described as "just Ken" on movie posters, but for Gosling there seems to have been nothing "just" about it. Throughout filming, he sprayed himself bronze and waxed his entire body for maximum plastic effect and possibly also for personal enjoyment. He was photographed in cowboy fringe and highlighter-hued spandex that made his co-star Margot Robbie weep and Gosling come alive. Months after Barbie wrapped and Gosling was allowed to hang up his little jean vest, he is still stepping out in Mattel pink. His skin bears a faint kiss of self-tanner. His hair remains beach blond and fuckboy. Ken has cannibalized Gosling's identity, leaving the actor no choice but to commit to the bit indefinitely. Tuesday's panel wasn't even the first time he has used the word Kenergy in public. He has said it in at least two other interviews going back to July.
While a sartorial nod to the Barbie movie makes sense when presenting it at CinemaCon, consider Gosling's outfit at a Tag Heuer event in London last week: salmon shirt, pink-accented loafers — he is Ken-dressing even at a watch party.
And here he is at the end of the Barbie shoot, attending the premiere of another of his movies, The Gray Man, in head-to-toe pastels. Clearly this suit was purchased in Barbieland.
"One day, I was bleaching my hair and shaving my legs and wearing bespoke neon outfits and Rollerblading down Venice Beach," he told the CinemaCon audience. "It came on like a fever, like a scarlet fever." (I don't think scarlet is what you get when you mix hot pink and dusty orange.) "Why is there fake tanner on my sheets?" Gosling continued. "Why am I wearing jackets without shirts? What just happened?"
Whatever it was, it's evidently still happening and probably will continue until either a professional exorcises Gosling of his Kenergy — which, who knows if he even wants that — or the Barbie press tour ends in July. Enjoy!