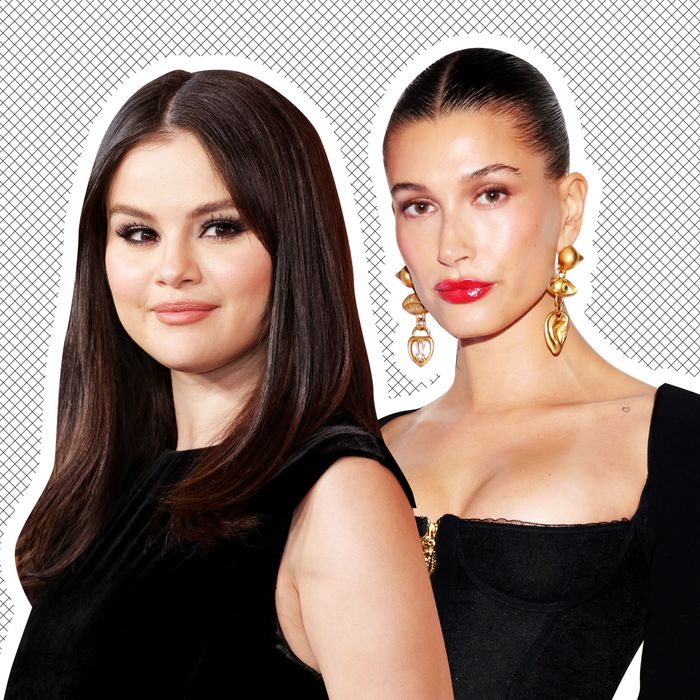 Photo-Illustration: by The Cut; Photos: Getty Images
The last time Selena Gomez and Hailey Bieber were in the news together was when they publicly put any animosity behind them, posing for a joint photo at the 2022 Academy Museum Gala. Now, five months later, fans are still fixated on an entirely fabricated feud between the two women — to the point that Bieber, Gomez, and their friends are begging people to stop sending hateful messages.
Though speculation around Gomez and Bieber's relationship has hit a fever pitch in the past few weeks, these rumors have been swirling for years — ever since Bieber married Gomez's ex, Justin Bieber, very soon after their final breakup. The model has long denied any bad blood between them, but their fans have known to fight each other in the comments on social media. "There's no drama personally," Bieber said in an interview on the Call Her Daddy podcast last year. Gomez has also denied rumors of bad blood. Last year, Gomez denied making fun of Bieber in a skin-care TikTok video posted earlier that year. "Zero bad intentions," she wrote in the comments before deleting the video. The two later seemed to declare peace by posing for photos together.
Somehow that's done nothing to stop the latest flurry of rumors, which started in February after Gomez posted about accidentally overlaminating her brows. Later that day, Kylie Jenner posted a video of herself and Bieber on FaceTime showing off their eyebrows, which some interpreted as a dig at Gomez. TikToker Nuha, @devotedly.yours, broke down her interpretation of the "shade," prompting both Jenner and Gomez to respond. "This is reaching," Jenner wrote in the comments. "U guys are making something out of nothing. This is silly." Gomez agreed, later commenting that she was a "fan" of Jenner's.
Meanwhile, fans began to see Gomez supporting TikToks from fans that made videos praising the singer, while also making digs at Jenner and Bieber. Per BuzzFeed, Gomez reportedly commented, "I love you," under this video of support from Sarah, a.k.a. @sunlightchaser, in which she calls Jenner and Bieber "mean girls." She then commented under another video calling Bieber a mean girl, featuring a clip of the 2017 show Drop the Mic, in which Bieber made a gagging face when her Drop the Mic cohost, Method Man, mentioned Taylor Swift. "So sorry, my best friend is and continues to be one of the best in the game," Gomez wrote.
Amid all the speculation, Gomez announced she was taking a step back from social media altogether. "I'm very happy, I'm so blessed. I have the best friends and the best fans in the whole world and I just couldn't be happier," Gomez said in a TikTok live posted a few days after the eyebrow debacle. "I'm gonna be taking a second from social media 'cause this is a little silly and I'm 30. I'm too old for this." She deleted her TikTok account and said she'd be taking a break from Instagram, though her profile remained active.
Before she left the platform, Gomez reportedly made one last comment on a fan's TikTok, seemingly responding to those who wondered why she would leave comments on videos about Bieber if she didn't want the drama. "I have every right to defend my friends," she wrote, per a screenshot shared by Stephanie Tleiji, aka @stephwithdadeets. "Say whatever you want about me but MY people, I'd die for. Thanks so much."
A few weeks later, Gomez reappeared on TikTok with a makeup tutorial. In the video's comments, she wrote, "Please, please be kinder and consider others mental health. My heart has been heavy and I only want good for everyone. All my love."
The rumored beef seems to have spilled over into real life. Justin Bieber recently performed at Rolling Loud, where the crowd started chanting "Fuck Hailey Bieber" during his time onstage. While it's not clear if the chants were in support of Gomez, they strike a pretty close resemblance to the online comments both women have endured.
Things ramped up yet again in March, when Gomez, who's back on Instagram, posted an Instagram Story attempting to quell the hateful messages being sent in her name. "Hailey Bieber reached out to me and let me know that she has been receiving death threats," the Story read. "This isn't what I stand for. No one should have to experience hate or bullying. I've always advocated for kindness and really want this all to stop." Hailey added her own Instagram Story, sharing that the two women had been in communication about the situation. "I want to thank Selena for speaking out," she wrote. "The last few weeks have been very hard for everyone involved." "In the end," Bieber added, "I believe love will always be bigger than hate and negativity, and there is always an opportunity to meet each other with more empathy and compassion."
Meanwhile, musician Justine Skye, who's close friends with Bieber, got dragged into the cross fire. After Gomez and Bieber posted their Instagram Stories, Skye tweeted, "what a world we live in eh?" before deleting the tweet and explaining in a longer post that she "wasn't being shady … I was just being honest." She followed that post with screenshots of horrifying texts she says she's received in response. The messages, which included threats and racist, misogynistic slurs, are a pretty telling indication of who exactly is still fixated on "defending" Selena in this "feud."
The chatter continued into April, when Bieber launched a YouTube cooking series called What's in My Kitchen?, prompting fans on Twitter to accuse of her of copying Gomez's HBO Max show, Selena + Chef. A week later, Bieber seemed to reference the ongoing manufactured drama in an Instagram Story, where she wrote, "Since 2023 started I have had some of the saddest, hardest moments I've ever had in my adult life and my mind and emotions have been fragile to say the least."