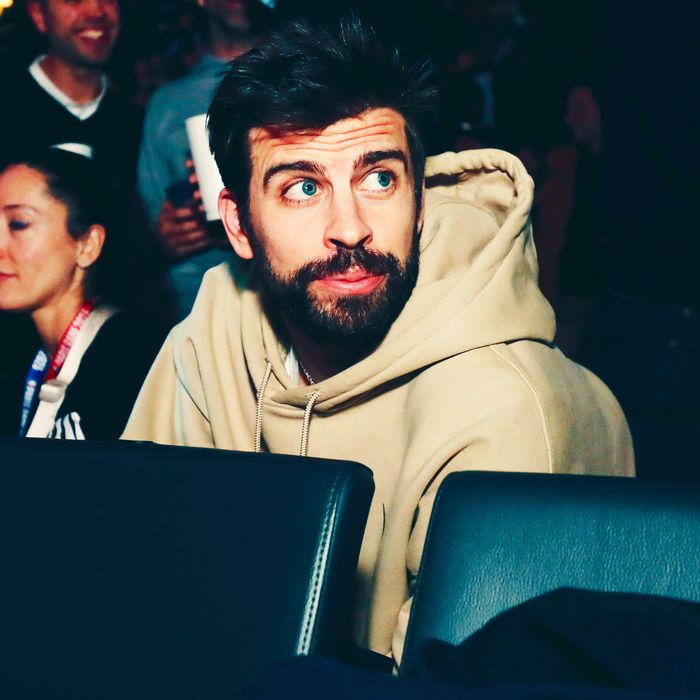 Photo: Catherine Steenkeste/NBAE via Getty Images
There are two sides to every breakup, and in the case of Shakira's split from her partner of 11 years, one side is doing just fine, thanks very much.
Ever since Shakira and Gerard Piqué, a soccer player who shares two children with the pop star, announced that they were parting ways, Shakira has been sharing some very honest updates on her healing journey, which included writing a mean breakup song and blasting said song at her mother-in-law's house (who, for some reason, happens to be her neighbor).
Meanwhile, her ex has taken up rather quickly with a new lady, Clara Chia Martí, who worked for Piqué's entertainment company and was rumored to be having an affair with him before the breakup. The most intriguing piece of gossip surrounding their relationship involves a jar of strawberry jam, which allegedly tipped Shakira off to the fact that her partner was sleeping with another woman who was eating the household jam. Anyway, after making a few public appearances together last year, Piqué and Martí hard-launched as a couple on Instagram in January.
All of this suggests that Piqué is not too concerned about seeming sensitive or respectful toward his famous ex and mother of his children, but just in case his feelings weren't clear, he has since communicated just that.
When asked about whether he's been affected by how his breakup is being portrayed in the media in a recent interview with the Spanish publication El País, Piqué said, per Entertainment Tonight's translation, "The problem is how people perceive things or how the press packages it. I'm still doing what I want. I want to be faithful to myself." He said he's only worried about what his loved ones think of his personality, concluding, "I'm not gonna waste money on cleaning up my image."
He sure isn't. In fact, I'm tempted to think that Piqué is actively trying to make his public image worse. Last weekend, after Shakira and their shared children reportedly left the couple's former home in Barcelona to settle in Miami, Piqué made some vaguely xenophobic comments about Shakira's fan base in an interview. The translations vary online, but it seems he said something like, "My ex is Latin American, and you don't know what I've gotten on social media from her fans. These people have no lives. Thousands of barbarities, and I don't care at all." (Piqué is Spanish.) Following his comments, Shakira tweeted that she's "proud to be Latin American." I bet she's proud to get out of this relationship too.