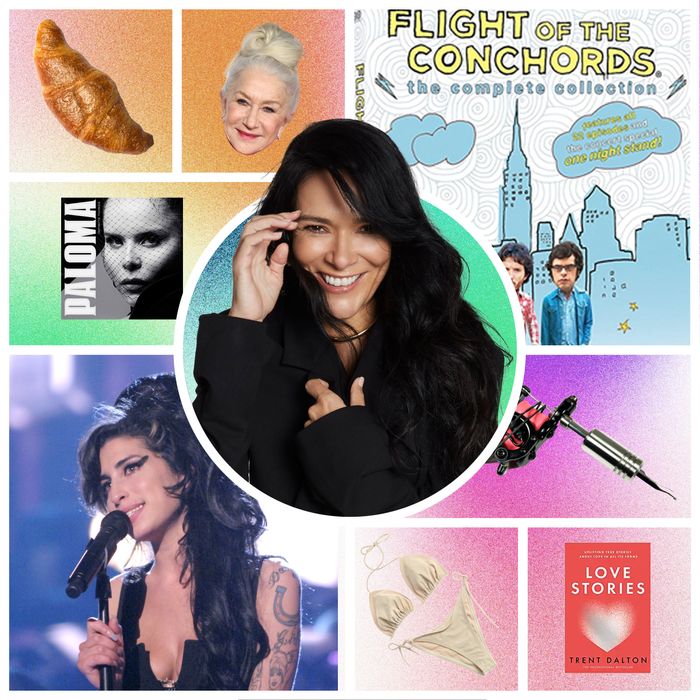 Photo-Illustration: The Cut; Photos: Retailers, Getty
So far, the cult of Lottie Matthews isn't as nefarious as we thought it would be — sure, acolytes bury each other alive, but it's all in the name of honey-making and heliotrope-colored healing. The jury's still out as to whether we'd join Camp Green Pine, but we'd be first in line to join the cult of Simone Kessell. The New Zealand–born Maori actor joined the present-day Yellowjackets cast this season as the adult counterpart to everyone's favorite blood-sacrificing (and likely) Antler Queen. Onscreen, Kessell walks a fine line between a woman determined to heal from her past traumas and visions — and the horror of their return.
To celebrate all things Lottie, the Cut did a little taste test with everyone's favorite cult mother. Read on for a few of her favorite things. (Spoiler alert: She can be found blasting Paloma Faith while driving through the Hollywood Hills.)
Last season, I thought Lottie was being set up to be the "big bad," but she and her cult are nothing like I thought they would be. They're just selling honey, as far as we know. What's it like stepping into the character and sharing the reins with Courtney Eaton? 
They're sharing honey and healing, and the people are happy. They're all wearing heliotrope or lavender, and they're living off the land. People are saying, this is such a bad cult, and I'm like, no, I'd go there! I would totally go and live off the land. What a wonderful lifestyle that would be.
Coming into such a hugely successful series with such a superb present-day cast was daunting, but only in the best way. Courtney had created such a beautiful foundation of intensity in the character of young Lottie, and I was curious about how they'd write that into present-day Lottie. It was very much said to me, and in the script, that Lottie had done a complete 180. She's been away having therapy and shock treatments and whatever else is left to our imaginations, and she's come into the light. Any time I got nervous or anxious about creating her, I could fall into Lottie, because she's the complete opposite of nervous and anxious, especially the Lottie we see up until now.
She's so assuring, even as she's privately getting visions again. I would definitely join the cult. Speaking of the visions, and disclaimer that I've been on Reddit too long, I don't trust her psychiatrist. 
Oh my God, I love this! Everyone asks about the symbol and the pit girl dying, and now it's like, oh no, we're going so much deeper. We're going into the psyche of the psychiatrist.
Where do you get your best culture recommendations from?
To nourish my head, heart, and soul, I will often go to an art gallery in Sydney, the Art Gallery of New South Wales. Just sitting in that space is incredibly soul-feeding. The art is Australian Indigenous, and knowing the stories behind the artists gives you perspective. When I'm feeling overwhelmed, I'll just go sit in an open space in the gallery. I have so many extraordinary artist friends, and I'm so jealous, because I'm not a drawer. In fact, my 10-year-old laughs when I try to draw him.
What's your pre-filming ritual? 
My sister is a beautiful artist and painter, and she's covered in Ta moko, Indigenous Maori tattoos. I don't have one tattoo, but I created the tattoo on Lottie's left arm for the show, which you'll see as it goes on. It's a koru, which means eternity, life, and abundance, and it was very important for me to have a little bit of New Zealand on me. I got the art department to draw up a few options.
When we filmed, putting that tattoo on was my ritual every day. It's a little bit of my home and my culture and what we call whakapapa—my ancestors—with me, which I've brought into present-day Lottie. You're the first person I've told, other than the cast and crew. Courtney's heritage is also Maori from New Zealand, on her mother's side. That was the lineage and connection between casting me and Courtney. Kudos to the Yellowjackets producers for seeing that and understanding to cast a brown woman in this role.
Which five celebrities, dead or alive, would you invite to a dinner party? 
First of all, I want a table of women at my dinner party. Jacinda Ardern, our prime minister who recently stepped down, because I have so many questions for Jacinda, or, as we call her in New Zealand, Auntie. Then, my beautiful girl Melanie Lynskey—between Jacinda, Melanie, and myself, we all have strong Kiwi accents. And Melanie is just wonderful at a dinner party. I'd also say Amy Winehouse and Helen Mirren. I recently saw someone ask Helen, What would you say to your younger self? And she said, "Just stop worrying." I love how cool, calm, and collected she is. She's graceful, elegant, and beautiful — and swears just as much as I do. And then, Nan Goldin, so she can photograph it. This has got me so excited. A little part of me thinks they're all coming over. Imagine Nan filming it!
It would need to air on TV. Speaking of dinner, what's the last meal you cooked? 
I cooked a dry chicken. Last week, I was staying at my girlfriend's house; she was out of town and has a beautiful place up in Hollywood. I invited three of my darling friends over. One was Jerome, an extraordinary French Canadian shoe designer, and one was Monet Mazur, an actress. We had dinner, and Jerome said he was going to make his famous pesto pasta. I said, Well, I'm going to do an organic chicken. But I got so excited about the wine that I forgot about the chicken. My friends were polite, but it was very dry. Monet gave it a six out of ten. It was devastating.
I hope you get to redeem yourself. 
Perhaps I'll need catering for that dinner party with Helen Mirren. I've lost my confidence!
There is a juicy chicken in your future. What's your comfort rewatch show? 
My kids just discovered Flight of the Conchords. My 10-year-old son said he loved watching it because I'm just sitting there giggling and chuckling away. It fills my cup. It was such a bold, fresh choice from HBO to launch the careers of Jemaine Clement and Taika Waititi. I actually said to Melanie, "Maybe you and I should do our own Flight of the Conchords as two Kiwi girls in L.A." Imagine that, Melanie and I, starring as two has-been actresses and breaking into song.
Um, I need that to happen. 
Can you write it? Come to that dinner party, and we're going to write it.
HBO, take note. What's the best piece of gossip you've ever heard?
Ooh, I've heard so many bits of gossip gold, but they're too dirty. The one I'm thinking about right now is too dirty! I can't share it. Maybe that's why my chicken was dry. I was too busy gossiping.
What's a book you couldn't put down? 
Trent Dalton, an Australian author who wrote Boy Swallows Universe, wrote a book called Love Stories. As sappy as that sounds, it isn't. He sat in the town square in Brisbane and stopped complete strangers, asking them to tell him a love story. It's so beautiful, because it's every walk of life, from a houseless person to couples who have been married 50 years. I guess it's a book of short stories. The way he compiles them is heartbreaking. It gives you hope. He's a beautiful writer.
What music do you listen to when you're alone in your car? 
Yesterday, I was heading up to a friend's house in the Hills, and I was cranking Paloma Faith's "Only Love Can Hurt Like This" and zooming around. Paloma Faith! She's cool.
What's the best advice you've ever received? 
I can say something shallow like, Never leave the house without mascara on, but the best advice I got when I was very young: You get back what you give. You give love and you get love. It actually works on every level; on a karmic level. What you put out, you get back. As I get older, it's about quality, not quantity. It's about taking care of the people you love. I recently read "surround yourself with women who will shout out your name in a room full of possibility," which is pretty great. And I feel it when I'm with the Yellowjackets cast.
How about the worst advice? 
Wear a bikini to an audition. That was pretty bad. It was 2006 in Los Angeles, and my manager at the time told me the producer wanted me to wear a bikini. I got there in a big, long T-shirt covering myself, and then I was like, no, this is so dumb, and I walked out. I called my manager at the time and said, I'm never doing that. I feel so uncomfortable. Thank goodness for my sixth sense. I did not get that role. I can't even remember what it was for, but I think about it now and my heart breaks for those young actors who actually all went on in the bikini so the producers could get their perv on.
That's awful.
I know, isn't that creepy-crawly? I haven't thought about it in so long. Suffice it to say, I don't have that manager anymore.
What's your favorite piece of art you own?
I call her Nana Naki. A couple years ago, I was down in Turangi, where my mother grew up. I walked past a really run-down shop and there was a beautiful framed painting of a Maori woman with a feather earring and braid. Her eyes caught me. I went in, and they said, "This was gifted to us; we're waiting to see who her relatives are so they can come and claim her." I found out we're from a different region than her, but I asked, "If she's not claimed in a month, can I claim her?" One month later, I was in Australia and I called the store. Nobody had claimed her. Now she hangs in my hallway. I believe she's my whakapapa, or ancestor. She's striking. I see her every morning when I wake up. She makes me very happy.
What would your last meal be?
This is a little bit tragic, but I love crunchy bread. A really crunchy French baguette dipped in olive oil with a bit of balsamic. I don't know why; it's my favorite thing. I could eat so many baguettes. And the knobby bits on a really good croissant — with an average croissant, it's stodge — but when it's really good, I'll break off the crunchy ends. I'm very easy to please. I'm sure there's a name for the ends of the croissant.
I'll find it.
Could you, and just pretend I said it?
If there is no name, I will call them "knobby ends."
The knobby ends! They're my last meal. You must be thinking, I'm so not coming to her dinner party, that's what she's serving? Dry chicken and knobby ends?
We're getting catering! 
Oh, that's right, we're getting catering. I think everyone who would come to my party would all eat bread. I don't want anyone coming to my dinner party who doesn't eat carbohydrates. Or doesn't like dogs. Or doesn't eat chocolate. Those are my pet peeves: People who don't like dogs, who don't like chocolate, and who don't eat carbohydrates. They can't come. We need proper-eating people at my party.
Pain au chocolat and puppies only.
Yes!