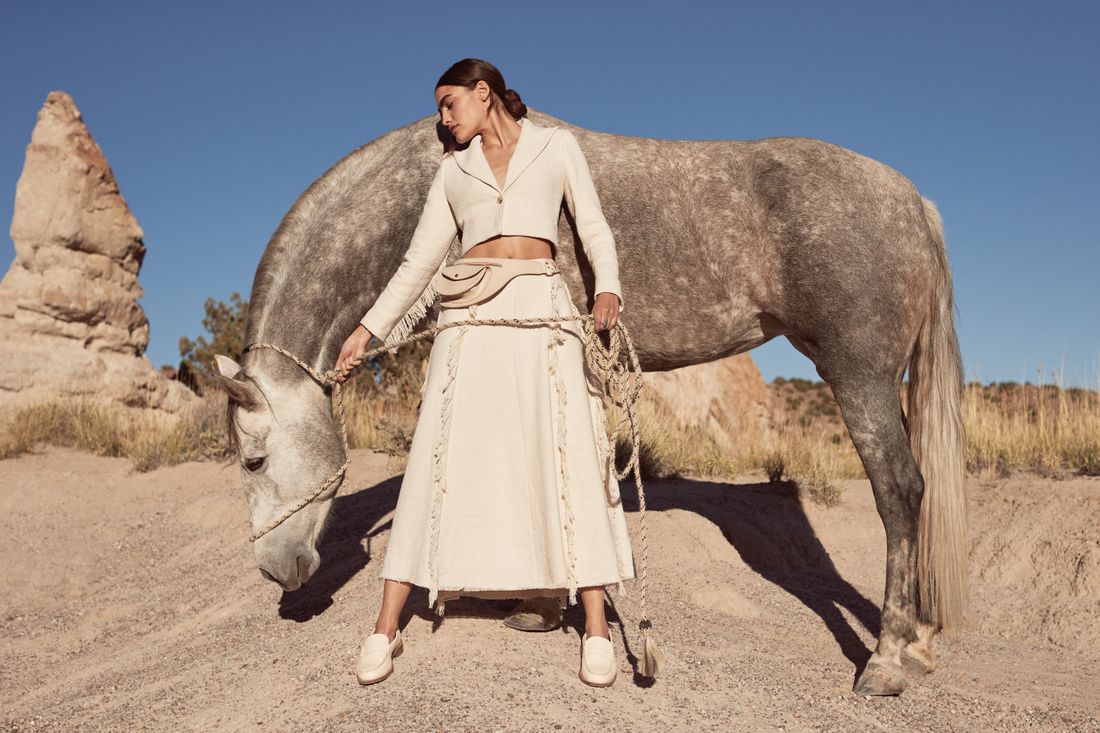 For anyone who's gotten a little too comfortable working from their pajamas over the last couple years, transitioning back into the office — even a couple days per week — can feel jarring. Luckily, unless you're commuting to a full-blown suit-and-tie-required workplace, there's a little more leniency on the dress code. (Read: put down the pencil skirt and back away slowly.) Still, if jeans are out of the question, there are still myriad stylish workwear separates that are stylish and comfortable to wear off the clock, too.
Riding Pants
A great alternative to jeans, these riding pants boast a lace-up hem and a tapered fit, so they'll look great with all your blazers.
Draped Bodysuit
Perfect for less traditional offices, this bodysuit looks just as stylish with a pencil skirt as it does with jeans.
Relaxed Polo Sweater
This open-neck polo just might be the perfect all-season sweater.
Tweed Set
A tweed maxi skirt is the perfect antidote to cold-as-ice office AC. Make it a power set with a matching tweed bustier top.
Pink Trousers
Why shouldn't all pleated trousers feel as soft as sweats? These dusty pink wide-leg pants are as close to WFH uniform as trousers get.
Blazer Vest
If a blazer is too stuffy when warm, try layering this vest over a tank top for a professional look.
Slouchy Cashmere Cardigan
Why shouldn't your office sweater be the chicest one you own? This lightweight cashmere cardigan comes in a soothing ivory and looks just as great draped over your shoulders as it does buttoned up.
Pinstripe Midi Skirt
A fun alternative to trousers, this pinstripe midi skirt is a great option for the office (with a button-down) or the weekend (with a sheer ribbed tank).
Bright Blazer
Looking for something, well, not black or navy? This bright pink blazer should fit the bill.
Long Shorts
If it's been a while since you worked from a cubical, know that shorts — especially when paired with a matching blazer — are generally welcome. The four inch inseam on this linen style makes it modest enough for a meeting with the CEO.
Short-Sleeve Button-Down Shirt
A short-sleeve button-down in a soothing sage green hue is never a bad idea. Wear it with trousers and a low-heel mule for a professional look that isn't too serious.
Playful Trousers
These silk trousers have a heart-shaped pocket for a little something extra.
Houndstooth Set
If you're a recovering shift dress addict, this throw-and-go two piece will feel just as easy.
Denim Maxi Skirt
If jeans aren't quite right for your office, maybe a denim maxi skirt — which is enjoying quite the resurgence this season— offers a little extra flair.
This advertising content was produced in collaboration between Vox Creative and our sponsor, without involvement from Vox Media editorial staff.