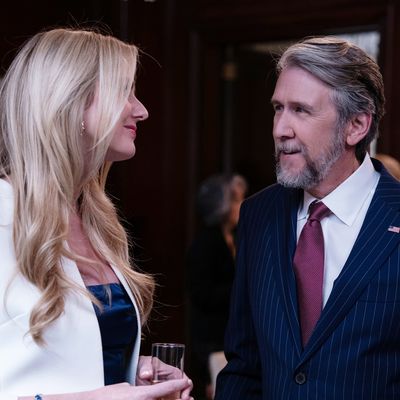 For a show with very little romance, Succession loves a wedding. Probably because it's a great opportunity to let all the familial dysfunction stew for an entire weekend like a rich, emotionally broken pot of beans. The first season memorably ended with Tom and Shiv's wedding at an English castle, where Kendall killed a caterer during a drug-addled joyride. Last season, the three kids' attempted coup fell flat during the Italian countryside wedding of their icy British matriarch, Lady Caroline Collingwood. But this season, we are focused on the most chaotic of unions: the wedding of Logan's eldest son, Connor "First Pancake" Roy (Alan Ruck) to his escort turned reluctant life partner Willa Ferreyra (Justine Lupe).
Willa and Connor got engaged last season at his stepmother's wedding, where Willa finally accepted his marriage proposal with several resounding "fuck it"s. At the beginning of season four, they are still at square one on the wedding-planning front. Connor wants an absolutely bonkers ceremony, so he can get in the news and avoid spending millions of dollars to keep his presidential polling numbers at one percent — he spitballs ideas like "get a rapper," "jet packs and confetti guns," "razor wire," "bum fights," "goody bags," and "hoopla and razzmatazz." A horrified Willa confesses that, really, she just wants "a nice wedding," adding, "Con, you sound unhinged." He does, but I still think they can meet in the middle for their nuptials. Not even a disastrous rehearsal dinner should deter them from having the libertarian wedding of the decade. Here are some zany wedding ideas they might want to consider.
The nautical wedding
The Roy family is constantly plagued by maritime disasters — such as covering up years of murder and sexual assault on their cruise line and that time Logan took everyone on a yacht and made them pick a sacrificial lamb to blame for said cover-ups. Although she wasn't up for slaughter, Willa has a dose of yacht trauma, having read the many horrible reviews of her play on the yacht while that all went down. The only solution for everyone here is immersion therapy, so why not have their eldest son marry his sugar-baby fiancée with as much nautical paraphernalia as possible? They're already planning to get married on a boat, so I'd suggest a pirate ship with the ceremony officiated by a Captain Hook–costumed character from the Waystar theme parks. And at the end, Logan picks one member of the board to walk the plank.
The Goop wedding
Although the Roys tried to use Connor's ranch in New Mexico for a well-publicized family-therapy session, it's much better suited for a wellness retreat meets desert wedding. The weekend kicks off with an ayahuasca ceremony, followed by a tasting of Connor's home-distilled tequila under the stars. The ceremony is officiated by the QAnon Shaman, and the reception is expertly engineered to feel and smell exactly like Burning Man. Before everyone leaves, they're all required to spend 30 minutes in a sweat lodge. Logan doesn't show up, which makes Connor furious, because he had his caterers prepare his dad's favorite sperm-strengthening maca-root smoothies.
The sand wedding
To venerate Willa's failed play, Sands, the couple says their vows in a pile of construction sand (not beach sand). Behind them, a giant hourglass counts down the hours until dinner, which is all seafood. For dessert, they serve those beach-themed pudding cups with crumbled-graham-cracker topping. Later that night, everyone heads to the after-party, which is a screening of Dune. The guests take home castle-shaped beach pails filled with little shovels and extra-strength soothing cream for any post-wedding mite bites.
The theater wedding
Speaking of Sands, is Willa still pursuing a career as a playwright? As a woman in the arts, she deserves nothing less than a destination wedding at the iconic Globe Theatre. The whole time, Connor will talk about how audience members used to pee on the floor. During the reception, they can serve specialty drinks like A Sidecar Named Desire and The Godot-jito. At the end, Willa debuts a new play she has been writing this whole time, à la Dan Humphrey, about the inner workings of the wealthiest family in the U.S. Even though she forgets to write Connor into the script, he does not break up with her.
The Napoleon wedding
For your own well-being, you probably forgot that back in season two, Connor bought Napoleon Bonaparte's dried-out penis along with an assortment of other "Napoleonica" at auction — only to later find out they were fake. Thankfully, I just reminded you. What better opportunity than his wedding to display his prized collection of forged antique military ephemera? Connor wears one of those little triangle hats, and to go with the European-history theme, Willa and her bridesmaids are in custom Reformation. (She loves the brand's prints.) Greg, confused by the theme, wears a "Vote for Pedro" T-shirt from the cult 2004 film Napoleon Dynamite. For dessert, they serve napoleons, and Connor gives a speech about how closely his political goals align with those of a French emperor. The Conheads eat it up.
The gourmand wedding
As he likes to tell literally anyone with the misfortune to converse with him, Connor has an impeccable taste for fine food. His wedding should reflect that. It kicks off with a cocktail hour, where guests are invited to stop by a "hyperdecant your own wine" station. Dinner is sous-vide Wagyu and rolls with perfectly spreadable butter. Everyone takes home a Tupperware of sourdough starter.
The elopement
Just Connor, Willa, and their undying love for each other jetting off to some far-flung corner of the Earth to get married alone. How bad can it be?