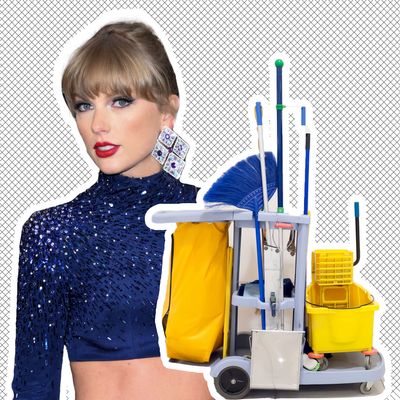 Photo-Illustration: The Cut; Photos: Getty
It's one thing to buy a $22,000 ticket to Taylor Swift's Eras tour, but it's a real choice to shell out thousands of dollars for a slightly cheaper seat directly behind the stage. But it seems those who did may have gotten something even more valuable than a front-row view: raw footage of Swift arriving at her show inside a janitor's cart.
The theory that Swift is wheeled into her tour venues inside a janitor's cart started as a rumor supported by videos of a big black box with mops and brooms being wheeled up a ramp near the stage while Lady Gaga's "Applause" plays — the last song on the Eras preshow playlist, right before the performance starts. At the end of the night, Swift just so happens to exit on the same ramp, suggesting it's the only way on or offstage:
Swift arriving in a janitor cart wouldn't be a huge surprise — she is notoriously a woman of tremendous creativity when it comes to going incognito. While some celebrities might rely on a baseball cap and sunglasses, Swift turns to all kinds of groundbreaking strategies to conceal her face: crab-walking, backward walking, hiding under umbrellas, behind tablecloths, and, according to unproven internet lore and Zayn Malik, inside suitcases. So it was only a matter of time until someone managed to film a stagehand unlocking a secret door on the side of a "janitor cart" and Taylor strolling out of it in her glittery opening-number costume as if this were the most natural way in the world to arrive at one's own concert.
Based on the limited visuals available, this actually looks like a pretty comfortable way to be wheeled around, even if you are five-foot-11 and wearing heels. Maybe she could offer a VIP fan experience in which you can hang out with her and some mops and brooms in a small, enclosed space? I'm sure her fan base would be willing to pay.